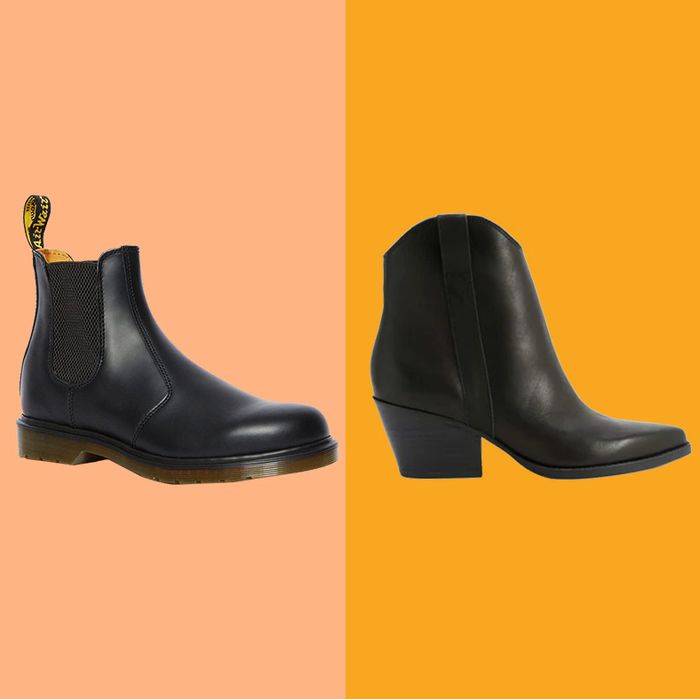 These boots were made for walking.
Photo: Courtesy of retailers
We'd be willing to bet that if there's one style of shoe you slip on from late-August through mid-April, it's a pair of ankle boots. This makes sense: Ankle boots are flattering on the leg, look as good with a dress as they do with jeans, and if you land on the right pair, are just about as comfortable as a pair of everyday walking shoes can get. But, like all wardrobe staples — whether it's a white button-down or the perfectly vintage-inspired pair of blue jeans — there's a vast sea of ankle boots to pick through before landing on the ideal pair. To get a lay of the land, we reached out to 13 cool and stylish women, from the coach of Downtown Girls Basketball League to the founder of a luxury sock company, to hear about their favorite-looking pairs that have also stood the test of, well, standing — and plenty of walking, whether through slush in the winter or on long treks in the spring.
B

e

s

t

u

n

d

e

r

-

$

1

5

0

a

n

k

l

e

b

o

o

t

s

f

o

r

w

o

m

e

n
Writer and senior podcast producer at the Boston Globe Amy Pedulla told us she first bought Dolce Vita's suede ankle boots when she was at college in upstate New York, and despite the "muddy" environment, the boots held up: "They are super durable, and I found that the heel lasted for over two years without much wear and tear," she says. Pedulla first spotted the Dolce Vitas at Marshalls in 2010, where they caught her eye because "they looked kinda like Isabel Marant," but at a much lower price. A decade later, Pedulla still loves Dolce Vita's suede ankle boots, and says she recently bought a new pair in an apricot shade. And despite the reasonable price, the quality is high. "The suede doesn't fade much, and the heel is low enough that you can get away with them for everyday wear and long walks."
"ASOS, for whatever reason, makes the perfect ankle boots," says Charlotte Palermino, co-founder of Nice Paper. Palermino told us she owns "just about every pair" of shoes from ASOS's Western series, but that this pair in particular is the one that causes her to be "accosted every time I go out in public." They're often mistaken for Balenciaga, she says (though if you do want to splurge for the real deal, designer Melody Ehsani named Balenciaga's Ceinture Derby as her favorite ankle boots) and have held up well. In sum, Palermino says, "These have been hands-down my favorite shoe of the blessedly mild winter season, and will transition into spring/the grave for me."
If tying and untying boot laces seems like a pain, take note from Amanda Hill, revenue strategy and operations at Twitter, who told us about her pair with a lace-zip combo from Clarks. "I like having the look of laces with the ease of a zipper," says Hill. Beyond being easy-on-easy-off, the boots are ideal for long treks: "They have a cushioned interior, which makes them probably the most comfortable boots I own," Hill says. And while temperatures may be rising now, come next winter you'll be glad to have these on hand, according to Hill. "They have great grips for ice," she says.
"Dolce Vita's Serra booties are an easy and more casual way of trying out the cowboy boot trend without going full force," says stylist Christel Langué. Like Pedulla, Langué is a fan of the brand, and says that when it comes to trends, the shoes have an "adaptive quality," meaning you'll probably want to wear them for more than one season. The Serra boots come in smooth leather, suede, and snake print, should you want your boots with a dash of animal print.
Langué also likes this pair of zip-up boots from Dolce Vita, and says the prominent silver zipper "adds an edginess" to the shoes. She praised the contrast-tone stacked wood heel, which at 3.5 inches is one of the higher heels on this list, and lightens up the overall look of the boot in a way that a matching black heel might not.
If all of the black boots on this list are looking a little somber for your taste, artist Maggie Meiners says that lately she's been "obsessing" over this pair from XYD, which come in 22 different colors ranging from a vibrant lime green to a pearlescent pink. "I wear my shoes and boots hard, so it's nice to have a pair I don't have to worry about too much, since the price is relatively low," Meiners says. She also notes that they're made from synthetic materials, which could be a draw for those who want to go leather-free in their footwear. Meiners told us she has the boots in white, pink, and gold.
B

e

s

t

u

n

d

e

r

-

$

2

5

0

a

n

k

l

e

b

o

o

t

s

f

o

r

w

o

m

e

n
Jenni Lee, founder of luxury sock brand Comme Si, is also a Docs fan, though her preferred style slips on. "I love Doc Martens Chelsea Boots," she says. "They have the classic refined silhouette of a Chelsea boot, with the construction of a substantial functional boot, making them really easy to wear." Lee owns the boots in patent black, oxblood, and white leather (which she says has unfortunately been discontinued) and wears them straight through the fall into spring, with dresses and colorful socks in warmer weather. "They even look good when you're treading through city slush," she says. "And in the spring they can double as a rain boot." New York Review Books marketing manager Abigail Dunn names the Doc Martens 2976 as her go-to ankle boots, as well. "For the last two years, I've owned and heavily abused a pair without the signature yellow stitching — meaning they are a little subtler in a sea of Docs — and they go with almost anything, from 501s to flirty dresses," she says. The boots might feel a bit stiff when you first buy them, and if you want to speed up the break-in period, Dunn has a tip: "If you slather them in the Dr. Martens Wonder Balsam they break in beautifully and are pretty much indestructible, no matter the weather."
"I've got a passion for shiny black shoes, and these patent leather Docs go perfectly with what I wear most," says Catbird creative director Leigh Plessner, who ticks off nightgowns, long coats, full sweatsuits, and piles of jewelry as just a few of the many items that she pairs with her beloved Docs. For Plessner, the boots have a bit of appealing nostalgia to them, as well: "I sold my teenage collection of Dr. Martens on eBay, which pains me," she says. "Wish I still had them."
If you're a frequent Strategist reader, you might have gotten the message that our staff loves Blundstones. No less than four staffers own two pairs. Of course, we're not alone in our Blundstone fandom — the shoes are something of a cult item. Pedulla names them as one of her go-to ankle boots, saying, "I'm actually so surprised this company has not sponsored a podcast because nearly everyone I know working in audio wears them." Pedulla has worn Blundstone for "years and years," and is only on her second pair, thanks to the boots' durability. "They start out looking solid and matte and pulled together and then overtime blend into a smudgy comfy glove on your feet," she says. Pedulla notes that she never falls when she wears them — "I cannot say the same about clogs" — and that they work in all kinds of everyday scenarios, whether it's schlepping audio equipment, running back and forth between studios, or going for drinks with co-workers. Jo Zasloff, a midwife and co-founder of nontoxic skin-care line Sisters sums it up: "Perfect everyday boot," she says.
If you want a Chelsea boot with a sleeker silhouette, Bathen co-founder Hannah Zisman loves this Cole Haan pair so much that she's bought three pairs over the past ten years. It takes a lot of use to truly wear them down, though: they're made from waterproof leather and have a sturdy stacked heel. "They're durable and comfy, yet still sleek enough to wear to the office," Zisman told us. "And so much better than a rain boot, in my opinion!"
Langué is also a fan of this stretchy pair of boots from Everlane. "The Glove Boot ReKnit in tobacco is so chic," she says, adding that this particular shade of chocolate brown is a recent favorite color of hers. Thanks to the lowish heel, they're good for a "pain free" day of walking, according to Langué. We can imagine wearing these with a chocolate brown pair of Rio's favorite Wrangler men's dress jeans.
Photo: 19-09-24 Accessories AM2 B7 jent
Full-on crocodile boots are probably a bit much, but if you want to introduce some texture to an outfit, a pair of embossed boots can be a nice touch. This pair comes recommended by Jess Hannah Révész, founder of J. Hannah jewelry, who says the embossed and glossy leather "gives a modern femme vibe" to the slightly Western shape of the boots. Révész also points to the "slightly organic shape to the heel" as one of the design details that makes the Mateas stand out in a sea of ankle boots. Editor and writer Molly Elizalde is a fan of LoQ boots, too, and says that the heel height is "not so tall that it kills your feet to walk around in them all day," nothing that she still gets plenty of compliments on the shoes "even though they're pretty worn." Zisman is a LoQ fan, as well — her go-to is the Lazaro Block Heel Booties, which she says have "a coveted square toe," and pair particularly well with cropped pants and jeans.