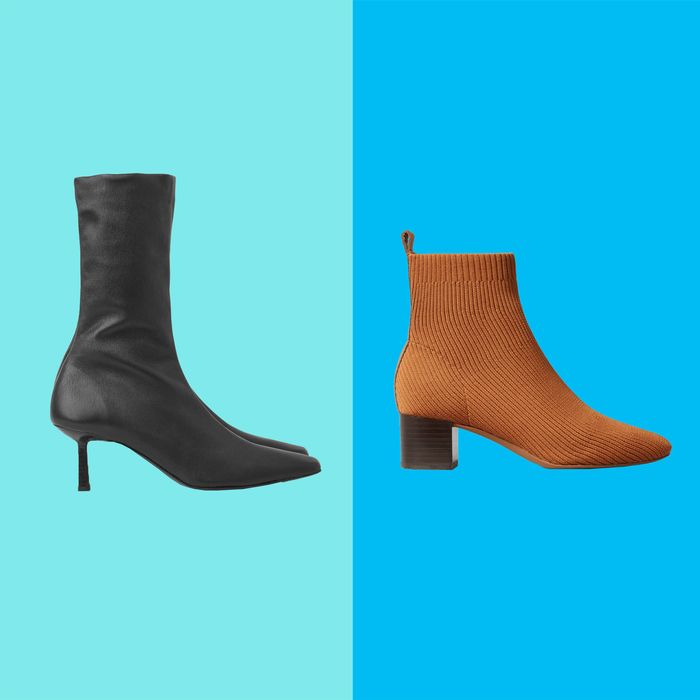 These boots were made for walking.
Photo-Illustration: Courtesy of retailers
We'd be willing to bet that if there's one style of shoe you slip on from late-August through mid-April, it's a pair of ankle boots. This makes sense: Ankle boots are flattering on the leg, look as good with a dress as they do with jeans, and if you land on the right pair, are just about as comfortable as a pair of everyday walking shoes can get. But, like all wardrobe staples — whether it's a white button-down or the perfectly vintage-inspired pair of blue jeans — there's a vast sea of ankle boots to pick through before landing on the ideal pair. To get a lay of the land, we reached out to 29 cool and stylish women, from the coach of Downtown Girls Basketball League to the founder of a luxury sock company, to hear about their favorite-looking pairs. And to ensure no leather and suede soles were skipped over, we scoured our archives for recommendations from other noteworthy people, including celebrities Dove Cameron and Georgia May Jagger as well as our own editors.
To help you peruse the picks, we sorted them by budget: under-$100, under-$200, under-$300, under-$400, under-$500, and splurge-worthy ankle boots. Click through to your budget bracket, or read on for all of the 35 selections that have stood the test of, well, standing — and plenty of walking, whether through slush in the winter or on long treks in the spring.
Best
under-$100
ankle
boots
for
women
"I personally am not afraid of wearing white, especially cream, after Labor Day," says blogger and TikToker Nana Castro, which means wearing these boots year-round. "I think cream-colored boots are superchic." Not only do these boots come in a standout color, but they also have a trendy lug sole, which is really popular this fall. The elastic gusset in black gives some contrast to the shoe, adding even more edge to the style. "I would wear these with an oversize blazer, long-sleeved bodysuit, and jeans for a casual look or an oversize blazer with a slip- or minidress," says Castro.
"I tried on a ton of ankle boots last winter, including the Rachel Comey Mars booties that I really had my heart set on, and I just didn't love any of them," says Strategist senior writer Karen Iorio Adelson. "Either they weren't comfortable to walk in or they just hit my ankle at a weird spot." But then, on a whim, Adelson ordered the Vionics — and they were the one. "They are great — they're supercomfortable, they look sleek, and the leather is water-resistant, so you can wear them in the rain and snow," says Adelson. "They're affordable, too."
If you want a Chelsea boot with a sleeker silhouette, Bathen co-founder Hannah Zisman loves this Cole Haan pair so much that she's bought three pairs over the past ten years. It takes a lot of use to truly wear them down, though: they're made from waterproof leather and have a sturdy stacked heel. "They're durable and comfy, yet still sleek enough to wear to the office," Zisman told us. "And so much better than a rain boot, in my opinion!"
If tying and untying boot laces seems like a pain, take note from Amanda Hill, revenue strategy and operations at Twitter, who told us about her pair with a lace-zip combo from Clarks. "I like having the look of laces with the ease of a zipper," says Hill. Beyond being easy-on-easy-off, the boots are ideal for long treks: "They have a cushioned interior, which makes them probably the most comfortable boots I own," Hill says. And while temperatures may be rising now, come next winter you'll be glad to have these on hand, according to Hill. "They have great grips for ice," she says.
If all of the black boots on this list are looking a little somber for your taste, artist Maggie Meiners says that lately she's been "obsessing" over this pair from XYD, which come in 22 different colors ranging from a vibrant lime green to a pearlescent pink. "I wear my shoes and boots hard, so it's nice to have a pair I don't have to worry about too much, since the price is relatively low," Meiners says. She also notes that they're made from synthetic materials, which could be a draw for those who want to go leather-free in their footwear. Meiners told us she has the boots in white, pink, and gold.
Stylist Christel Langué is a fan of this stretchy pair of boots from Everlane. "The Glove Boot ReKnit in 'tobacco' is so chic," she says, adding that this particular shade of chocolate brown is a recent favorite color of hers. Thanks to the lowish heel, they're good for a "pain-free" day of walking, according to Langué. We can imagine wearing these with a chocolate-brown pair of Rio's favorite Wrangler men's dress jeans. The tobacco shade has since sold out, but Castro is a fan of this season's "toffee." In addition to the color, she appreciates Everlane's sustainability efforts. "These are made from renewable plastic bottles; you'd never know from the knit look," she adds.