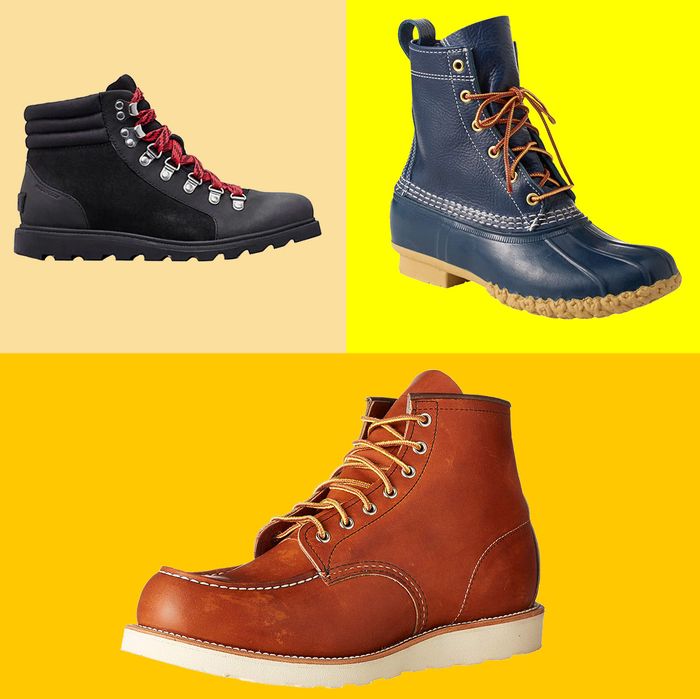 Photo: Courtesy of retailer
If you follow our monthly Strategist Haul, you're familiar with the idiosyncrasies of our editors' and writers' shopping habits. While we think of those as the highlights, there are plenty of other, less glamorous things we buy — and love — on the regular too. So whether you've wondered about the work bags we tote around or the underwear we're most loyal to, this is the Stuff We Buy Ourselves. In this edition, the winter boots our editors and writers rely on to get through sleet, slush, and snow.
Alexis Swerdloff, Strategist editor
I keep it classic with my thinsulate-lined Bean Boots. They're as hardworking and practical as everyone says, and I like that the all-navy sort of blends into most outfits on days when I don't feel like taking them off when I get to work.
Liza Corsillo, writer
For the last four years, I have worn my Blundstone boots on a regular basis from early October through late March. They're easy to pull on and, when paired with some wool socks, they keep my feet dry and warm in all kinds of precipitation. But last winter, I got the itch to change things up. So I bought this pair of Sorel boots that look a lot like a certain pair of classic hiking boots. They're what I wear when I want to stay dry and cozy but also look like an apres-ski influencer. I love the bright-red laces and the contrasting textures of the suede and leather.
Jessica Silvester, contributing editor
This season I decided I wanted an Ugg-like experience without paying for actual Uggs. That said, aside from their bulbous shape, these highly rated snow boots I found (and bought) on Amazon are not all that reminiscent of Uggs. But boy are they a great value for the price. Their breathable faux-fur lining, a waterproof exterior, and grippy, nonslip rubber soles make long treks through the damp woods of Westchester feel like you've got two heated massagers on your feet. Just do as I did and heed the warnings of other Amazon reviewers to go up a size, because they run narrow and small.
At full price, these boots actually cost more than Uggs, making them a slightly sleeker, higher-end dupe. But, right now, a range of the brand's styles are on sale pretty much everywhere (Amazon, Nordstrom Rack, the Outnet). I got my classic short-height style for a hundred bucks. They feel very indulgent and just a touch nostalgic on my early-morning walks, like a modern-day nod to something an early-aughts Kate Hudson might wear. Plus, these go on easier than Uggs and fit true to size.
Jenna Milliner-Waddell, junior writer
Full disclosure: I wear these boots year-round. I wear them when it's sunny and dry, when it's raining, when it's snowing, and even in the summer. I don't spend enough time outside in wintery weather to warrant a heavier-duty boot, but if I did, I still might choose these. The soles are sturdy and have enough grip that I'm not gliding over icy grates or sliding on slush. They are also tall: I haven't encountered a puddle or snow deep enough to run the risk of anything getting inside them. My favorite part about them is how relatively nice they look compared to other winter boots. I wear them with everything from jeans to dresses, to work and to dinner, and I never feel out of place — mostly because on any given day I can spot at least five people wearing the same ones.
Lauren Ro, writer
L.L.Bean's shearling-lined duck boots keep my feet toasty and dry as promised, and they're good for stomping through inches of freshly fallen snow. But I think they're really best for powdery days, not necessarily for everyday wear. The shearling lining is really nice, but it makes them a bit heavy and bulky. And I find that the traction on them isn't great when it's super icy out. That's why I am eyeing a pair of thermal Blundstones to wear more regularly this coming winter.
Anthony Rotunno, senior editor
With 2020 on the horizon, Team Strategist was recently chatting about their best purchases over the past decade. These Red Wing boots that I bought in winter 2009-10 are definitely high on my list. They are one of four pairs of Red Wings I own — but hands down my go-to. Come October, I'm in them at least four days a week, and almost always when the weather is yucky (rain, wintry mix, etc.), though I will throw on another pair of Red Wings in actual blizzard conditions. I definitely got them for style before substance, but they are substantial — they keep my feet dry in rain or slush, and have held up pretty well for something I've worn hundreds of times (many of those times being crappy weather). Time has made them look a lot better, too; they've darkened into a moodier brown, but last year a small hole did open on the side of one boot. Still, they're totally wearable — and comfortable, as the soles have molded to the shape of my feet over the years. But know that, like many leather boots, these will take some time to break in before they reach peak comfort.
These are my blizzard Red Wings. To me, they look more like your standard winter boot; less fashion, more function (but still stylish enough). Plus, the exterior is leather, not suede, which is a bit more suitable for plodding through the occasional foot of snow that one or two winter storms blanket the city in each winter. They were actually the first pair I bought, and have also held up very well. Like the pair above, these will take some breaking in.
Hilary Reid, writer
I've had the same shearling-lined Bean boots as Lauren for years, and they're totally impervious to snow. Like, you could walk through waist-deep snow and your legs might get soaked but your feet would still be warm and dry. That said, I agree with Lauren's take that they're a little too serious to wear on an average winter day. But when a snowstorm hits, these are truly the best.
I'm also a member of the Blundstone cult. Since they're unlined, I think of them more like galoshes than true snow boots, which makes them better for daily winter wear than heavy Bean boots. They're fairly lightweight, but solid enough to withstand walking through the dreaded curbside black holes of slush.
Maxine Builder, managing editor
Any other winter duck boot is just trying to copy what L.L.Bean perfected more than a century ago, and I do not believe in straying from a classic — especially when it comes to outdoor gear! That's why I wear the unlined, six-inch Bean boot. (No offense to my colleagues, but I am skeptical of anyone with the fleece- or flannel-lined Bean boots, because they clearly don't know how to layer.) I've had my Bean boots for at least a decade, and they're going strong, even after ski trips out west, brutal New England winters, and New York City's aforementioned black holes of slush.
Uggs are my go-to when it's below 50 degrees outside, but there's no slush or snow, and I'd rather be wrapped up in a duvet than out on the street running errands. They have their faults as true winter boots, mainly that they're not waterproof. But have you ever taken off your tight ski boots and slipped on a cozy pair of Uggs? It's heaven.
Chloe Anello, junior writer
When I saw these Jeffrey Campbell boots during Shopbop's big sale a few weeks ago, I decided to retire the beat-up Bean boots I got my freshman year of college. They're not as insulated as my Bean boots, but they're definitely more attractive. Even though we haven't had harshly cold weather yet, I think with warm socks they'll get me through the season. To (hopefully) extend their life beyond one season of slushy sidewalks and snowy dog walks, I sprayed some of Jason Markk's water-repellent spray on them.
David Notis, writer
I know I'm not breaking the mold with these, but I've had them for five years and I love them. These are the boots I break out if it's really snowy or rainy or slushy or whatever else. The heel is starting to get a bit worn down — I drag my heels when I walk and the soft soles are not exactly optimal for New York City streets — but that's okay, I can send them out to get resoled by L.L. Bean when I really need to. That's one of the reasons I wanted these in the first place: You can keep repairing them. Like Maxine, I think getting them unlined provides more flexibility; I like that I can also wear them in the fall or spring when it rains. And come winter, I've been totally fine wearing them with heavy wool socks — I like Darn Tough — if it's really cold.
I got these secondhand so they were already broken in, but I think I've made them my own at this point. I've had them resoled once and I'm about to send them to Red Wing to get resoled again. (Yes, I like getting boots resoled.) Like Tony, Red Wings are the boots I wear for most of the winter. They aren't insulated, but again, a thick pair of Darn Tough socks is all I need. I'll still wear these if there's some snow on the ground — they're great and stylish enough to wear pretty much anywhere that isn't super fancy. For storming through big puddles or scaling sidewalk snow mountains, the L.L.Beans are better, but for everything else, these are my go-to.
Dominique Pariso, writer
I've relied on Dr. Martens's 1460 Boot every winter since I was 13 years old and it has never let me down. Pair them with a wool sock and they are guaranteed to keep your feet warm and dry. I also love the matte, slightly