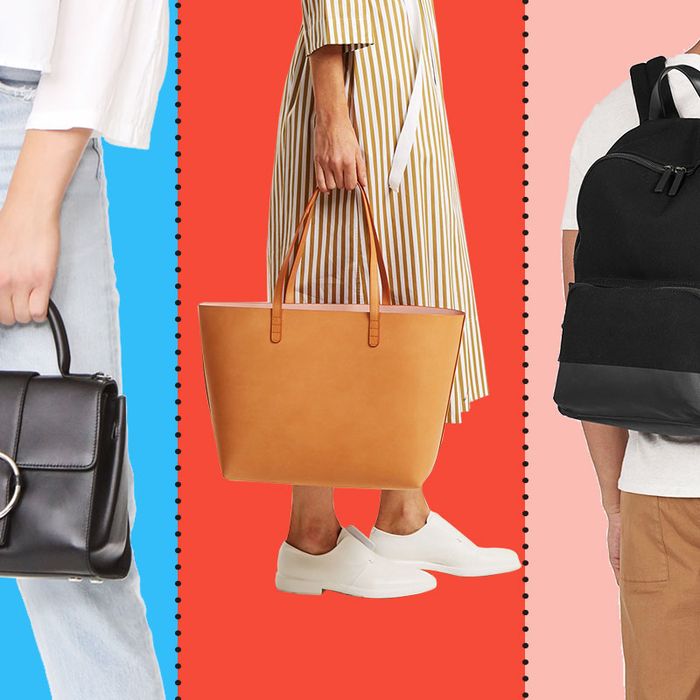 If you follow our monthly Strategist haul, then you're familiar with the idiosyncrasies of our editors' and writers' shopping habits. While we think of those as the highlights, there are plenty of other, less glamorous things that we buy — and love — on the regular, too. So whether you've wondered about the lip balm we hoard or the SPF moisturizers we slather on our faces, this is the Stuff We Buy Ourselves. In this edition: the bags we rely on Monday through Friday.
I'm a real bag-rotater, and recently, I've been toggling between my new, beloved "I Found It on the Strategist" tote, my Riverhead Books tote, my trusty Everlane Twill Zip Tote (when I want something with a zipper), and for when I want to feel more "together," the black, leather Comme des Garçons tote that I got at the Market Market sale a few years ago (which they don't sell anymore). (This is out of stock, but Everlane says a restock is coming July 21 — just a few days away.)
I've now talked about this bag so much, but one year later (almost exactly!), I still haven't found anything better. I could repeat everything I've said about it already — how it's the perfect size, and feels expensive, and sits just so on the shoulder — but I'll add only that when one of my very good friends asked me for a work-bag rec, I suggested a few (including the Makr), and now we're tote twins. He tells me all the time how much he loves it.
I don't deserve to have a bag this nice because not only is it my work bag, it's my gym bag and, inevitably, my errands bag, so it carries bags of coffee or loose apples or lemons that I snag on the walk home from the subway. Luckily for my conscience, when you buy one of these bags, it comes with a tag telling you all about how the tanned leather isn't meant to be pristine forever, and will show "life" through wear and marks. It's true, mine sure does. But it's aging beautifully and is still the platonic ideal of a leather carry-all bag.
I'm a tote bag–work bag​ person. ​Mostly because I schlep around a lot of annoyingly heavy stuff​ — ​a glass lunch container, an aluminum canister thing for coffee, a paperback, and a couple of magazines. I also have a smaller leather cross-body bag for my phone, wallet, keys, and so on. It's a lot on my person, ​so ​I can't deal with anything heftier than canvas. ​I think I'm going to order this Only NY ​x New York Mag ​​tote; t​here's something so simple and appealing and also kind of '80s-looking about this navy-and-white colorway to me​.
Photo: 17-12-19 Accessories AM1 B9 corypeterson W
I'm in a bit of a work-bag flux right now because I prefer to carry nothing, but end up carrying so much, so I usually just frantically throw everything into an Only NY tote I was very generously gifted a couple years back and hope I don't run into anyone important or conscious. But if I'm really going to let you in on the work bag I stand behind, it's got to be the Building Block Business bag, which I bought a few years ago after an intense search into a work bag that was right for me. I'll warn you that the leather here is on the heavier side, but I love the shape, which is a slightly unusual rectangle and fits a laptop perfectly. I love that I can carry it by the handle or over the shoulder. I love that it has a smaller pocket within where I can stash the essentials. And I love the tassels, which are thick and strong and carry their own version of #BDE that garners more compliments than I've ever received on a bag before.
Photo: Bobby Doherty/New York Magazine
I don't have an official work bag, I only use totes. I got this one, from a small grocery store called the Get Go in Marfa, when Lauren and I wrote about status totes a couple of months back, and have worked it right into my rotation. But those totes are always, always filled with several Baggu pouches to keep my things organized into categories.
Though I mostly rotate through any number of the tote bags in my always-growing collection, on the long days when I go to the gym then the office then an event or dinner with friends, I'll pack everything in my all-black Patagonia backpack. At 32 liters, it can easily hold a pair of shoes, a makeup bag, and a packed lunch. It also has an easy-to-access front pocket for my wallet and work ID, and a padded pouch in the back for my 13-inch laptop. But despite its volume, it's pretty low-profile because the top flap can be strapped down, so it looks much smaller. The all-black wears well, doesn't show dirt, and looks surprisingly cool for a utilitarian backpack.
Two years ago, I was waiting on the security line at the airport when the strap on my, admittedly overstuffed, Madewell Transport tote tore off. I ordered this Cuyana bag from my phone on the spot. I used the Transport tote for a few years and loved it, but this bag is a big upgrade. The pebbled leather doesn't show scratches or wear as easily, and the zipper top (and inside zip pocket) makes me feel more secure. It holds everything you'd need for a work day, and the gold hardware adds some polish.