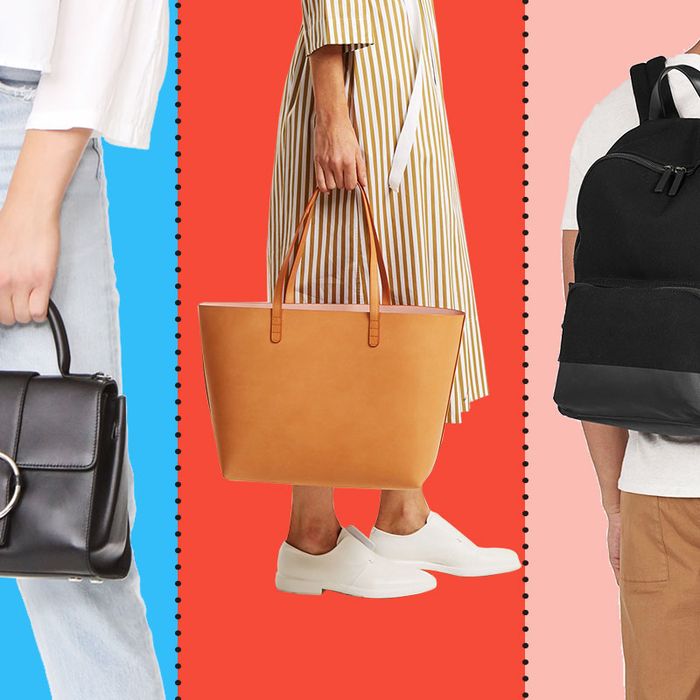 If you follow our monthly Strategist haul, then you're familiar with the idiosyncrasies of our editors' and writers' shopping habits. While we think of those as the highlights, there are plenty of other, less glamorous things that we buy — and love — on the regular, too. So whether you've wondered about the lip balm we hoard or the SPF moisturizers we slather on our faces, this is the Stuff We Buy Ourselves. In this edition: the bags we rely on Monday through Friday.
I'm a real bag-rotater, and recently, I've been toggling between my new, beloved "I Found It on the Strategist" tote, my Riverhead Books tote, my trusty Everlane Twill Zip Tote (when I want something with a zipper), and for when I want to feel more "together," the black, leather Comme des Garçons tote that I got at the Market Market sale a few years ago (which they don't sell anymore). (This is out of stock, but Everlane says a restock is coming July 21 — just a few days away.)
I've now talked about this bag so much, but one year later (almost exactly!), I still haven't found anything better. I could repeat everything I've said about it already — how it's the perfect size, and feels expensive, and sits just so on the shoulder — but I'll add only that when one of my very good friends asked me for a work-bag rec, I suggested a few (including the Makr), and now we're tote twins. He tells me all the time how much he loves it.
I don't deserve to have a bag this nice because not only is it my work bag, it's my gym bag and, inevitably, my errands bag, so it carries bags of coffee or loose apples or lemons that I snag on the walk home from the subway. Luckily for my conscience, when you buy one of these bags, it comes with a tag telling you all about how the tanned leather isn't meant to be pristine forever, and will show "life" through wear and marks. It's true, mine sure does. But it's aging beautifully and is still the platonic ideal of a leather carry-all bag.
I'm a tote bag–work bag​ person. ​Mostly because I schlep around a lot of annoyingly heavy stuff​ — ​a glass lunch container, an aluminum canister thing for coffee, a paperback, and a couple of magazines. I also have a smaller leather cross-body bag for my phone, wallet, keys, and so on. It's a lot on my person, ​so ​I can't deal with anything heftier than canvas. ​I think I'm going to order this Only NY ​x New York Mag ​​tote; t​here's something so simple and appealing and also kind of '80s-looking about this navy-and-white colorway to me​.
Photo: 17-12-19 Accessories AM1 B9 corypeterson W
<