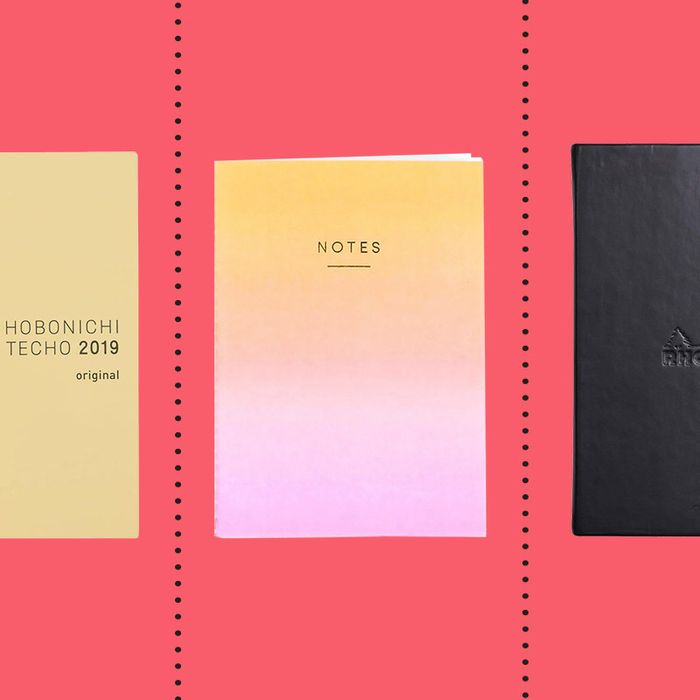 2019 is coming.
Photo: Courtesy of the retailer.
If you follow our monthly Strategist haul, then you're familiar with the idiosyncrasies of our editors' and writers' shopping habits. While we think of those as the highlights, there are plenty of other, less glamorous things we buy — and love — on the regular, too. So whether you've wondered about the work bags we tote around, or the underwear we're most loyal to, this is the Stuff We Buy Ourselves. In this edition, for Work Week, here are the notebooks and planners that help us stay organized.
Karen Iorio Adelson, writer
I've long been a fan of Delfonics' notebooks. I love that the hard, cardboard cover doesn't bend or crease, and that the elastic band keeps the notebook closed in my bag. The light lines on the paper are good for guidance but not obtrusive if you need to sketch or outline outside of them. One of my favorite details is that I can fit a pen inside the spiral binding and clip it on for safekeeping. However, I've recently noticed that all the Delfonics I've seen for sale have a much narrower binding that wouldn't fit a pen. Weirdly enough, the only version with a bigger spiral is the planner edition, which can be harder to find. Fortunately, since only the first few pages are dedicated to monthly calendars, I can still use it as a regular notebook. (I have the gold metallic one, seen here and available on Amazon.)
When it comes to my actual planner, I put a lot of thought into finding one with a format that would work for me. After a lot of trial and error, I realized I like an hourly layout, being able to see a full week on one spread, and some extra room for notes, to-do lists, and other random thoughts. Since this one checks all the boxes — and has a slim and manageable shape — I picked it up for next year.
Maxine Builder, writer
My handwriting is loopy and large, so pocket-sized notebooks are out of the question since I fill them up too quickly. I also find college-ruled lines unnecessarily prohibitive, especially when I'm taking notes while talking on the phone or during meetings — though totally blank pages are too anarchic for my taste. That's why I like this extra-large Moleskine notebook with dotted pages. The sheets are big enough to accommodate my writing, and the dots give me both the flexibility to write as I please and some guidance to ensure the lines of text are straight.
Lauren Ro, writer
I've had a planner for as long as I can remember (can't live without one), and my recent yearly go-to, though a typical choice, has been the Muji Monthly/Weekly planner. I prefer an agenda that includes both a 12-month calendar and a week-by-week view, and this has both. I especially like that each week takes up just one side of the notebook (as opposed to a full spread), with each day of the week getting equal space, and that the opposite page is gridded for unencumbered note-taking and list-making. In the past I've used the Moleskine planner as well as the Rhodia, but I've found the Muji to be the most streamlined and unfussy — perfect for my needs. Plus, the smooth paper is ideal for use with my Muji capped gel-ink pens (only in .38 mm, please).
Jason Chen, deputy editor
Strategist editor Alexis gave me this last year — she loved hers so much she got me its cousin — and I'm not nearly as great as she is about recording everything neatly (there are so many little grids and lines but I just scribble chicken scratch). I most appreciate its size — it's just slightly bigger than my iPhone Plus, and the pages also have the nicest tissue-y quality. They're thin, but not fragile, the way expensively flimsy stuff always is.
Katy Schneider, associate editor
I am a Muji loyalist when it comes to notebooks. I like the colors on the regular sets of five (a tumeric-y yellow, a pretty burnt orange), but generally tend to go for the gray, gridded versions instead (I prefer grids to lines for my to-do lists, which is all I really use a notebook for). All of their notebooks are cheap ($1.25 for a single, $3.50 for a set), which means I don't feel bad when I inevitably lose them in my personal Bermuda Triangle, my tote bag.
Simone Kitchens, senior editor
I'm in no way original here, but I really believe Muji spiral-bound notebooks are the best notebooks (I like the A5 style, which is sort of medium-ish in size). I've been using this same one for maybe ten years. My closet at home has stacks of filled ones from previous jobs over the years. They are dirt cheap, so I usually pick up five or so at at time, which I actually need to do very soon. I used my last one a couple weeks ago, so I am currently using a perfectly fine one from Hay, which I admittedly did not buy.
Dominique Pariso, intern
While I have never found an agenda as perfect as the one I got for free every year in elementary school (it had a hologram cover, 'nuff said) this weekly planner from Gallery Leather comes close. There's substantial writing space for each day of the week, with extra note pages at the back for jotting down other random thoughts, lists, and doodles. But it's the details that really make this planner feel refined: ribbon bookmark, gilt-edged pages, even a beautifully illustrated map at the back. The paper is thick, the leather cover sublime. Think of it as the Smythson for the budget-conscious — just as elegant but at a fraction of the price. In the past, I've owned both the black and orange covered versions, but for this January I'm eyeing the on-trend lime.
While I am not a fan of the Moleskine planner, I will sing the praises of this notebook until my dying breath. The cover is a sturdy but soft cardboard. The stitched spine allows the notebook to lay completely flat, so no matter what side of the page you're writing on, it's a pure pleasure. The volume is slim and the page size — at 7.5 by 10 inches — is juuuuust right. Personally, I prefer the lined version, but the pages also come gridded or totally blank to accommodate whatever structure, or lack thereof, you desire. Oh, and the best part? The back pages are perforated. Just in case you need to jot down a grocery list, a letter, or a love note to pass along to somebody else.
Liza Corsillo, editor/writer
I cannot stand any kind of spiral notebook because they're bulky and awkward in my hands. For me, the thing has to be small enough and flexible enough to come with me everywhere I go. This weekly pocket planner from Moleskine is about the size of my phone and gloriously uncomplicated, with the days of the week on the left and extra room for a to-do list on the right. But it was the set of emoji-like stickers that come tucked in to the back pocket that won me over.
Most days I carry a weekly planner and a blank sketchbook. I love to draw on the subway, if I get a seat or feel good about my balance that day. These brown-bag colored, plain paper notebooks are easy to turn inside out for one-handed holding. They're tall and slim so they don't take up too much room in any bag and, because they're cheap, I don't feel too precious about using them up fast.
Margaret Rhodes, senior editor
I'm no model calendar-keeper — I let Google and my iCal do most of the work — but I do live by the power of a list. It's remarkable how efficient you can be after just writing down what you have to do, and I like a lined or a completely blank slate of a notebook that lets me jot down lists for work duties as well personal errands. Like half of Strat, I usually use Muji's simple and crazy cheap notebooks. But every now and again I'll buy a vanity notebook, which is what this one, made by Wrap Magazine, is. I bought it at the MoMA PS1 gift shop awhile back and just unearthed in during a big cabinet clean-out. It's now the one thing that's keeping my head in order.
The Strategist is designed to surface the most useful, expert recommendations for things to