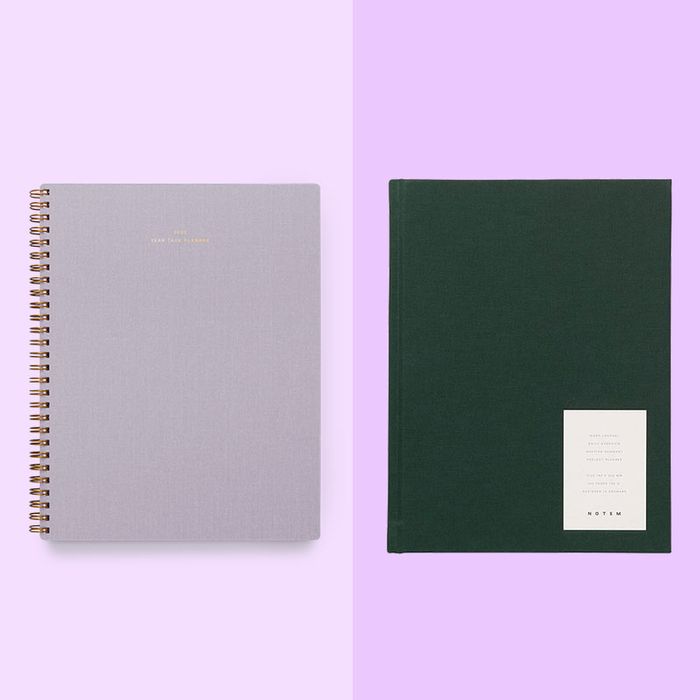 Photo-Illustration: Courtesy of the retailer.
At the Strategist, we are very passionate about our stationery. After all, we've ranked the 100 best pens and notebooks (and made a few enemies along the way), and have even scoured the internet for the most delightful school supplies from around the world. This time, we're talking about the planners and notebooks that keep us organized throughout the year. While we still have about two more months of 2021, it's not a bad idea to start thinking about how you're going to conquer 2022. So without further ado, here are the 16 planners, agendas, and notebooks our editors swear by.
Karen Iorio Adelson, senior writer
I've been using this planner for three years now and it's really worked for me. The week on two pages leaves plenty of room to write plans for each day and there's also space for monthly and weekly planning and goal-setting. Each week has a prompt for you to reflect on (typically things that make you focus on being more mindful or intentional in different aspects of your life), and while some people might find these a little cheesy, I tend to like them. I'll skip the prompts that don't resonate with me and focus on ones that actually seem helpful. The hardcover planner itself also just looks nice. It comes in a bunch of different colors and lays flat when you open it up which makes it easy to write in.
Dominique Pariso, writer
This January, I will be buying my fourth Hobonichi Techo. It's a longtime Strategist favorite and for good reason: no other planner I've ever tried comes close to it. As New York Magazine deputy editor Alexis Swerdloff wrote in her initial ode, "The leather-bound book is hefty and feels like I'm actually holding something substantial (unlike a Moleskine), while still being incredibly compact: It's little bit taller than an iPhone 6, and about the width of a Kit Kat." It's the perfect size to chuck into any bag, and I love that the light gridding on each page grants every day some order, but still gives me the space to dash off notes, lists, and doodles.
Liza Corsillo, senior writer
I cannot stand any kind of spiral notebook because they're bulky and awkward in my hands. For me, the thing has to be flexible enough to come with me everywhere I go and not get snagged on whatever else is inside my bag — headphone wires and spiral notebooks don't play well together. This softcover weekly planner from Moleskine is gloriously uncomplicated, with the days of the week on the left and extra room for a to-do list on the right. But it's the fact that it spans 18 months instead of 12 and comes with a set of emoji-like stickers tucked in to the back pocket that won me over.
Katherine Gillespie, writer
The only planner format that works for me is a double spread with weekly layout on the left side and notes page on the right. It's so handy to be able to plan appointments but also jot down random lists and doodles that aren't tied to a specific day. While a classic go-to for this format is Moleskine, I prefer Hightide's "Minute Manager" A5 planners because they're made of this durable PVC that has an '80s office-supply store feel. It's a little less minimalist, a little more retro. Mine's yellow, but in previous years I've gone with the sleeker black. You can get a good dupe for these at Muji — same PVC covers and page layouts, but without the fun colors and fonts. But I tend to go with the old wisdom that the more you spend on a planner, the more likely you are to actually use it.
Maxine Builder, editor
I love a planner that has one sheet of paper for one day of work, so I can make a prioritized to-do list of each day's tasks and meetings. But I am also inconsistent about using a paper planner every single day. (I also never use my paper planner on weekends, so that's already over 100 wasted pages.) This slim, undated work journal from the Danish brand Notem solves that problem, and more. I fill in the dates, as needed, and I like the sidebar on each page where I can track appointments and people with whom I need to follow up. Plus, the paper's thick enough that my pen and crazed highlighting doesn't bleed through. (That was the main problem I had with the undated Stalogy planner I had been using previously: too-thin pages.)
Emma Wartzman, kitchen and dining writer
I don't use a proper planner — just a notebook for my to-do lists. I used to be a Moleskin devotee, but I have to say, I like this one even better. The spiral binding means I can have only one half facing up at a time. It lays open and completely flat next to my computer all day as I add things and cross them out. The lightly colored grid on each page allows me to write in relatively straight lines, without having to stick to a particular lettering size. It comes in many sizes, but I've found the A5 to be perfect for filling out a new list on a new page each week.
Gabrielle Cody, Strategist intern
I am so picky when it comes to finding the right planner that I usually don't find one, or end up grabbing the first one I see and calling it a day. With college classes and internships this year, I knew my schedule was going to be jam-packed. I came across this Eccolo planner in a department store and fell in love with it. The first two pages show an overview of the next 24 months. Then there's two years' worth of monthly calendar spreads that have enough space to write down important dates. The last (and best) part are the weekly calendar spreads that include to-do lists, notes, reminders, and goal of the week sections. It may seem like a lot, but when you want everything in one place, this planner really gets the job done.
Jessica Silvester, contributing editor
I decided to take up bullet journaling last year when I was in a postpartum fog and desperate to find a way to form and organize my thoughts. The problem was, I kept forgetting how the method actually worked — the various structures for daily, monthly, and future logs; the different symbols for tasks, notes, and events. So I purchased the "official" Bullet Journal notebook, which is a Leuchtturm 1917 customized with a few BuJo bells and whistles, including a key in the front and abbreviated instructions in back.
Of course, I now only use the notebook to jot down tasks and notes, and I haven't managed to maintain the many other aspects of the practice. But it's a great planner all the same — the pages stay flat when you open it; it has a durable hardcover with an elastic closure; and the dot-grid paper doesn't bleed through. Plus the Bullet Journal version has three page-markers rather than the usual two, which is a nice touch.
Ambar Pardilla, writer
I know this is going to make me sound slightly chaotic but I start every work day by writing down all my tasks in capital letters, with a different colored Sharpie, and on a new page of a (preferably unlined) notebook. In my defense, Sharpies just write really well and I like color-coding my days (pink for Monday means green for Tuesday and so on) just as a visual for what I have to do today and what I can put off until tomorrow. I'm a procrastinator by nature, but I like to be organized in my procrastination. Historically, planners just stress me out — the dates, the stickers, the month overview, the little space to actually write down whatever you need to do. Blank notebooks are more forgiving. I turn the page and forget yesterday. I can doodle when I can't figure out what the next sentence in a story needs to be. I can write one task bigger than another to emphasize how it has to be done ASAP. These are my current favorite notebooks, from one of my favorite designers, John Derian. The colorful covers make me want to be productive. And most importantly, the pages are strong enough to withstand my Sharpie scribbles. I'm eyeing celestial- and culinary-themed versions for next year.
Erin Schwartz, writer
For the chaotically aligned, a planner is less about features than psychological inducement — a good one helps you nudge yourself toward order without feeling guilty when your plan goes off the rails. The best option I've found is this 8.5-by-11-inch Ampad gridded notepad. It is not the highest-quality item on this list; the binding is glue and the paper is just okay. But the grid size is small and the page large enough that it fits three or four days of lists on one sheet, plus extra space for notes, which facilitates jumping between tasks as they get done out of order. The grid lines are light enough that pencil shows up, a problem with some other gridded pads with darker, thicker lines, like the Cambridge 4x4 notepad. I use these notepads down to the last sheet, which are full of doodles, phone call notes, hair-dye stains, and coffee rings. I will keep buying them forever.
Chloe Anello, writer
In the past, I bought cheap agendas because I could never commit to using it every day. But this year, I received a beautiful Smythson planner as a gift. It starts in December, so I haven't had a chance to use it yet, but I love the layout of it: It has a daily to-do list on one side, then a full page of lines for notes on the other. I don't need to figure out where non-date-specific tasks need to go. I understand the appeal (and price) now, too. And I plan to use it every day.
Jordan Bowman, tech writer
I am steadfast in my belief that Moleskine blank page notebooks are the way to go. I don't like ruled notebooks, and I detest the idea of a planner with the month and the date. Back when I was in college I saw someone using blank page Moleskine pocket notebooks, and I've been using them ever since. My handwriting is a mix of cursive, doctor gibberish, and journalistic shorthand, but it all fits on the page. I'm sure it's indecipherable to the average person, but as someone who takes detailed notes during interviews, it works. I often find myself writing on the side of pages or squeezing ideas into the corner of a page with the precision of a heart surgeon. But that's all part of the charm. I prefer a notebook that can bend and warp or slip into my back pocket. When I need to plan things for the week or an especially chaotic day. I write the date at the top of a blank page and create a bullet point of the day's tasks. I implore everyone to free themselves from the planner and embrace the chaos of the blank page.
Louis Cheslaw, associate editor
First of all, the Hobonichi Techo's day-per-page layout is perfect for me: I need a full page each day for my to-do list, but have no need for any overflow "Notes" space. And when I combined that with its added benefits — a hard-wearing cover, thin (but quality) pages for a slim profile, lie-flat opening, and compact size — I quickly understood why the planner has such a cult following. I've already placed my 2022 order, and look forward to critiquing my colleagues' alternative planners once we're back in the office come January.
Jenna Millliner-Waddell, writer
Hopefully it's not obvious, but I'm extremely disorganized. I mainly rely on my brain to remember my to-do list, and really important things live in my Notes app, a Google Calendar, or on a Post-it. I stopped purchasing planners a while ago after realizing they're a waste of money if you only use them one month out of the year. Notebooks are different, though. I got this one after testing it for our 100-notebook story back in 2019, and apparently stopped using it right after the testing period, because there were plenty of pages left when I picked it up earlier this year. Now I'm running out. I mainly keep group-therapy notes in here. The dots are perfect for jotting down skills that have some visual component or for doing a mindfulness activity. I'm not sure if I'll ever be a monthly- or weekly-planner person, but, as it turns out, I am quite the notetaker.
Lauren Ro, writer
I am obsessed with finding the perfect planner (and notebook, as I've chronicled here), so when I read about this brand in this story about expert-recommended planners, I had to check one out for myself. First of all, I love how elegant and minimalist everything from Appointed looks, especially the muted colorways and gold foil-stamped lettering — and the fact that you can get it monogrammed. I also appreciate the delicate lines, substantial paper, and laminated monthly tabs. And it has everything I usually look for in a planner: Monthly calendars as well as weekly spreads, with the week on one side and space for notes and tasks on the opposite page. It has served me beautifully all year. For 2022, Appointed came out with a more compact version (sans tabs), for those who want something a little smaller.
As much as I love my Appointed planner, I'm always on the lookout for something new, and I'd been fascinated by the rave reviews my colleagues have for the Hobonichi planner, but it's just too small for my purposes (I got my husband one last year so I was able to touch and feel it). Then my friend and Curbed colleague Jenny Xie turned me on to the Techo Cousin, which, as the name suggests, is a variation of the little black book my co-workers use. This one is much bigger (A5 as opposed to A6) and includes — get this — monthly calendars, weekly spreads, AND daily pages, which is virtually unheard of in a compact planner. The only drawbacks of the Cousin is that it only comes in Japanese (or Chinese), and the cover is paper as opposed to the textured, leather-like cover of the smaller notebook. Still, I'm so excited to use it next year.
The Strategist is designed to surface the most useful, expert recommendations for things to buy across the vast e-commerce landscape. Some of our latest conquests include the best acne treatments, rolling luggage, pillows for side sleepers, natural anxiety remedies, and bath towels. We update links when possible, but note that deals can expire and all prices are subject to change.
Every editorial product is independently selected. If you buy something through our links, New York may earn an affiliate commission.