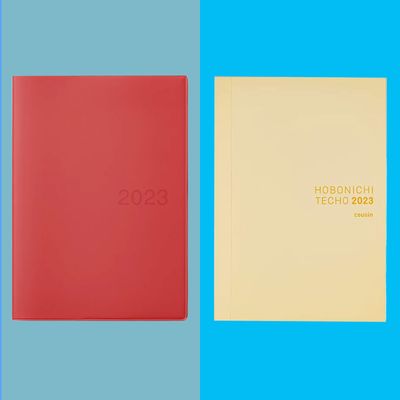 Photo-Illustration: Courtesy of the retailer.
At the Strategist, we are very passionate about our stationery. After all, we have ranked the 100 best pens and notebooks (and made a few enemies along the way) and even scoured the internet for the most delightful school supplies from around the world. This time, we're talking about the planners and notebooks that keep us organized throughout the year. With a little less than a month of 2022 to go, now's the time to start thinking about how you're going to conquer 2023. So without further ado, here are the 13 planners, agendas, and notebooks our editors swear by — plus a couple of accessories to go with them.
Dominique Pariso, writer
This January, I will be buying my fifth Hobonichi Techo. It's a longtime Strategist favorite and for good reason: No other planner I've ever tried comes close to it. As New York Magazine deputy editor Alexis Swerdloff wrote in her ode to it, "The leather-bound book is hefty and feels like I'm actually holding something substantial (unlike a Moleskine), while still being incredibly compact: It's little bit taller than an iPhone 6, and about the width of a Kit Kat." It's the perfect size to chuck into any bag, and I love that the light gridding on every page grants each day some order but still gives me the space to dash off notes, lists, and doodles. After four-plus years of using the Techo, it's absolutely something that I cannot live without. My ability to organize and plan my entire life is totally dependent on it.
Lauren Ro, writer
Purchasing a new planner — and all its accoutrements — for the following year is one of my favorite fall rituals as a a stationery nerd. This will be my second year using the Hobonichi Techo Cousin, the larger, more souped-up version of the above Techo that includes monthly, weekly, and daily spreads, all in a relatively compact package. I've mostly only used weekly planners in the past, but now that I have two kids, I need more space to keep track of everything, which is why I appreciate the gridded daily pages for their structured-but-not-too-structured layout that includes a schedule column on the left and a priority checklist at the top; the rest of the page is open, and I use it for jotting down diary-like musings, family meal planning, and whatever else I want to commit to paper. As much as I love this planner, it's pretty minimal in design, so I have to hack it a bit. I add a grosgrain ribbon placeholder to it by super gluing it to the outside of the spine, and I also order a separate vinyl cover from Etsy to protect its cardstock cover (I wish it came with the stronger, leather-like cover of the smaller Techo). I also add plastic sticky index tabs to mark each month. The Cousin, like the Techo, goes in and out of stock, so I recommend getting one sooner rather than later.
Louis Cheslaw, associate editor
This is kind of Strat sacrilege, but I stopped using my Hobonichi Techo because I became frustrated with the one-day layout. It didn't help me visualize my week, and it also made it more of a pain to move tasks across days when inevitably things need to shuffle around. I've returned to the specific planner I had before it — Moleskine's weekly planner — and am happy to be home. The important thing for me was to get the planner that has the entire week across both pages though — not the weekly planner that has a side of dates and a side for loose notes. I want as much space per day as possible to cram my ambitious tasks in, which is what this gives me.
Sam Daly, deals editor
Throughout college, I lived, laughed, and loved by the mini planners I would buy in the checkout line of Barnes & Noble. Now that I've been out in the working world for a few years, I wanted to find a pocket planner that had a similar setup: I like weekly overviews with a lot of space to take notes and doodle, and I don't need many extras like an address book page or a place to make a list of intents. And my biggest must-have: a ribbon to keep your place. Papier's planners have all of the above, and its products come in so many fun patterns and designs, the hardest part of picking this planner was just choosing one.
Rachael Griffiths, writer
I always look forward to picking out my Papier planner because the designs are really cute and colorful. But the real reason I order one each year is because of the layout. At the front, it has a year's worth of monthly calendar grids, where I'll keep track of deadlines, birthdays, and holidays. Then, the bulk of the planner has two page spreads for each week, with enough space under each day to make a note of meetings and appointments, as well as jotting down a few to-do's. I think it works so well for me because it's the closest thing I've found to the planners that my high school used to give out: I'm a real creature of habit.
Latifah Miles, writer
I was a die-hard planner user for years, but the traditional calendar layout just hasn't worked for my lifestyle lately. I still really like to write things down and find that a visual to-do list is super helpful to my general organization, which is why I ordered this undated daily planner from Ban.do that allows me to list out my tasks when I want without being chained to filling it in every single day. My favorite part is the "Priorities" section where I can pull out just a few things from my longer to-do list that I absolutely want to accomplish each day. Putting those in a separate section is a really nice way to refocus so I don't feel totally unaccomplished at the end of the day if my long list isn't fully crossed out. Some days my priority is to just sleep in.
Kayleen Schaefer, senior editor
I never think about buying a planner for the new year until it's too late and they're all sold out. So I turned to Mixed Role Productions' August-to-August planners, which are great for me because I can buy them in June, and it's fun to still feel like I'm living my life in semesters. This year, though, I decided to grow up and buy a proper planner that starts in January. I chose Appointed's Wire Daily Planner because it has a classy dark gray cover and is spiral bound, so it will blend into my desk when it's closed and lay flat when it's open. Each day is a full page that's broken into a column for my schedule and one for tasks I have to accomplish, plus plenty of room below those two columns for any other notes I want to make. Here's to ringing in 2023 like an adult.
Jeremy Rellosa, writer
I love how the BestSelf Planner helps you track tasks and goals for pretty much every time period. It has pages of organizational boxes to help log daily tasks, prompts that help you set goals for the week, and then longer prompts and note taking spaces for quarterly reflections. I've used it for both for work and for my personal life (I buy two because I prefer using separate planners for my work/life balance). I also love how calming it is — the prompts aren't stressful and the undated pages don't make me feel like I've missed out on a ton (or wasted the journal) if I take a week off from using it. Planning with the Best Self doesn't feel manic.
Liza Corsillo, senior writer
For the past few years, I have been very satisfied using a hardcover Moleskine Weekly Planner. I love the way each spread has the days of the week on the left and ruled space for to do lists, notes, or random thoughts on the right. My only complaint has been that the page size is a bit small, while the hard cover makes it feel bulky in a bag. Then I bought Muji's Monthly/Weekly Planner thinking it would work perfectly for my husband, who is a teacher. It wasn't long though before I had reclaimed the gift for myself. The Muji planner has a soft waterproof cover (this helps me feel less precious about it) and large pages with the same 7 day layout as my old Moleskine on the left side and an open gridded page on the right. The larger size means I have more room to plan and the grid format lets me use the empty space on the right hand side more freely. It also comes with full-month calendar spreads, a full-year calendar and lots of extra grid pages in the back.
Kitty Guo, junior writer
For more than 30 years now, editor Julian Rothenstein has curated his beloved Redstone Diaries with a delightful assortment of artwork, photographs, quotes, and other cultural sundries, all centered around a certain theme — they're like a planner and a monograph rolled into one. For 2023, the theme is beauty, featuring excerpts from luminaries such as John Baldessari, W.E.B. Du Bois, and Louise Bourgeois. As someone who grows paralyzed when faced with a procession of blank pages, I'm not really a big notebook person (most of my stray thoughts are scattered in bits and pieces across the Notes app). But opening a journal where half the pages are already filled with something lovely, creative, and valuable takes all the pressure off and may even inspire some beautiful musings of my own.
Erin Schwartz, writer
I wrote about the Emilio Braga A5 notebook in the August Strat Haul, and it remains my favorite little notebook for jotting down to-do lists, reminders, sketches, notes, and doodles — special enough for journaling, compact enough to write a grocery list and throw it into a tote bag. It has nice, dense cream-colored pages, a marbled cover, and sponge-painted edges, which makes them look really nice on a shelf or in a stack — you can see a bit of the color on the cover, which is mirrored on the edge of the pages. The paper itself is also fancy enough that I'll sometimes cut out a page to write a gift note. I am too disorganized to use a planner, so I buy the unlined version, although they do make a 2023 planner. You can find the fullest range of colors on the Emilio Braga website, including their zany multicolored line, but I bought mine from Portland store Little Otsu to avoid EU shipping.
Katherine Gillespie, writer
Having rotated between Moleskine and Hightide planners for a few years, I was in the mood for a slightly wackier calendar last year. Slingshot is a volunteer-run anti-capitalist collective based in Berkeley, and sales from its annual Slingshot Organizer help fund a quarterly anarchist newspaper that's distributed around the Bay Area. I went for the larger-size organizer, which is spiral-bound, with a laminated cover and hand-drawn weekly page layouts that are printed in the style of a photocopied zine. Each day of the week features facts about historical worker uprisings, and marks the births and deaths of various revolutionary figures. There's something darkly funny about writing my little Zoom meetings into a planner printed by a radical publishing collective — especially as, to be honest, it really is perfectly functional, with a nicely-spaced layout that's surprisingly conducive to capitalist productivity. My low-key favorite feature is actually the menstrual calendar, which has freed me from using those data-mining period tracker apps. There's also a list of resources in the back of the planner that includes radical bookstores and spaces all over the world — I've ended up visiting a few on my travels.
Jen Trolio, senior editor
I bought a blank desk calendar because figuring out a family Google Calendar situation was too overwhelming. I have never been a paper-planner person because I have a good memory for dates and plans and sometimes maintaining the planner itself is more of a pain than it's worth. Family-wise, though, we hit a tipping point: My two kids are in activities now, and birthday parties are a thing again, and the only way to not have to manage everything myself is for us to have a shared spot to write it all down. It's been a useful exercise so far. My husband and I can actually share the tasks of knowing what's going on and who needs to be where (plus our 7-year-old likes being able to look at "the schedule," as she calls it). Having a paper calendar instead of a whiteboard also lets us write into future months if necessary, without erasing and starting over every 30 days. Now I'm shopping for date dots and day-of-the-week stickers to make labeling it faster and nicer-looking, because the chore of writing it out is a roadblock for me, and I am very picky about fonts.
The Strategist is designed to surface the most useful, expert recommendations for things to buy across the vast e-commerce landscape. Some of our latest conquests include the best acne treatments, rolling luggage, pillows for side sleepers, natural anxiety remedies, and bath towels. We update links when possible, but note that deals can expire and all prices are subject to change.
Every editorial product is independently selected. If you buy something through our links, New York may earn an affiliate commission.