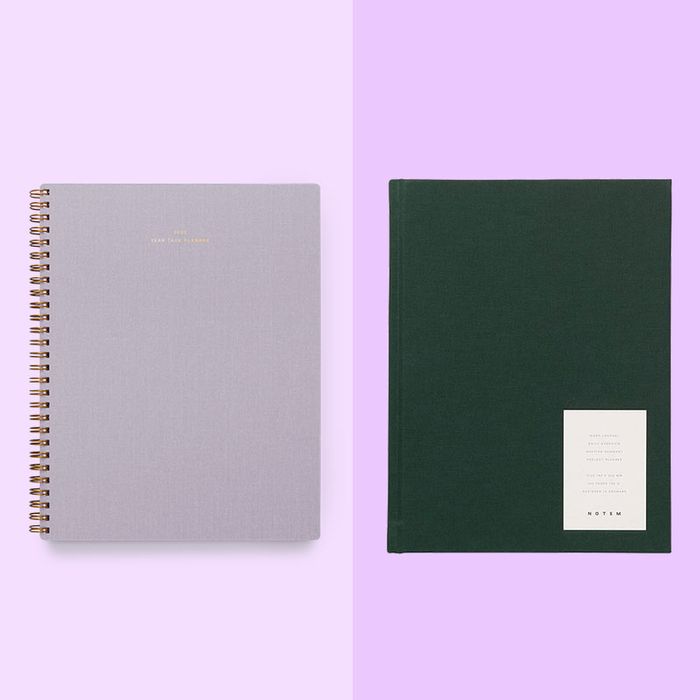 Photo-Illustration: Courtesy of the retailer.
At the Strategist, we are very passionate about our stationery. After all, we've ranked the 100 best pens and notebooks (and made a few enemies along the way), and have even scoured the internet for the most delightful school supplies from around the world. This time, we're talking about the planners and notebooks that keep us organized throughout the year. While we still have about two more months of 2021, it's not a bad idea to start thinking about how you're going to conquer 2022. So without further ado, here are the 16 planners, agendas, and notebooks our editors swear by.
Karen Iorio Adelson, senior writer
I've been using this planner for three years now and it's really worked for me. The week on two pages leaves plenty of room to write plans for each day and there's also space for monthly and weekly planning and goal-setting. Each week has a prompt for you to reflect on (typically things that make you focus on being more mindful or intentional in different aspects of your life), and while some people might find these a little cheesy, I tend to like them. I'll skip the prompts that don't resonate with me and focus on ones that actually seem helpful. The hardcover planner itself also just looks nice. It comes in a bunch of different colors and lays flat when you open it up which makes it easy to write in.
Dominique Pariso, writer
This January, I will be buying my fourth Hobonichi Techo. It's a longtime Strategist favorite and for good reason: no other planner I've ever tried comes close to it. As New York Magazine deputy editor Alexis Swerdloff wrote in her initial ode, "The leather-bound book is hefty and feels like I'm actually holding something substantial (unlike a Moleskine), while still being incredibly compact: It's little bit taller than an iPhone 6, and about the width of a Kit Kat." It's the perfect size to chuck into any bag, and I love that the light gridding on each page grants every day some order, but still gives me the space to dash off notes, lists, and doodles.
Liza Corsillo, senior writer
I cannot stand any kind of spiral notebook because they're bulky and awkward in my hands. For me, the thing has to be flexible enough to come with me everywhere I go and not get snagged on whatever else is inside my bag — headphone wires and spiral notebooks don't play well together. This softcover weekly planner from Moleskine is gloriously uncomplicated, with the days of the week on the left and extra room for a to-do list on the right. But it's the fact that it spans 18 months instead of 12 and comes with a set of emoji-like stickers tucked in to the back pocket that won me over.
Katherine Gillespie, writer
The only planner format that works for me is a double spread with weekly layout on the left side and notes page on the right. It's so handy to be able to plan appointments but also jot down random lists and doodles that aren't tied to a specific day. While a classic go-to for this format is Moleskine, I prefer Hightide's "Minute Manager" A5 planners because they're made of this durable PVC that has an '80s office-supply store feel. It's a little less minimalist, a little more retro. Mine's yellow, but in previous years I've gone with the sleeker black. You can get a good dupe for these at Muji — same PVC covers and page layouts, but without the fun colors and fonts. But I tend to go with the old wisdom that the more you spend on a planner, the more likely you are to actually use it.
Maxine Builder, editor
I love a planner that has one sheet of paper for one day of work, so I can make a prioritized to-do list of each day's tasks and meetings. But I am also inconsistent about using a paper planner every single day. (I also never use my paper planner on weekends, so that's already over 100 wasted pages.) This slim, undated work journal from the Danish brand Notem solves that problem, and more. I fill in the dates, as needed, and I like the sidebar on each page where I can track appointments and people with whom I need to follow up. Plus, the paper's thick enough that my pen and crazed highlighting doesn't bleed through. (That was the main problem I had with the undated Stalogy planner I had been using previously: too-thin pages.)
Emma Wartzman, kitchen and dining writer
I don't use a proper planner — just a notebook for my to-do lists. I used to be a Moleskin devotee, but I have to say, I like this one even better. The spiral binding means I can have only one half facing up at a time. It lays open and completely flat next to my computer all day as I add things and cross them out. The lightly colored grid on each page allows me to write in relatively straight lines, without having to stick to a particular lettering size. It comes in many sizes, but I've found the A5 to be perfect for filling out a new list on a new page each week.
Gabrielle Cody, Strategist intern