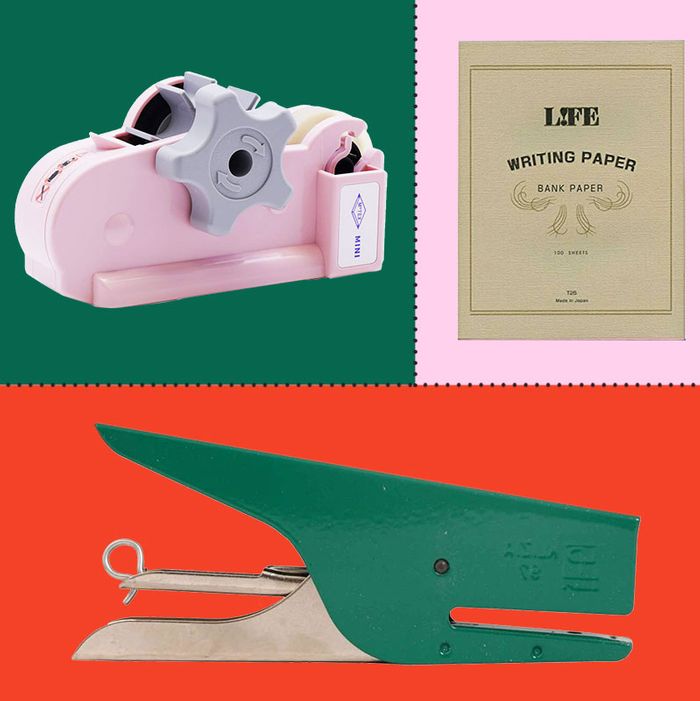 More fun than going to Rite Aid and getting a Five-Star notebook.
Photo: courtesy of the retailers
In the same way that going abroad and getting lost in the candy aisle is so much fun, getting lost in a foreign stationery store can be equally exciting. But now, thanks to the internet, those who can't jaunt to Tokyo to pick up some Mitsubishi bank paper before that first school bell rings can find loads of international school supplies (or office accoutrements) on Amazon, including pens, notebooks, staplers, and turtle paper clips. Some of these items do carry additional shipping fees since they're sent out overseas, but that's the price you pay for all-natural German paper glue that comes in a refillable glass bottle. Below are 41 of our favorites organized by country of origin (and for hard-core foreign-stationery geeks, we recommend perusing the amazing website Rad and Hungry).
From Japan
Also from Midori: a collapsible brass pen, which writer Mark Byrne keeps in the coin pocket of his jeans.
A beautiful set of scissors from Japanese stationery company Craft Design Technology.
Founded in 1913, Tombow is well known for making high-quality pens, markers, and art supplies. The company produces a wide range of erasers, but this one is particularly popular because it's designed to be mess-free: The eraser bits clump together and rub off in thin rolls. Plus, the black color will still look nice and clean even after frequent use.
Tombow also makes this dual-tip glue pen; it has a broad end for covering large areas, and a more precise tip on the other side for detail work.
We had to include one more from Midori. An aluminum ruler that folds into itself, making it easy to store in almost any pen case. And with the small dial on top, the ruler can measure angles and double as a protractor.
This retro metal book stand can prop up a textbook and hold it open for easy note-taking. (It would also be a great cookbook holder.)
There's an interesting story behind this pad of paper: "Bank paper," which was made exclusively for Japan's Mitsubishi Bank, was taken off the market but reintroduced in 2007 by the stationery company Life. The super-high-quality paper is manufactured in the same Mitsubishi paper mills as the original.
"L. Writing Paper" is Life's signature line, and this pad is a bit less expensive than the bank-paper pad above.
Writer Hannah Morrill on her favorite notebook: "The paper stock is thick enough that felt-tip pens don't bleed through, but not so luxe to feel precious, like you're jotting your Time Warner account number onto the Magna Carta." (Despite the German-sounding name — and the German language on the cover — Rohllbahn notebooks are made in Japan by Delfonics Stationery.)
A handsome pencil case from the aforementioned Delfonics Stationery.
A rainbow of pens (which are ideal for coloring) from Nagoya, Japan–based Artline.
This superfine pen is from Ohto, responsible for manufacturing the first ballpoint pens in Japan in 1949. It was also the runner-up in our list of the 100 best pens.
MT is the premier maker of Japanese washi paper tape (a strong but thin masking tape), which can be used in so many crafty ways.
This Japanese chalk has something of a cult following among mathematicians, many of whom bought it in bulk when they heard the company might go out of business. Fortunately, Hagoromo is still making its famous chalk, and it's easy to buy online.