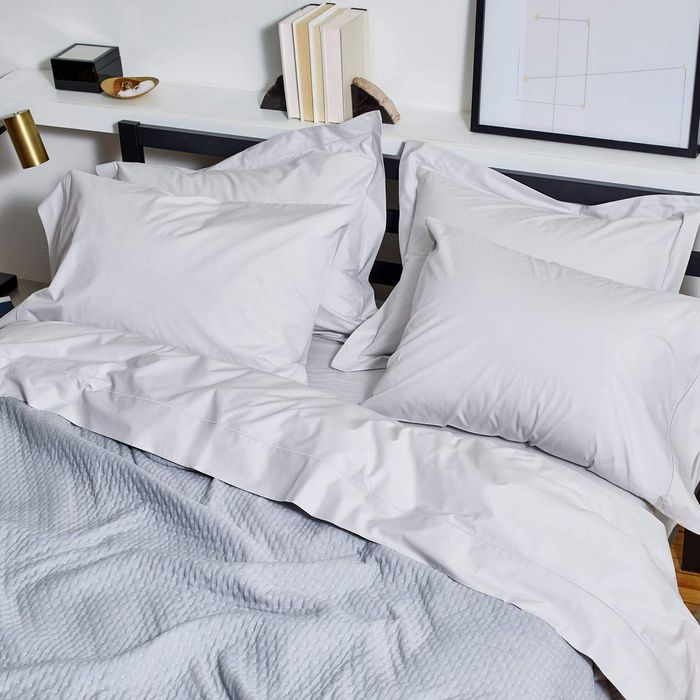 Photo: Courtesy Snowe Home
With so many bedding start-ups promising premium-quality, hotel-style sheets at direct-to-consumer prices, it can be hard to know what's what. And with the rise in popularity of linen sheets, it's easier than ever to achieve that laid-back, rumpled, yet still intentional look for your bed. To help us wade through the many styles and fabrics out there — a crisp cotton percale, a silky sateen, or something in between — we reached out to design experts and tastemakers for their recommendations on the best bedsheets to buy, from classic, white Egyptian cotton to ecofriendly linen to completely bespoke sets. (And if you want to look at even more sheets, we found the best-reviewed bedsheets on Amazon, too.)
Most of the options on this list are sold in sets that come with a fitted sheet, a flat sheet, and two pillowcases, but we've noted if pieces are sold separately. And all prices listed are for queen-size sheets unless otherwise specified. Finally, a note about thread count, which we've listed for cotton percale and any other sheets that provide it in their name. Generally speaking, the higher the thread count (or the number of threads per square inch of fabric) means sheets will be softer and more durable — and, often, more expensive — but the experts say that sheet shopping shouldn't rest on thread count alone. The quality of the yarn and manufacturing also play important roles, so make sure to consider all those aspects in making a decision.
Best
cotton
percale
sheets
Matouk was by far the most recommended brand by our experts, with seven designers calling it their favorite company for beautiful, high-quality sheets. All of the percale sheets shown are made of 350 thread-count, long-staple cotton, which is considered to be among the most premium yarns. "My favorite sheets are Matouk, mostly because everything's customizable, from the color of the threading to the monogram and the ruffles," says designer Sasha Bikoff, who told us Matouk's scallop embroidered sheets are one style she always comes back to. "They're very Hollywood Regency and kind of Miami-influenced, too." Designer Lindsey Coral Harper also loves Matouk's assortment of scalloped edges, saying that Matouk bedding is a good option if you want something classic with a "modern twist." Harper adds that the percale fabric is "one of my favorites to sleep on, and the sheets mix and match very well." Matouk's Sierra percale sheets are also the go-to options for interior designers Anne Hepfer and Elizabeth Gill. "Matouk's Sierra cotton percale sheets are a beautiful, classic base that can pair with any bedding," says Hepfer, who opts for Matouk sheets when she's looking for the "ultimate luxury" in quality and feel. Meanwhile, interior designer Vicente Wolf prefers the Meridian sheets, which he says are his go-to style for most projects. "There's something uniquely versatile about them — they're sophisticated enough for city life, but even in a country home they work perfectly against a more rustic backdrop," he says. "I never second-guess these sheets." Matouk's linens are also among designers Ariel Okin and Cara Woodhouse's favorites as well. "It's the company that I personally use the most because of its quality as well as the luxurious feel of everything it makes," says Woodhouse. Matouk sells its sheets and pillowcases separately, but this allows you to mix and match styles, as our designers have noted.
Georgia-based interior designer Elaine Griffin, meanwhile, suggests this pomegranate pattern. It's one of her "favorites" because "it's fresh enough to say 'new traditional' without being matronly." This set is a collaboration between Schumacher and Matouk, based on an 18th-century design they found deep within Schumacher's archive. And Griffin thinks the collaboration was so successful that "design history was made."
According to Alessandra Wood, the VP of style at online interior-design service Modsy, cotton percale sheets are great if you run hot when you sleep. She says that "while the thread count is lower" in these sheets, they are still "crisp, cool, and breathable." Wood prefers patterned sheets to solids, which is another reason she pointed us to this striped set from Finnish design house Marimekko (which, as we've written before, is beloved for its eye-catching prints).
Like the Matouk sheets above, Snowe's percale sheets are also made of long-staple cotton, and have a slightly higher thread count of 500, making this set particularly well-priced when you consider that Matouk's sheets are sold separately. They're recommended by Kai Avent-deLeon, the owner of Sincerely, Tommy. "I really liked Snowe's dinnerware, so I started using their sheets, too, and I've found that they're really good-quality and decently priced," she says. "They're cotton, which is the only material I buy now, and they're really soft, kind of plush. They're breathable and low-maintenance, so I don't have to constantly clean them even though I buy an off-white color."
Parachute's percale sheets are similarly made from long-staple Egyptian cotton (and are crafted in Portugal). They're interior designer Kate Lester's favorite sheets because they're both "lightweight and durable," and actually get softer and softer the more she washes them. While she says she's a "stickler for a crisp and classic high-quality white cotton sheet," she loves the brand's "really chic range of other hues," including this on-trend clay color.
If you're looking for something slightly more affordable, Courtney McLeod, the founder and principal designer of New York City–based Right Meets Left Interior Design, recommends this set of percale sheets from West Elm, which she says "are excellent quality for the price." They're made from 100 percent organic cotton in fair-trade-certified facilities and, in addition to the white shown, they also come in a cool silver color. You can even get them monogrammed, for an extra fee. The sheets are also made from fabric that is Global Organic Textile Standard–certified (GOTS certification is the leading standard for textiles made of organic fibers).
These 300 thread-count, cotton-percale Chambers Cane sheets from Williams Sonoma also came recommended by interior designers Tavia Forbes and Monet Masters of Atlanta-based interior-design studio Forbes and Masters for their delicate embroidered pattern. And interior designer Maggie Griffin says they feature the "lines of classic cane wickerwork," giving them just the right amount of graphic detailing. "The bright white with intricate threading is just gorgeous," she says.
"My projects have intricate layers of color and pattern, but when it comes to sheets, I tend to veer towards easy, boho vibes," says interior designer Rayman Boozer of Apartment 48. He likes John Robshaw bedding, and his go-to colors are pale blues, pinks, and grays. Writer Kate Betts also vouches for Robshaw's bedding, which she first discovered at a friend's house in the South of France. She admits that Robshaw's sheets can be pricey, "but the soft cotton, unusual colors, and the way that each pattern evokes a Rajasthan dreamscape make them worth it." This particular set has a block-print pattern and a thread count of 200.
Of course, you can't talk fancy sheets without mentioning Frette, which was recommended by two of our experts. It comes as no surprise that Frette's also happen to be the most-recommended sheets by hotel insiders, too. Says Michael Shome, the visuals director at Architectural Digest: "My absolute favorite sheets are the hotel classic from Frette, which are kind of like the fantasy version of Upper East Side hotel-bed linens. They're Italian-made in this Egyptian cotton that's just the softest and butteriest fabric to laze around in. I love the chic and simple double-line embroidery, too." Frette sheets are also what Okin turns to when she's looking for something classic. According to Frette's website, their percale sheets have a thread count of between 200 and 240.
To Griffin, "nothing confers instant and irrefutable chic like seeing one of these iconic prints on someone's bed." The blue lilac print she favors is currently sold out, but it's available in a pink-and-lavender lilac pattern that's just as fresh. For the ultimate bedscape, she suggests getting the matching duvet cover to complete the look. "It makes climbing under the covers feel like springtime in Paris," she says. Griffin notes that it is "investment bedding at its finest," but if you "hit their twice-yearly sales," you'll easily avoid "having to take out a second mortgage to afford them."
Best linen sheets