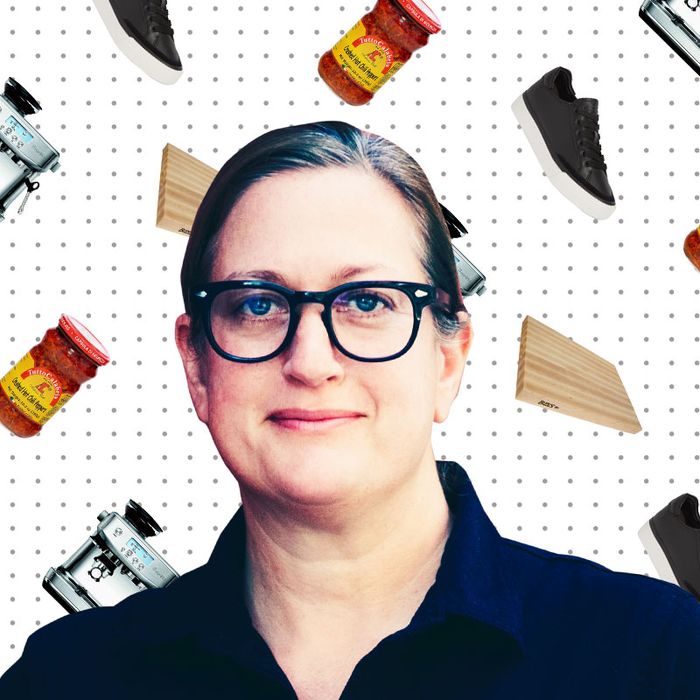 If you're like us, you've probably wondered what famous people add to their carts. Not the JAR brooch and Louis XV chair, but the hand sanitizer and the electric toothbrush. We asked Missy Robbins, the chef-owner of Lilia and Misi (who collaborated on a new kitchen-appropriate jumpsuit with Tilit), about the chili-pepper paste, fragrance, and espresso machine she can't live without.
I like heat in everything. There's a little bit more depth in the type of chili pepper used in this paste than in others. With this, you get heat in the background, but there's also a richness from the peppers. One of the people I used to buy all my Italian products from introduced me to this brand. I now know the flavor profile of it so well that it's just become part of my repertoire at home and also at the restaurant. I use a lot of this paste, chili flakes, and black pepper, in my cooking.
I love reading cookbooks like some people love reading novels. I have more than 400 — it's an occupational hazard. I just built new bookshelves, and the books are all color coded, so it's very aesthetically pleasing. I used to buy a cookbook a week. I don't do that anymore, but I still love them. This one I've had for years and years and years. It was published in 1992, the year before I started cooking, and it has been one of my go-tos since. It's a really definitive guide to Emilia Romagna–style cooking, and was one of the first books that really helped me understand the recipes, stories, and history of regional Italian cooking. So many books today are all about photography and visuals; this has pictures, but the book's purpose is not pretty photos — it's about learning how to make the food. I don't use cookbooks to actually cook, just to learn and understand. I'm still learning how to cook at home for two people, because when you work in a restaurant, you just get used to doing things in big amounts. I usually end up cooking for ten when there's literally just two of us. I'm working on it.
My mom is a big Kiehl's user; usually my use of anything good like this comes from her. I've been using this for easily ten years — once I find something I love, I don't like to change. I'm very committed. My skin-care routine is very mild, I keep it simple. I'm outside all the time walking around, so it's important that my moisturizer has SPF because I would never put SPF on otherwise — I would definitely forget. So this is the only way I actually get it on my face. It also keeps my skin hydrated. You get a lot of bang for your buck.