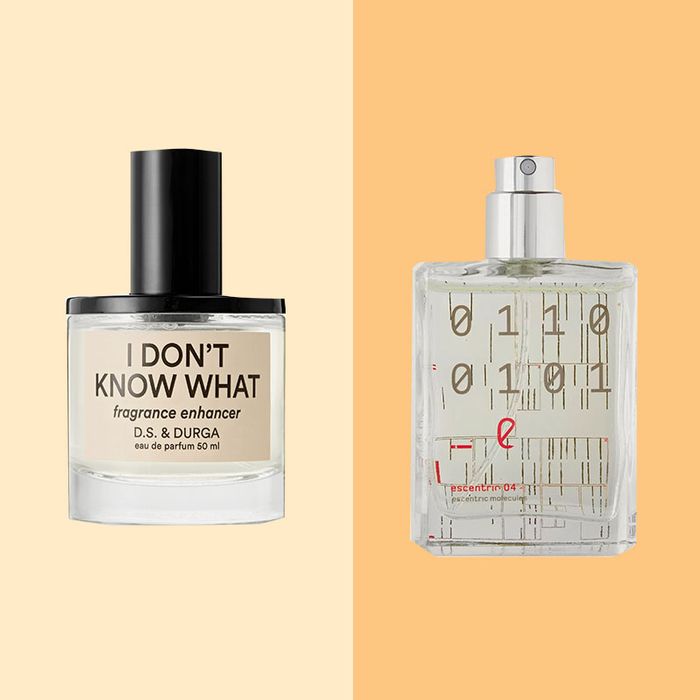 Photo: Courtesy Retailers
Around the time I gave birth to my now 6-year-old daughter, I began sniffing anything I could get my hands on. When I went back to work as a stylist, I noticed I paid as much attention to the smell of a garment when I steamed it as I did to the look of it. I even began bringing different perfumes to set as conversation starters. After observing my new habits, my husband (who works in coffee and is no stranger to sensory obsessions) eventually suggested that I take perfume classes.
I took his suggestion, trading nights of potty training for classes at Los Angeles' Institute of Art and Olfaction, where I learned about raw materials. The curriculum alternated between smelling natural essential oils and synthetic aroma chemicals to learn the building blocks of a perfumer's palette (woody, citrus, floral, etc.). The classes have since transitioned to an online format, but back then, we left each one with little vials of raw materials that I'd take home and line up against perfumes I liked to deconstruct the fragrances with my nose. Sniffing my way through the fragrance wheel, I discovered some raw materials that were tenacious and cloying (indole, black currant bud, and para-cresyl acetate — one errant drip of the latter led me to abandon my workspace for days). Others were softer, unobtrusive. These included musks, synthetic amber notes, ionones (powdery violet notes), salicylates (aroma chemicals that add a textural, grainy quality) and certain woody notes (like cedar, sandalwood, and amyris).
Perfumes composed around these softer materials, I've found, are kind of like trusty shapewear or a good skin highlighter — they're intentionally subtle and meant to enhance, not subsume, your skin's natural scent. Niche perfumers began combining these softer ingredients into minimal formulas as a response to the long tradition of baroque, complicated perfumes made with anywhere from 50 to 300 raw materials. L.A.-based perfumer (and my IAO professor) Ashley Eden Kessler explains the science behind minimal scents: "They are more streamlined formulas with intentional spaces in between notes; this looser spacing allows for your skin to react and influence the scent. Instead of asking, "'What perfume are you wearing?,' people will ask, 'Is it you that smells so good?'"
Another thing I like about such scents is that they are transparent enough to let the wearer identify the ingredients at work. For instance, I can explain that I'm drawn to a fragrance because it has heliotropin (a vanilla floral compound with a cherry slant) or Iso E Super (a static-y, dry cedar aroma chemical made famous by the celebrity-beloved Escentric Molecules 01). My six favorite subtle scents, which I consider unisex, reliably deliver a delicate oomph: they hum softly on skin, never force themselves upon you (or anyone nearby). Or, as Kessler puts it, they are "companions you never get sick of — as opposed to that person who's really fun at dinner, but then you don't need to see again."
If you've ever wondered what the sun's rays shining down on you smells like, I say it's kind of like this. The fragrance mostly smells soft and creamy (an aroma perfumers call lactonic), but you also get notes of suede and grass. The key ingredient is cetalox, which is a synthetic molecule in the ambergris family. I'm willing to wager that this scent would never turn anyone off — ever — so it's a good place to start for those curious about minimal scents. A spritz will last a good six hours, but is extremely subtle, with an almost ephemeral effect. It's also available in a smaller vial, should you want to test it out.
Photo: retailer
In 2006, perfumer Geza Schoen had a groundbreaking, industry-altering hit with Molecule 01, his fragrance composed entirely of Iso E Super. People went nuts for both the scent and the premise that it added 'atmosphere' to your own pheromones. Molecule 04 is a lesser-known scent in Schoen's perfume collection, but is also composed of just one ingredient: Javanol, a synthetic sandalwood (Indian sandalwood is a vulnerable species). This is a lighter fragrance that lasts a long time, but it plays hide and seek, peeking out in fresh waves just when you think it's gone. To me, it smells like cool fresh grapefruit still on the branch, with bark, leaves and all — a fresh burst of bittersweet citrus, some sour notes, and a vibrant earthy green aroma. My friend Laetitia, meanwhile, says it smells like the inside of a really tasteful, expensive furniture store.
Photo: retailer
This is a must for anyone who professes to like clean scents that evoke the aroma of fresh laundry or just stepping out of a shower. It's not new (perfumer Sarah Horowitz first released Perfect Veil decades ago), but it is simply off the charts when it comes to a comfy, musky scent and is universally beloved by people I know who claim to not like perfume. Like in the scent supposedly beloved by Carolyn Bessette-Kennedy, musks are the key ingredient here and they have tremendous staying power: a little spritz of this will last for six hours at least. To me, it smells like warm, clean skin and freshly washed linen drying in the sun, with some low-grade vanilla sweetness. You can get smaller vials of it, too.
Photo: retailer
Nemat's owners, the Attarwala family of India, have been producing fragrances for 160 years. The brand has a cult following among perfume lovers: Toronto-based writer and scent educator Tracy Wan, who wrote the beautiful book Notes, tipped me off to this roll-on oil, describing it as "pure sorcery" and "the least expensive perfume in her collection, though by far the one that garners the most compliments." The name is misleading, though. It is not really amber-y, but rather a clean white musk with a mineral undertone that Wan describes as like "a laundry scent." I am not exaggerating when I say I keep a bottle at arm's length — it moves from my desk, to my tote bag, to near the door, almost in tandem with my keys. The oil takes a little while to dry when applied to the skin, but once it does, it sort of locks with your chemistry and blooms in an indescribably pleasurable, luminous, and clean way, especially on warm days.