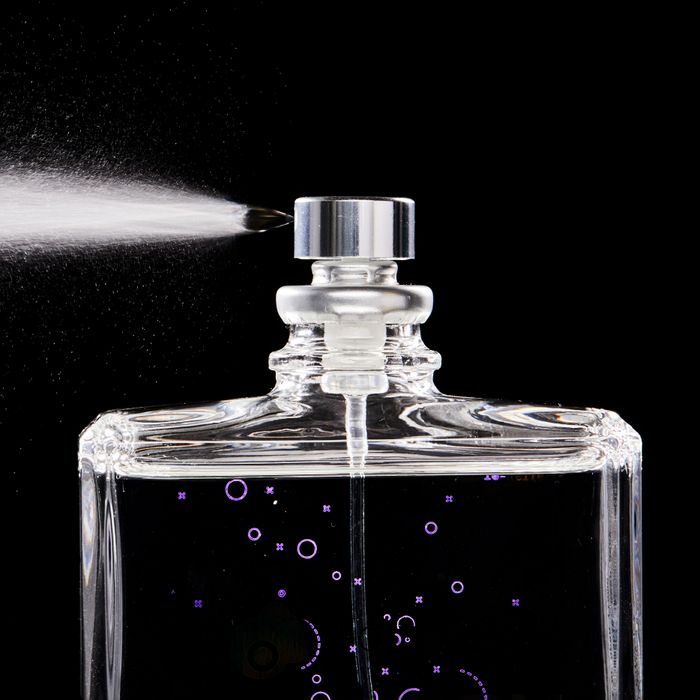 Finding a signature scent can be like putting on your most beloved pair of jeans: It just feels right. Whether you're looking for a new bottle to add to your collection or someone else's (fragrances, with their pretty packaging, can make for quite delightful gifts), anyone who's shopped for perfume knows that just because it looks good doesn't mean it smells good. To find the best (and best-smelling) perfumes, I asked five cool people — including beauty editors, podcasters, and jewelry designers — about their favorites then scoured our archives for any standouts (like a few that celebrities told us they can't live without). Read on for 24 options from affordable spritzes to scents from blue-chip perfume houses and even a "non-fragrance" fragrances.
Best overall | Best rose | Best (less-expensive) rose | Best jasmine | Best orange blossom | Best lilac | Best gardenia | Best tuberose | Best peony | Best fresh | Best (less-expensive) fresh | Best powdery | Best green | Best (less-expensive) green | Best woody | Best (less-expensive) woody | Best musky | Best (less-expensive) musky | Best gourmand | Best fig | Best vanilla | Best (less-expensive) vanilla | Best fruity | Best citrus | Best (less-expensive) citrus
What we're looking for
Notes: The notes are the individual scents that work together to create a perfume's scent. Top notes are the ones you smell the second you spritz the perfume. Then there's the middle or heart notes, which come through after the perfume has been on your skin. And lastly, there are the base notes, which will linger the longest once the perfume dries down.
Size: Since fragrance can be quite expensive, I've also made sure to include the ounces of each bottle below.
Best overall perfume
Notes: Iso E Super | 3.4 oz
We've heard about Escentric Molecules a couple of times (the brand appears again further down on this list); this scent comes recommended by Kelly Ripa, who told us she started to wear the "non-fragrance" after being tipped off to it by one of the Mara sisters. Molecule 01 contains a very high concentration of the compound Iso E Super, a synthetic molecule used in perfume making. "When I put it on, people will say, 'You smell so good — like you just got out of the shower.' That's the whole point," Ripa explains. And because the scent is mostly made up of just one molecule and is a subtle scent that clings closely to the skin, it's likely to appeal to the widest range of people, which is why we've given it the best overall distinction.
Best rose perfume
Top: bergamot, petals, lemon oil; Middle: linden, rose accord, dune grass; Base: muscone, salt water, white moss | 3.4 oz 
If you want a rose perfume that isn't grandmotherly, fashion editor and stylist Michelle Li says this "not-cheesy rose makes you rethink everything you originally thought about rose" thanks to the notes of dune grass, linden, salt water, and white moss in its formula. She told us it's her favorite scent, noting that it gets better as the day goes on. Li adds that "two big pluses are that the bottle and packaging are beautiful and special."
Best fresh perfume
Top: ozonic accord; Middle: amberwood; Base: white musk | 1.7 oz 
Those who prefer fresh, clean scents should consider this fragrance that beauty editor and writer Thatiana Diaz compares to "a fresh load of laundry or walking outside after it rains." She adds that "if I could package this fragrance into a body wash and bathe with it for the rest of my life, I probably would." The perfume has another fan in restaurateur Missy Robbins, who told us it was the scent that got her to start wearing perfume after a lifetime of sticking with "neutral-smelling moisturizers and soaps".
Best (less-expensive) fresh perfume
Top: lavender blossom, pear, bergamot; Middle: crème de coconut, praline, vanilla orchid; Base: musk, blonde woods | 1.7 oz 
While it sounds floral, our beauty columnist Rio Viera-Newton says her new favorite scent from Arianna Grande is about as fresh as you can get. "When you first apply the scent, you get a burst of lavender, pear, and bergamot, but as it settles into your skin, it smells like a warm, cozy orchid musk," she explains. "You don't smell like you're wearing perfume — you just sort of smell like a cleaner version of yourself, like you've just stepped out of a really nice shower."
Best powdery perfume
Notes: rose, citrus, lavender, chamomile, amber, honey | 1.7 oz 
According to Strategist contributor Hillary Kelly, "though other companies peddle the sweet scent of baby — Love's Baby Soft, Philosophy's Baby Grace, Bvlgari's Petits et Mamans, and Burberry's Baby Touch — nothing beats Mustela's Musti." She describes the smell as "sweet but not cloying, powdery but not reminiscent of deodorant, and clean without being medicinal." In other words: "It captures the essence of general infancy — like Dreft and a rolling European field had a love child." While it's technically marketed as a perfume for babies, Kelly told us she uses it with abandon, spraying it on her clothes, towels, and in closet drawers.
Best jasmine perfume
Top: lavender bud; Middle: jasmine, passionflower, artemisia absinthium; Base: Egyptian musk, white woods | 1.7 oz 
Strategist contributor Sadie Stein says she first sniffed Caswell-Massey's Elixir of Love No. 1 when she was 7 years old. Stein explains that the parfumerie has been cooking up fragrances since the late 18th century and that this "scent, like the packaging, manages to be timeless without dowdiness." Elixir of Love No. 1 is a mixture of jasmine, lavender, Egyptian musk, and passionflower, which Stein says creates a smell that is "soft and enticing, the way I imagined ladies in Victoria magazine to be." As for the bottle, she writes it is "both Victorian and somehow Deco, unabashedly mysterious and old-fashioned yet sleek."
Best orange blossom perfume
Top: almond milk, ambrette; Middle: iris, freesia; Base: tuberose, vanilla, tonka bean, musk | 1.7 oz 
"A punchy floral that always turns heads" is how beauty editor Khalea Underwood describes this perfume. She adds that "with notes of almond milk and musk, Rolling in Love is just gorgeous." And she's not the only fan of the brand's fragrances. "I used to wear Killian's Love, Don't Be Shy almost every day because Rihanna wears it," says Underwood. "But because Rihanna wears it, everyone wears it." Which is why she suggests Rolling in Love for anyone who wants to smell like Rihanna but maybe not exactly like Rihanna.
Best lilac perfume
Top: mandora, pink pepper; Middle: lilac, geranium oil; Base: patchouli, amber | 1.6oz
Underwood describes Gucci Guilty as having "a heart of lilac and violet" but says that "the patchouli and amber really shine in this blend," making it another option for those who prefer funkier florals. "Whenever I have a date that I'm excited about, best believe that this gets spritzed," she adds. "Gucci knows how to do unapologetically sexy."
Best gardenia perfume
Top: gardenia, carnation, jasmine; Middle: patchouli, sandalwood, marine accord; Base: caramel, coffee. | 1.7 oz
Sable Yong, a writer and co-host of the Smell Ya Later podcast, describes New York Nights as "an aromatic watercolor painting of delicate carnation and gardenia petals — it's what you wear when you're invited to the Met Gala." Its floral top notes are combined with middle notes of patchouli and sandalwood and finished off with base notes of coffee and caramel. "You will definitely smell wealthy wearing this," promises Yong, who notes that "it's pretty expensive — so you probably are wealthy if you're wearing it."
Best tuberose perfume


Top: bergamot, mandarin, Mid: jasmine, tuberose, gardenia; Base: musk, sandalwood| 3.4 oz
Designer Agnes B. told us she has been sporting this scent ever since she discovered it while strolling Paris's Rue de Rivoli more than 30 years ago. "It's tuberose, which I think is my favorite flower," she says of the fragrance, which she even wears to bed. "Since I smelled it, I've always loved it."
Best peony perfume
Top: Nutmeg, pink pepper; Middle: peony, lily of the valley, praline; Bottom: vanilla, sandalwood, amber | 1.7 oz 
If you're looking for a power scent, Yong says this peppery floral fragrance might be the one for you. "It packs a punch with nutmeg and pink pepper," but those two notes are tempered by a "dewy sweetness from peony and lily of the valley, so it's not so bombastic," she explains. Created by perfumer Jordi Fernández, "the whole thing has a heat to it, simmering with vanilla, sandalwood, and amber — the overall effect of which is seductive and languid at the same time," she says. Summing it up, Yong says "this makes me feel rich, powerful, and indisputable."
Best green perfume
Notes: honeysuckle, grass, earth, tobacco, leather, coffee, Texan cedarwood, cypress | 1.7 oz
This "super, super green" perfume comes recommended by Trinity Mouzon Wofford, the co-founder of wellness brand Golde. It has notes of honeysuckle, grass, earth, tobacco, leather, coffee, Texan cedarwood, and cypress, which together create a "mossy, foresty scent" that she says is one of few that don't "turn really warm on me." The first time Mouzon Wofford wore it was at a birthday party: "I had friends over and everyone was like, 'Why do you smell so good?'"
Best (less-expensive) green perfume
Top: bergamot, black pepper; Middle: magnolia; Base: cedarwood, patchouli, sandalwood | 1.7 oz 
If you're worried that a perfume called Cannabis will make you smell like a college dorm, Li says that's not the case with this scent. "The fragrance balances rich smokiness with fresh floral scents," she explains. "It's great for when you are just sitting around your apartment and want it to feel a little bit more special (or if you're just bored and want to stimulate your nose)."
Best woody perfume
Notes: Juniper, bergamot, fir balsam, tonka, vanilla bean, white moss, and patchouli | 1 oz. 
I recently spent some time testing the fragrances from Snif, a direct-to-consumer brand with a business model built around a trial period that allows folks to smell stuff before they commit. Of the three perfumes it currently offers, my absolute favorite is the woody, earthy Sweet Ash, which has notes of juniper, bergamot, fir balsam, tonka, vanilla bean, white moss, and patchouli. The brand sent a set of its perfumes to my house, which is more or less where I've been wearing them. Sweet Ash is subtle enough that it doesn't fill up a room when I walk in but fragrant enough that people can smell it up close (some, like my mom, have then asked to "borrow" it). If you love the sound of this or any Snif perfume, you can buy them individually (or as a set of three) up front. But if you only like the sound of them and want to try before you buy, you can order kits that include samples and full bottles that the company won't charge you for if returned within seven days of receipt.
Best (less-expensive) woody perfume
Top: Pink pepper; Middle: ambrette seeds, ambrox; Bottom: Iris | 1.7 oz 
"Affordable and effective, this Glossier perfume is one of the best perfumes on the market for that 'enhancing your natural scent' vibe," promises Viera-Newton, who notes Glossier's fragrance mostly contains "warm, woody, and clean" notes. While it's not as cheap as a tube of Boy Brow, "there is a lot of product, and the bottle is glass, not plastic," she adds.
Best musky perfume
Top: honey, fig; Mid: oud; Base: patchouli, amber, haitian vetiver | 3.4 oz 
According to Yong, this fragrance's notes of honey, caramelized amber, patchouli, oud, and vetiver work together to create a scent that is "warm, cozy, sweet, smoky, and deep — the way I imagine the coat check smells at a speakeasy jazz club."
Best (less-expensive) musky perfume
Top: bergamot, bay leaves, black tea, fig; Middle: hay, tobacco; Base: cedarwood, vetiver, musk | 1.7 oz 
Liberty London design director Holly Marler first got this fragrance from one of the department store's culty holiday advent calendars. "Everybody complimented me on it, so when it ran out, I went out and bought a proper bottle of the stuff," she explains, adding that the fragrance "smells very strong, almost heady." Created in collaboration between Le Labo and Jefferson Hack, the editor-in-chief of Another Magazine, the main note is ambroxan, a synthetic musk, which is balanced out with moss, jasmine, and ambrette seeds.
Best gourmand perfume
Top: heliotrope, lemon sugar, balloons | Mid: candied rose petals, tuberose frosting, cake-fresh-out-the-oven | Base: honey comb, roasted tonka, cocoa absolute | 1.7 oz. 
Gourmand fragrances are a category of scents that consists primarily of edible scents like vanilla, candy, or honey. In other words, they smell good enough to eat. When it comes to this category of fragrances, this one from perfume Marisssa Zappas truly takes the cake. Made in collaboration with astrologer Annabel Gat (who was kind enough to gift me a bottle), the perfume is described as both "whimsical, decadent, and ethereal," and I haven't been able to stop wearing it. While notes of candied rose petals, tuberose frosting, and cake might sound cloyingly sweet, Zappas cuts through it with a zing of lemon sugar and (odd as it may sound) a note of party balloons that give the scent a lot of balance. To me, it smells like the memory of your favorite birthday party, licking frosting straight out of the can, and Sofia Coppola's Marie Antoniette.
Best fig perfume
Top: bergamot, green leaf, pear stem; Middle: fig, coconut milk, iris; Base: blond woods, tonka bean, moss | 1.7 oz. 
Another option from D.S. & Durga is this "cool, joyful" scent, suggested by Yong. According to the brand, it contains notes of ripe fig, iris, coconut milk, tonka, moss, bergamot, and dry blond woods. If you have a hard time picturing what that would smell like, Yong describes it as "a juicy fig gourmand with an overall round kind of sweet dewiness, but it's also got a green crispness that suggests not everything that seems sweet is without its edges."
Best vanilla perfume
Notes: tobacco leaf, vanilla, ginger | 1.7 oz. 
Underwood calls Tom Ford Vanille Fatale her "all-time favorite" and a guaranteed compliment-getter. She told us she tends to "prefer sweeter gourmand notes that don't feel too saccharine," adding, "In true Tom Ford fashion, this one gives me sweet and sexy all rolled into one." The simple formula has notes of vanilla, tobacco, and frangipani, "so I can layer it with other scents when I'm feeling fancy," she adds.
Best less-expensive vanilla perfume
Notes: Vanilla Orchid, Tonka Absolute, Amber Woods, Musk, Brown Sugar, Patchouli | 3.4 oz 
"I'm a devoted fan of the vanilla scent, but I prefer when it's not overwhelmingly sweet, where I smell like a cupcake," says Diaz. While Huda Beauty is better known for its eye-shadow palettes, Diaz says that the brand's take on a classic vanilla perfume is the "perfect middle ground between sweet and warm" because the notes of vanilla get "delightfully balanced out with woodsy, more musky touches."
Best fruity perfume
Top: raspberry leaves; Middle: turkish roses; Base: suede musk | 1.7 oz
Former Strategist writer Chloe Anello told us she reaches for this classic from Coach when she's in the mood for a fruitier smell. The fragrance opens with a very strong note of raspberry leaves, according to Anello. While she notes it can be a little bit overbearing if sprayed liberally, she has a tip for the perfect application: "I only spritz a very little bit on my wrists then distribute it lightly elsewhere when I wear it."
Best citrus perfume
Notes: citrus-infused soju, pink and black pepper, jasmine liqueur, creamy suede; 1.7 oz
Actress Kelly McCreary told us she "collects scents" and that this perfume with notes of citrus-infused soju, black pepper, and jasmine liqueur simply smells "yummy." As for how the self-proclaimed scent collector found it, McCreary says, "There's an Orris shop on Melrose in L.A., and when you walk by, it almost smells like they're perfuming the entire street. It's a store that I would never have noticed had I not walked by and smelled it." To us, that's another way of saying the brand's stuff smells really nice.
Best (less-expensive) citrus perfume
Top: methyl pamplemousse, pink grapefruit, marijuana, bergamot, juniper berry, pink pepper; Middle: hedione (green jasmine bud), freesia, osmanthus, orris, rose Base: javanol, mastic, labdanum, Iso E Super, muscone (musk), AMBROXAN™ | 1 oz. 
Another standout from Escentric Molecules is Molecule 04, which Strategist contributor Natalie Toren turned us onto. "With notes that include a burst of bittersweet citrus and a vibrant, earthy aroma, it smells to me like fresh grapefruit still on the branch with bark, leaves, and all," she writes. Toren, who prefers more subtle skin scents to in-your-face perfume, promises that "the fragrance is lighter and lasts a long time, often playing hide-and-seek: Just when you think it's gone, the aroma will surprise you with another hit."
Some more perfumes we've written about
Our experts
•Chloe Anello, former Strategist writer
•Agnes B., designer
•Thatiana Diaz, beauty editor and writer
•Hillary Kelly, Strategist contributor
•Michelle Li, fashion editor and stylist
•Holly Marler, Liberty London design director
•Kelly McCreary, actress
•Trinity Mouzon Wofford, Golde co-founder
•Kelly Ripa, TV host
•Missy Robbins, restaurateur
•Sadie Stein, Strategist contributor
•Natalie Toren, Strategist contributor
•Khalea Underwood, beauty editor
•Rio Viera-Newton, Strategist contributor
•Sable Yong, writer and co-host of the Smell Ya Later podcast
The Strategist is designed to surface the most useful, expert recommendations for things to buy across the vast e-commerce landscape. Some of our latest conquests include the best acne treatments, rolling luggage, pillows for side sleepers, natural anxiety remedies, and bath towels. We update links when possible, but note that deals can expire and all prices are subject to change.