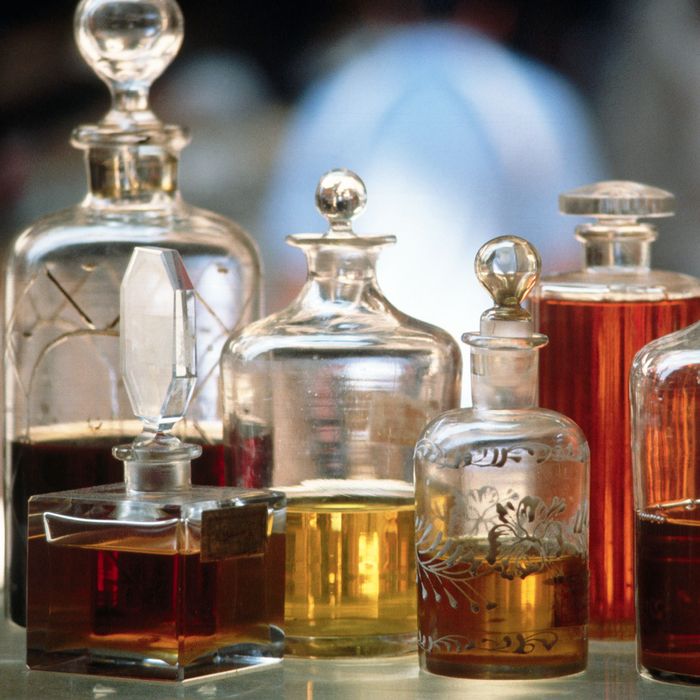 Photo: Bettmann Archive/Getty Images
Finding a signature scent can be like putting on your most beloved pair of jeans: It just feels right. Whether you're looking for a new one to add to your collection or to someone else's (fragrances, with their pretty boxes and bottles, can make for quite delightful gifts), anyone who's shopped for perfume knows that just because it looks good doesn't mean it smells good. The fact that it's challenging to sniff stuff in person right now makes finding a fragrance even more complicated.
To find the best (and best-smelling) perfumes, we asked eight cool people who, even now, smell a lot of them — including beauty editors, podcasters, jewelry designers, and our own writers — for their favorites, then scoured our archives for any standouts (like a few that celebrities told us they can't live without). Read on for 28 options from affordable spritzes, to scents from blue-chip perfume houses, to one "non-fragrance" fragrance that Kelly Ripa swears by. To help you shop, we've organized the recommendations by type of scent.
If you want a rose perfume (that isn't grandmotherly), fashion editor and stylist Michelle Li says this "not cheesy rose makes you rethink everything you originally thought about rose" thanks to the notes of dune grass, linden, salt water, and white moss in its formula. She told us it's her favorite scent, noting that it "gets better as the day goes on." Li adds that "two big pluses are that the bottle and packaging are beautiful and special."
"Every time I wear this, I think of Charlize Theron," says Strategist junior writer Chloe Anello, who has more than 30 bottles of perfume in her (ever-growing) collection. If you, too, were entranced by the J'adore commercials starring Theron, Anello says the perfume itself is just as alluring. "It's super feminine, but also a little bit mysterious." She says she'd typically put it on for date nights ("back when we could go places"), suggesting this one may be better for special occasions.
Designer Agnes B. told us she has been sporting this perfume ever since she discovered it while strolling Paris's Rue de Rivoli more than 30 years ago. "It's tuberose, which I think is my favorite flower," she says of the scent that she even wears to bed. "Since I smelled it, I've always loved it."
"A punchy floral that always turns heads" is how beauty editor Khalea Underwood describes this perfume. She adds that, "with notes of almond milk and musk, Rolling in Love is just gorgeous." And she's not the only fan of the brand's fragrances. "I used to wear Killian's Love, Don't Be Shy almost every day, because Rihanna wears it," says Underwood. "But because Rihanna wears it, everyone wears it." Which is why she suggests Rolling in Love for anyone who wants to smell like Rihanna, but maybe not exactly like Rihanna.
Sable Yong, a writer and co-host of the Smell Ya Later podcast, describes New York Nights as "an aromatic watercolor painting of delicate carnation and gardenia petals," adding, "It's what you wear when you're invited to the Met Gala." Its floral top notes are combined with middle notes of patchouli and sandalwood, and finished off with base notes of coffee and caramel. "You will definitely smell wealthy wearing this," promises Yong, who notes that "it's pretty expensive — so you probably are wealthy if you're wearing it."
For another atypical rose scent, Gabriella Khalil, the founder of boutique hotel Palm Heights, suggests Byredo's Rose Nori, which "fuses the florals with spices and fruit scents" like cardamom, grapefruit, and red berries. "I'm always drawn to fragrances that have a distinct character," she adds, noting this one checks that box.
When Anello first smelled this, she remembers calling it "the best thing I've ever smelled." She describes it as a "subtle, super-light floral" that manages to last for a long time without being overbearing. (She likes it so much, she bought the matching body cream.) "I'd bathe in it if I could," Anello declares.
Another option for those who prefer funkier florals, Underwood says Gucci Guilty has "a heart of lilac and violet," but that "the patchouli and amber really shine in this blend." She adds: "Whenever I have a date that I'm excited about, best believe that this gets spritzed. Gucci knows how to do unapologetically sexy."
If you're looking for a power scent, Yong says this peppery floral fragrance might be the one for you. "It packs a punch with nutmeg and pink pepper," but those two notes are tempered by a "dewy sweetness from peony and lily of the valley, so it's not so bombastic," she explains. Created by perfumer Jordi Fernández, "the whole thing has a heat to it, simmering with vanilla, sandalwood, and amber — the overall effect of which is seductive and languid at the same time." Summing it up, Yong says "this makes me feel rich, powerful, and indisputable."
Fashion designer Alex Eagle has worn this scent from iconic perfumer Frédéric Malle for more than five years and says "there's something kind of mysterious about it — you can't totally pin it to a specific thing; it's like its own thing." Perhaps that's because the perfume — which has notes of Turkish rose (and blackcurrant, raspberry, patchouli, cinnamon, clove, and sandalwood) — smells more like "a fresh, clean sheet mixed with something sexy, but without being too earthy," according to Eagle.
Those who prefer fresh, clean scents should consider this perfume that beauty editor and writer Thatiana Diaz compares to "a fresh load of laundry or walking outside after it rains." She adds that "if I could package this fragrance into a body wash and bathe with it for the rest of my life, I probably would." The perfume has another fan in restaurateur Missy Robbins, who told us it was the scent that got her to start wearing perfume after a lifetime of sticking with "neutral-smelling moisturizers and soaps."