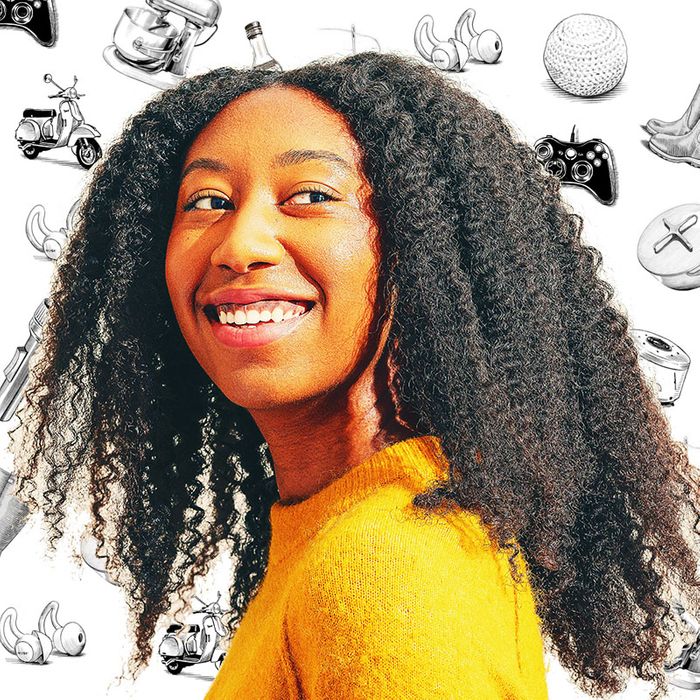 Photo-Illustration: courtesy
If you're like us, you've probably wondered what famous people add to their carts. Not the JAR brooch and Louis XV chair but the hairspray and the electric toothbrush. We asked Trinity Mouzon Wofford — the co-founder of wellness brand Golde — about the toothpaste, olive oil, and water filter she can't live without.
After I decided to switch from Crest, I went on a toothpaste hunt and tried all of the natural toothpastes. This one is extremely natural and I really like the flavor. It has these different Ayurvedic herbs in it, so it's very herbal — it tastes like you've been chewing on some herbs. Ayurvedic tradition is all about oral hygiene and mouth care, and if a brand is upholding that tradition, then I know I'm getting the right stuff for my mouth. Another thing I like is that the toothpaste is concentrated, so you don't have to use a ton. My teeth feel so much cleaner and it whitens them without being harsh.
I don't really wear any makeup to be honest. I probably put on tinted moisturizer six times a year. But I like lipstick because it gives you that little pop. I struggled for years to find a lipstick with that your-lips-but-better quality — just a little punch of pink. I finally found it with this one. If I just dab it on, it's really sheer: It almost looks like I don't have anything on, but I can layer it and build the color. And it doesn't dry my lips out at all — it has a really hydrating formula. It feels like a little treat.
The Berkey Filter is the heart of my home. I have the Big Berkey (which is actually just a normal-sized one). I bit the bullet three years ago and it has been such a game-changer. It's basically a Brita filter on steroids. There are two charcoal filters in the top portion that filter water — you can go on YouTube and watch videos of people filtering pond water through it. The thing makes water taste really great: It gets rid of that funky chlorine smell that a lot of tap water has. And it actually does save money in the long run because the filters last so long.
It's extremely gentle, as the name suggests. I love it for daily cleansing. I have combination skin that's prone to clogged pores and breakouts, so if I'm too harsh on it with really targeted acne products, I tend to make the situation worse. It's really important to have a cleanser that is well-balanced and isn't going to irritate my skin or cause issues. I'll apply this on dry skin and add a little bit of water. It does a good job cleansing without stripping my skin in the slightest.