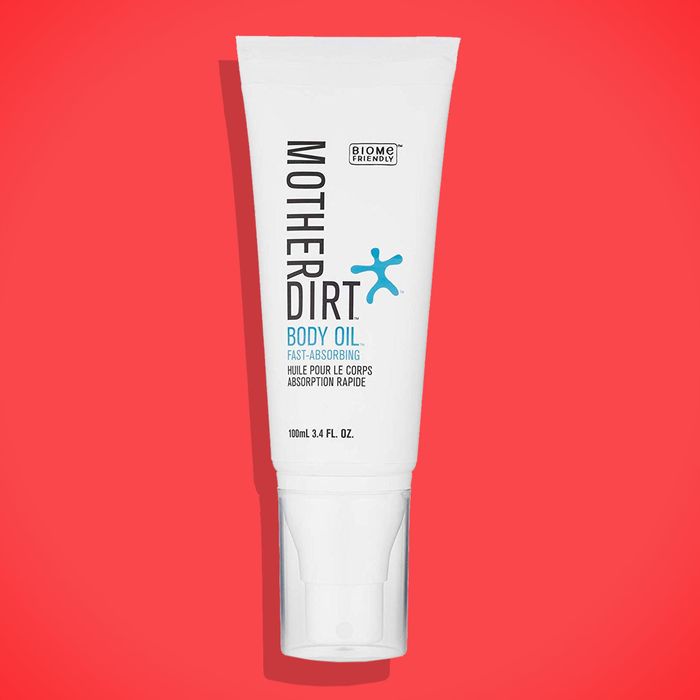 Photo: Courtesy of the Retailer
I spend much of my day moisturizing. As a grooming editor, it's kind of an unspoken job requirement. But for all the time I've dedicated to slathering things on my face (like masks, concealers, and tinted moisturizers), I've always hated using lotion on my body. And not for lack of trying — I've used a lot of body moisturizers professionally and personally, but genuinely struggled to find one that goes on quick and doesn't leave me (or my clothes) greasy, sticky, or smelling vaguely of chemicals.
Still, I kept searching, because I know I need to moisturize my body — it literally tells me to. My hands get rough, my elbows get cracked, my legs get itchy and flaky, the skin on my torso doesn't look quite as tight as the skin above the neck (oh, the joys of aging!). Having little success with drugstore pump-bottle lotions (Jergens, Lubriderm) and other, more-pricey tubs of cream (Kiehl's, La Mer), I started to look for all-natural botanical moisturizers, thinking that, if nothing else, their ingredients might at least smell less offensive. That's what led me to body oils — which aren't new, but which I avoided for a long time because I thought they would perform similarly to lotion. (Spoiler: they don't.)
Not all body oils are not created equal, though. Since they're thinner than lotions, some can be easy to over-apply — especially ones that you apply with a dropper (messy), or are meant to be poured straight on skin from their bottles (very messy). It was while lamenting over this very specific dilemma — discovering a solution to my moisturizing problem that was seemingly only packaged in ways that discouraged me from using it — that I heard from Mother Dirt. Someone there reached out about sending me Mother Dirt's new all-natural body oil, which comes in a spray tube, instead of a pump bottle or with a dropper. I couldn't resist.
Indeed, one of my most favorite things about Mother Dirt's Body Oil is its packaging. The spray makes it super easy to put on, and almost impossible to overapply. I've taken to spraying it on right after I towel off from a shower, while my skin is still a little moist, and notice the oil sinks in with barely a rub, leaving no residue behind. I've tried it on dry skin, too, and it took only slightly longer to disappear. The scent is subtle; it comes from lemongrass essential oil instead of floral notes created in a lab, and clings just enough that I feel fresh, but never overly perfumed. The product, in fact, is a veritable who's who of essential oils — in addition to lemongrass, it also contains sweet almond and apricot essential oils, as well as Squalane oil (ingredients that make its price tag seem pretty reasonable, considering other naturally formulated body oils can cost twice as much). The formulation leaves my skin soft, smooth, hydrated — and apparently ripe for bacteria to colonize, according to Mother Dirt, which designs its products around the idea that we need to preserve our body's microbiome, a complex ecosystem of bacteria that lives inside and on the surface of our skin.
Dermatologist Dr. Whitney Bowe, who literally wrote the book on our skin's microbiome (it's called Dirty Looks), explains why this philosophy and products born of it are important. "If your skin's healthy microbiome is disrupted by harsh cleansers and other abrasive skincare products, this discontent results in breakouts, rosacea flares, psoriasis, eczema, and even sensitive skin." But dermatologist Dr. Evan Rieder cautions that, when it comes to fully evaluating the effectiveness of products like Mother Dirt's, the jury is still out on exactly what bacteria can be classified as good or bad. "With the exception of acne-causing bacteria, we're not sure what we should be promoting or de-emphasizing," he says. "If you overselect for one, you may be altering the equilibrium."
Without being able to see my microbiome, it's hard for me to gauge whether this body oil is actually helping to maintain it. And until modern medicine can more definitively prove what skin-dwelling bacteria are most important, and how those microorganisms affect my skin's texture and hydration, I can't say whether the oil's purported microbiome-preserving formula is truly what makes it better than the moisturizers I didn't like. But what I can say is that, after quickly spraying myself once in the morning, my skin is moisturized — and stays that way, even if I skip a day (or a few) — but my clothes never are. Which is all I ever wanted in the first place.
More body oils and serums we like
Writer Dora Fung deemed this the "best everyday" body oil after trying some 40 varieties. "I like that the lavender scent is light, and (very crucially) it doesn't leave any stains on my whiter-than-white Frette towels," says Fung.