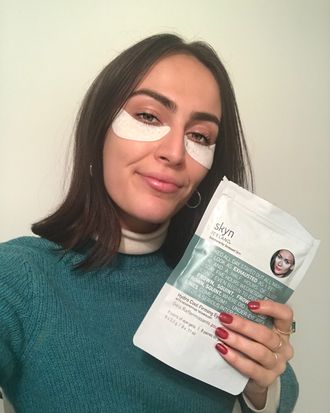 I may have found my new favorite eye patches.
Photo: Courtesy of Rio Viera-Newton
This season, we've teamed up with Dermstore to put together a winter skin-care collection, enlisting the help of (crazy) resident beauty writer Rio Viera-Newton. Here, she's selected just her most essential cold-weather skin-care products: the best eye stuff, serum, and moisturizer to revitalize and nourish dull skin. Read her review of her three favorites below, and head to Dermstore to get the $118 bundle for the beauty fiend in your life.
Keeping your skin nice and hydrated throughout the winter can certainly be a challenge — especially when your skin is as dry and sensitive as mine. If you know anything about me, you know that my winter routine can include a baker's dozen of steps, but sometimes you don't have the time! The most important thing you can do to combat cold-inflicted irritation, flakiness, and redness is carve out time each morning and evening to do something (and, of course, drink a lot of water), so to help you face the cold even if you're rushing out the door, I've put together a three-fer of my favorite products, all of which provide the moisture, vitamins, and soothing properties your skin is begging for during winter months. Note: When you buy the bundle, you get 20 percent off, but not if you get the products individually!