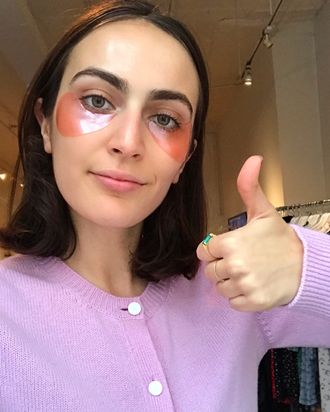 The author wearing DiaForce patches.
If I don't wear makeup, it is inevitable that someone will approach me and ask if I had a late night. Something about my under-eye skin says, "I've never slept a day in my life." And it's not just me, either — my mother and sister are the exact same way. Last year, we held a conference over Christmas to discuss our collective genetic flaw: sunken, dark Robert Durst eyes. Since I'm the skin-care expert of the bunch, I promised I'd do all I could to figure out what would help. And as a result, I've tried just about every eye product out there. As it turns out, my sensitive skin is especially sensitive to eye treatments — I'll often get redness and irritation when I'm trying new eye products. But after months of research (and more than a few rashes), I feel I've finally reached a place where I can confidently share with you (and the long-suffering female members of my family) the best eye products for dark, dry, puffy-in-the-morning serial-killer eyes.
If you really struggle with dark under-eyes, this concealer is worth trying. It's extremely pigmented and infused with vitamins that reduce the appearance of dark circles and discoloration, so you're both concealing and actively treating your under-eyes throughout the day. Be careful though — it's extremely pigmented on my light skin (make sure to find the right tone), so a little goes a long way. Before I realized, I put it on the way I would any other concealer and saw how I looked in a photo later — discolored — and learned my lesson: Just use a tiny bit.
I always have these patches in my fridge to use when I'm feeling under-rested. Firstly, they're cute and pink, and that alone makes me feel a little bit better after a late night out. But they're also great for replenishing and brightening under-eyes. The box also comes with 60 patches, so you're really getting your money's worth.
This eye treatment from Kiehl's is an old favorite of mine — I almost always have it in my medicine cabinet. The application process is kind of annoying, as you have to dip your finger into a sticky pot, which I don't love, but this eye treatment is super hydrating as well as slightly pigmented, which means it helps with overtime treatment and brightening. This is worth trying if you want a little bit of lift to your eyes, but don't necessarily feel like putting on concealer.
If puffy eyes are your problem, you should try ice-rolling. You know the old trick of putting cold spoons under your eyes? Well, this is a modernized version of that. Keep it in the freezer, and when you want to use it, let it sit out for a second so that it's not painfully freezing, then roll it gently over your under-eyes. This also can be used on places other than just your under-eyes — it can actually help with inflammation and redness from breakouts and rashes as well. Also, I'll just say — this feels incredible on your head when you're hungover.
I've written about this product before as a primer for my makeup. I love using it under my eyes in the morning — the sea salt and caffeine really help with de-puffing and just general perking up before work. It's also really great to use before going in with under-eye concealer, as it provides that extra grip for your makeup. This is also one of my favorite things to throw in my bag and use after long-haul flights.
I'm still figuring out what exactly does and does not make me have a weird allergic reaction under my eyes. However, I recently picked this up on the recommendation of the girls at the K-beauty store oo35mm (for dark circles and wrinkles), and it's given me no trouble at all! So far, I'm very impressed.
This is my favorite under-eye product, and don't make me tell you again why I love snail so much! Its regenerative properties not only work wonders on blemish scars, but also help with any kind of hyperpigmentation, including dark under-eye circles. It's also super beneficial for helping with wrinkles and dryness. I keep these in the fridge, so they're nice and cold when I use them —