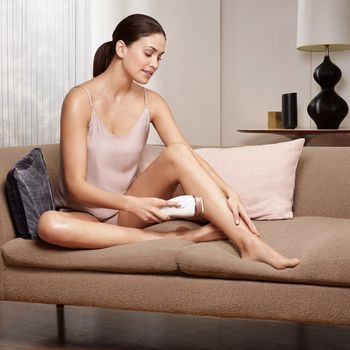 Recently, I became tired of spending entire Saturdays going from appointment to appointment for waxing, bang trims, and mani-pedis. While I wasn't going to start cutting my own hair, I was intrigued by the notion of at-home permanent hair removal. As much as my epilator has been life-changing, I was in search of a more permanent solution.
Let me preface this by saying that I've tried to use at-home laser hair-removal devices in the past, and they were NOT good. They were too much work and too time-consuming (first remove this sticker, carefully frame each patch of skin, etc.), and I'd inevitably give up without giving them a proper chance.
But when I found the Braun Gillette Venus Silk-Expert IPL 5001, I knew it would be far simpler than any previous device I'd tried. Before use, you remove all hair on the skin (i.e., if you're a shaver, be freshly shaved), then do a patch test to make sure your skin is suitable. The caveat: As with most lasers, it works best on skin with a high contrast between hair and skin color. People with dark skin and dark hair or light skin and light hair are often not great candidates, so a patch test is vital. If after 24 hours your skin hasn't had a negative reaction to the test, away you go.
Using light-energy technology, the Braun Venus works the same as laser hair removal done at the beauty salon by disabling hair growth at the follicle and stopping it from growing at all. I decided to start with my underarms and went patch by patch, moving the device to a new area each time before pressing the button. When it flashes, there's a hit of heat over the area, but it doesn't hurt in the slightest (those who've tried the epilator know the same cannot be said of the plucking product). There were a few times I went over a spot I'd already zapped, and a couple of minutes later the spot would be a bit red and tender, so be careful not to go over the same area twice.
But after a few weeks, I started to notice the hair was diminishing, and because it was killed at the root, my underarms were starting to look really smooth. You know the shadow you get when you shave your pits? That was starting to disappear, and by week 12, it was completely gone. I truly did not expect the smoothness to be that impressive. I continued to shave my underarms every day in the shower out of sheer muscle memory, but over the weeks, I noticed there was less and less hair to shave. It felt different beneath the razor.
I know it's expensive. But if an underarm wax costs $35, this thing will pay for itself in under nine months. If you do your legs, too (let's say a full leg wax is $105), this thing pays for itself in two months. If you wax monthly, in one year you save almost $1,400. Even more than the money, though, is the time and anxiety saved; you will never need to worry about shaving, epilating, or embarrassing hair between waxes ever again. You'll never again need to face the burden of something you'd considered a lifelong fate. Imagine the freedom.
Braun Gillette Venus Silk-Expert IPL 3001 Intense Pulsed Light
The Strategist is designed to surface the most useful, expert recommendations for things to buy across the vast e-commerce landscape. Some of our latest conquests include the best hair care essentials, whitening toothpaste, very black mascara, tinted lip balm, acne mask, magnifying mirror, and all-natural deodorant. We update links when possible, but note that deals can expire and all prices are subject to change.
Every editorial product is independently selected. If you buy something through our links, New York may earn an affiliate commission.