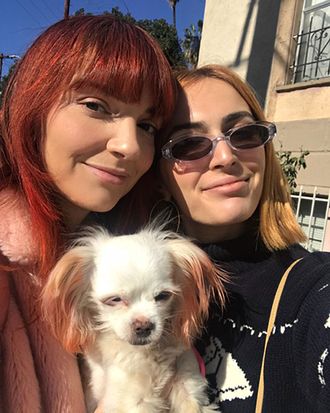 Johnson (left), Chooch, and the author.
Photo: Rio Viera-Newton
For anyone who thinks beauty is too visual for the podcast world, Jackie Johnson's Natch Beaut will prove you wrong. The perfect balance of beauty gabbing and comedy, the audio series investigates trends, brands, and products, as well as subjects ranging from Botox to acne to anxiety in hour-long episodes that always feel safe and honest. I've been obsessed with Jackie and her podcast for some time now, but it wasn't until last week that I mustered the courage to DM her on Instagram and ask if she was willing to grab a coffee. We met at a cafe in Silver Lake — accompanied by her Instagram-famous dog, Chooch — to discuss sunscreen, cruelty-free brands, and whether Dr. Barbara Sturm is really worth the money.
Well, Miss Jackie Johnson. I'm a longtime fan of your podcast, Natch Beaut, truly one of the best beauty podcasts out there. Let's start by talking about your skin type and what kind of products you're generally interested in.
So I'm normal too dry, depending on the time of year. And I'm, like, in my 30s, there's no turning back, so I'm just trying to keep my face tight and plump. Preserving what's left of me is my main priority when it comes to skin care. It really wants to just slide down, so I'm doing what I can to stop it. And I live in L.A., which is very dry, so giving my skin the moisture it needs is also important.
So, it's 2019 — what products are you taking with you in the new year?
Listen, I'm a Dr. Barbara Sturm girl, through and through. I'm a devotee. This shit ain't cheap but I have to say, her Hyaluronic Acid Serum is the best there is. Get a sample, get the smallest size, get whatever you can of it.
Her stuff is insanely expensive! Do you feel like it's really worth it?
Well, I admit that sometimes I think that price tags can trick me into thinking it works better than it really does, but I do feel like this serum is different. It really penetrates deep down and it's completely changed the texture of my skin. My skin drinks it up and that's how I can tell if a serum is good or not. If my skin slurps it up, it's great, if it just sits on top and I feel like I need to really push it in, I know it can't really be doing the deep diving I need.
Are there any kinds of serums that have been incredibly popular that you haven't really been into?
Well, I don't like thick, oily serums. If it's too thick, I'll mix it with my trusty Evan Healy hydrosol to kind of thin it down, and then pat it into my skin. If you like the smell of frankincense, you'll love this hydrosol spray.
Do you have an oil you like?
Honey, my oil is my passion. Okay? Let me tell you. This Plum Elixir from LOLI is a complete must-have. I put a drop in my foundation, I put a drop in my concealer, I rub it on my lips before I use a lipstick. It's great for hair if you want to control some little flyaways or give your ends some moisture.
And you've never had any breakout issues with it?
Never. And you know what, it's food-grade, so you could eat it. That's how clean it is. When I met with the founder she also suggested you could use this as lube, which is kind of cool. But yeah, all I really need is this oil and my hydrosol spray and my skin is happy.
Have you tried Tatcha Luminous Dewy Skin Mist?
Yes, it's so good — it makes my skin look completely poreless after I use it. I really like everything from Tatcha. I'm obsessed with their Camellia Cleansing Oil. It's so gentle and it takes every single bit of makeup off.
I know, it's so good. I love the scent of it, too. So I know from listening to your pod that you only use cruelty-free products. How do you educate yourself on what's cruelty-free?
An easy, quick way to do it is type in the company and then animal testing and just snoop around Google for what comes up. But you really have to make sure that everything you're reading is up-to-date — because something from 2015 is likely not accurate anymore. It means I can't use Mac, I can't use Make Up For Ever, I can't use NARS. I find it more annoying in skin care because I'm vegan, so I can't use beeswax or honey.
You and I share something in common, which is a passion for SPF.
Yes. Sunscreen is everything to me. My biggest pleasure is when someone comes up to me and says that they wear sunscreen because I told them to. My favorite sunscreen right now is the Coola Sun Silk Drops — not only do they help with the UV rays, they also help protect your skin against HEV light, which comes out of your computer and phone and all that. What's your sunscreen of choice?
Right now I love the La Roche-Posay Anthelios AOX. It just makes my skin look so pretty and glow-y after I use it. It also has vitamins E and C in it for brightening and soothing. What moisturizer do you use to combat L.A. dry skin?
I use the Osea Atmosphere Protection Cream, which is kind of thin and great for daytime. When I put it on, it just slides, ice-skating like Michelle Kwan across my skin. It's just incredible — I do my neck, I do my shoulders. It makes everything so soft and supple.