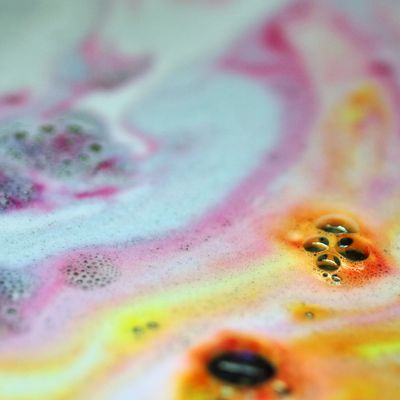 Photo: Emma Sutcliffe/Getty Images
Among all kinds of other bizarre things in the news lately, John Mayer recorded a song on Instagram Stories … about bath bombs. It's a joke, sure, but a fairly well-produced one that doesn't sound that different from Mayer's other Soft Rock FM songs. And Mayer's enthusiasm isn't even that much of an outlier: Suddenly, bath bombs are fizzing in tubs all over Beauty Instagram. Per Google, searches for the term "bath bomb" have risen 123 percent annually since 2015.
Bath bombs were invented in 1989 when British beauty entrepreneur Mo Constantine, inspired by the fizzing action of an Alka-Seltzer tab, started messing around with formulas that could plop into bath water. She and her husband eventually founded Lush, where they stacked bath bombs in crates, like tangerines at a grocery store. Lush makes a ton of other stuff (like some Strat-approved conditioner), but the dissolving baseball-size orbs (typically made of citric acid, baking soda, Epsom salts, and then oils and scents) took off on a life of their own. Mayer's song was devoted specifically to the brand's the Big Sleep Jelly Bomb, which turns bathwater into a frothy, Shrek-like green.
Like unicorn lattes and pool floaties, bath bombs come off as perfectly engineered for Instagram — they're fun, but they're even more photogenic — even if they predate social media. "Bath bombs are sooo trendy right now," confirms Sapphire Rayne, a 24-year-old Canadian who's racked up 115,000 followers since founding her bath-bomb test-drive account (@lush4lush) a year ago. (She now does this full-time, getting requests from international brands to promote their products on her feed.) "They've become huge because of social media, especially [the interest in] ASMR," internet speak for a sensory turn-on. "I get random messages from people saying my videos help them calm down from high-stress situations."
Lush, the actual store, is currently kind of like what Barnes & Noble was to bookstores in 1998 — a corporate giant in an otherwise largely independent landscape. Lush has three locations in Manhattan, and its 12-year-old fans (and their parents) regularly wait on line just to go inside. Lush is close to becoming the brand name for bath bombs (think "Lush bombs" standing in for bath bombs), but there's a selection of other bombs from small brands out there, ranging from ones created by teenage entrepreneurs to ones sold by Rudy's, the Seattle barbershop founded by the late Alex Calderwood, who also helped launch the Ace Hotel.
Plenty of bombs out there are little more than spheres of salts and food dyes, but with help from some so-called Bath Influencers like Rayne, @lushdolly, "solitary witch" and "bath lover" @toxicbitchcraft, we rounded up a handful of the ones worth knowing.
A 10-year-old and 12-year-old sister duo (who are now 15 and 16) founded Da Bomb Bath Fizzers in 2012, and theirs are like the modern-day equivalent of Cracker Jack boxes: Each bomb has a secret treat inside. The Fairy Bomb is one of their newest.
Some, like this Party Bomb, also have sprinkles.
According to its makers, Echo Park, Los Angeles–based House of Intuition (whose product line also includes crystals and "holy waters"), this bomb is made with "love and magic." Also: peppermint, Epsom salt, and rose petals.
"We're here to help when life gets in the way of your detox diet," reads the tagline for this Australian company. We're pretty sure that means these are for hangovers. The bath bombs, which come in sets of four, contain fulvic and humic acid that purport to help the body's nutrient-absorption process, and act as an anti-inflammatory. Reviews on Instagram — which include claims that the bombs suppress fibromyalgia and lupus symptoms — border on Evangelical: "How did I recover after last nights heavy lifting in class to be able to lift again this morning?!?! I turned the bathroom lights off, lite a candle & soaked for 25 min in a super hot detox bath thank you @lequere for making a product so good," says one.
The bath bomb craze has a lot to do with gimmicks. One example: Whiskey River Soap Co. (they make a craft-beer-and-bacon-scented soap) designed this one to smell like a saucer of warm milk and turn your water a pale peach, reminiscent of the coat of your favorite calico. Hence, the cat-person product name.
Technically not a bath bomb, but similar in fizziness, shower bombs go on the drain-adjacent shower floor or get propped on a shelf. (They usually contain less essential oils than their bath counterparts, you won't slip.) This version, from barbershop Rudy's, has notes of vanilla and nutmeg.
There's a goth subset of bath-bomb culture that is partial to coffin- and tombstone-shaped bombs. This one comes from the Belfast-based clothing store Bella Muerte. It turns your tub into an inky black, and garnered 1.4 million views when Instagram user @toxicbitchcraft — a very influential character in the goth-bath-bomb space — took it for a test drive.
Italian personal-care brand Acca Kappa was founded in 1869 and has sold beechwood hairbrushes and clean, subtle colognes ever since. Its approach to bath bombs is no different: The Effervescent Bath Tablets look like something you'd find in an upscale hotel bathroom or next to some charcoal body-scrub towels, not on the Instagram feed of a Riverdale-obsessed 11th-grader.
Of all the bath-bomb gimmicks, Pearl Bath Bombs' might be the most absurd. The company was launched after founder Tessa Matlock's boyfriend proposed with a ring hidden inside a homemade bath bomb. Now, every Pearl bomb comes with a (metal-plated) ring housed in a plastic "pearl." More recently, Pearl jump-started an oatmeal-and-honey-scented bath-bomb craze, when it launched a breakfast-y bath bomb. If you prefer your bath fizzes without plastic jewelry, there are a few other oatmeal-flavored options out there, like this one from Fizz & Bubble …
… and this honeycomb-shaped one.
Jane, Inc., technically refers to its bath bombs as "bath fizzies," but the action is the same. These are geared more toward moms and tired working adults than kids, what with the "less stress" or "detox" formulas. The extra ingredients read like a recipe for a juice: peppermint, lavender, sage, baking soda, spirulina, Gotu kola, and green tea are some of the possible additives in these.
The Lush Jelly Bomb that inspired a song has a sleep-inducing combination of lavender, neroli, and chamomile oils encased in an electric-blue Play-Doh palette. It's part of Lush's wider Jelly Bomb line, released over the summer, which uses a seaweed-derived sodium alginate to turn warm bath water into a jellylike substance.
Most of Lush's bath bombs aren't available on Amazon, but this three-pack of pink Snow Fairy bombs can be had.
The Strategist is designed to surface the most useful, expert recommendations for things to buy across the vast e-commerce landscape. Some of our latest conquests include the best women's jeans, rolling luggage, pillows for side sleepers, ultra-flattering pants, and bath towels. We update links when possible, but note that deals can expire and all prices are subject to change.
Every editorial product is independently selected. If you buy something through our links, New York may earn an affiliate commission.