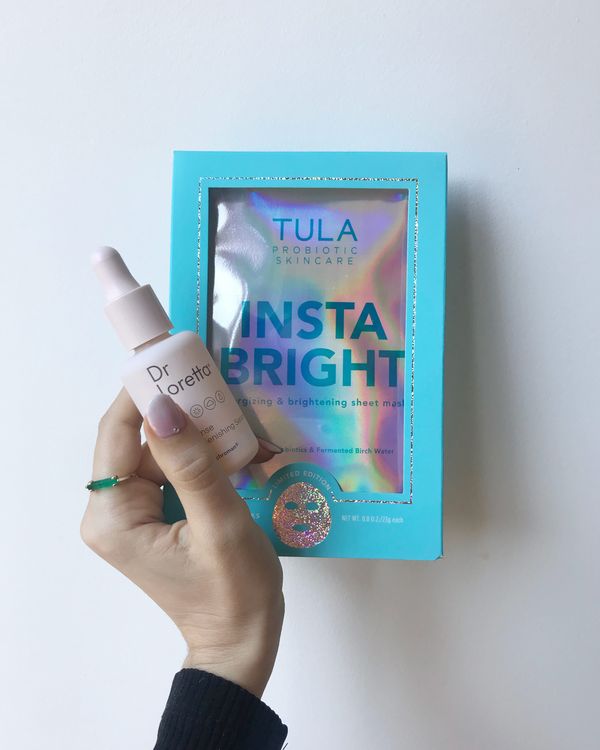 Rio holding her glowy mask and Dr. Loretta serum.
Photo: Rio Viera-Newton
In case you weren't already aware, the Strategist opened a holiday pop-up shop in New York that's stocked with about 1 million giftable items. If you go, you'll probably recognize some of the beauty products from my articles: the Cosrx snail mucin is there, as is Ohii's rose-scented charcoal deodorant. But there's also a ton of stuff at the pop-up I had never tried, let alone seen, before I went. Some products were chosen or written about by fellow Strat writers and editors; others were unfamiliar products from familiar brands (I can't tell you how mesmerized I was by the shelves of dozens of mystery Cosrx products).
Since I've been spending a lot of time at the shop (I moderated a beauty panel with Alexis Page, Julee Wilson, Dr. Rashini Raj, and Arabelle Sicardi, but I also can't seem to help myself from popping in every few days), I decided to buy and test a few of the products I've been curious about. Below, a few things I (Literally) Found at the Strategist, and now love.
It probably goes without saying, but Cosrx is not an unfamiliar brand to me. These green tea pads, however, were strangers before I met them at the pop-up. I tested these once a day for a week, and was extremely pleased with the results. My advice: if you have blemish-prone skin but you're also extremely sensitive, these green tea calming pads will help. Drenched in green tea extract as well as tea tree oil and witch hazel, the pads soothe, calm, and help shrink any pesky breakouts, while also exfoliating dry, dead skin. In the week I've been testing them, I've found I've reached for them most often after I've finished at the gym (after I shower, of course, and before I moisturize), when my skin is super flushed.
A brief primer on Tula: All of the brand's products are infused with probiotics, on the belief that probiotics can cleanse and purify skin the way they do the human gut. I've been using their hydrating Day & Night Cream for months — it's extraordinarily effective when it comes to brightening and smoothing the texture of my skin — but I hadn't yet tried their masks. The Insta Bright is shiny and holographic, which might make you think the product itself is gimmicky. It is definitely not. The essence in the mask is infused with hyaluronic acid, citrus extract, probiotics, and fermented birch water, which are some of my favorite ingredients for plumping and brightening the skin. I've used this mask in the mornings (before or in lieu of my moisturizer, depending on just how dry I am) to prep my skin for my makeup. I've done this three times so far, and each time, my skin looked super healthy all day long. I also loved how easily my makeup glided on after using it.
Full disclosure: I've actually been testing this product for about three months now, but hadn't tried it until we started planning the pop-up shop. I use it nightly, just before I put on my moisturizer. It's on the pricier side for sure, but it's perhaps one of the best hydrating and reparative serums I've ever used. While most serums I own (like my Holy Snails Shark Sauce or The Ordinary hyaluronic acid serum, for example) are slightly watery, this feels thicker and almost oily. In practice, this means that a smaller amount goes a much longer way. It makes my skin super glow-y, and is particularly great in colder weather, when my skin is crazy parched.