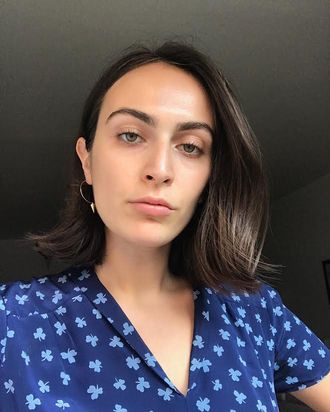 The author, actually wearing makeup.
When it comes to daytime makeup, striking a balance between casual and put-together is no easy feat. Overdoing it doesn't take much: You add a little more cheek stain, a little more mascara, and suddenly you realize you look better prepared for the Gathering of Juggalos than, say, the office. But the other side of the equation isn't great, either: There have been days when I've protested makeup altogether, and then realized pretty quickly that I look like a lunatic conspiracy theorist. So, after a lot of trial and error, I figured out a middle ground — my version of the "no-makeup makeup look." The first step, truth be told, is perfecting your skin regimen (read mine here). But if you're doing the best you can in that department, you can move on to the second: choosing makeup that won't cake, and selecting shades that match your skin tone. Below, the products that — I like to think — keep me looking clean, put-together, and radiant.
I don't always prime my face, but in the New York summer heat when I'm sweating like Tony Soprano, it's important for me to ensure that my makeup won't slide off. After I complete my skin-care routine, I apply this all over and pat my face to push the product into my skin — this cooling water ensures that everything you put on after it will stay in place. The sea-water and caffeine ingredients in this product feel great in the morning, and can also help with de-puffing under eyes.
If you have blemishes, dark circles, or sun spots, I find spot-concealing to be far more effective and natural-looking than using a fuller coverage foundation. While everything about this packaging screams no to me, the product itself is amazing. It's lightweight, buildable, and does an incredible job of concealing blemishes. After dotting the desired areas with concealer, I go in with a stippling brush to buff out the edges, so the treated area blends seamlessly into the rest of my skin.
This new-ish concealer from Nars is another full-coverage concealer great for people with oily skin. It's mattifying properties can help get rid of any unwanted shine. There's a wide variety of shades to choose from as well, and I'm always really happy with how well it ends up matching my true color. It's also really easy to apply with your fingers, which can help in achieving a natural finish.
I can't really believe I'm confessing this to you guys, but sometimes, if things are really bad and I have a big, unforgivable blemish, I'll dab a dot of eyebrow pencil on the zit and play it off like a beauty mark. Sorry … but not sorry. I learned this somewhat insane trick from YouTube beauty guru Desi Perkins.
This is currently out of stock, but Stila makes a very similar version here.
I've tried just about every highlighter out there, and as far as daytime products go, this is my favorite. Again, it's buildable, so you can give yourself either a subtle or beaming glow, depending on how much you apply. I put it on my cheekbones, in the corners of my eyes, on my eyelids, brow bone, and tip of my nose — and occasionally, I'll also pat it over my lips to give them a subtle shimmer. I basically dip my whole face in this highlighter.
I love this product because you can use it as both a lip and cheek tint. Most straight-up blushes make me look like a clown, so I search for colors that are in between blush and bronzer shades. I lightly dab this right underneath my cheekbones, all the way to my hairline, and blend it out with my fingers. This gives me the perfect amount of sun-kissed, while still looking natural.
I have a personal problem where no matter the brand or how much or little I put on, all mascara end up collecting along my bottom lashes. It ends up making me look like a drunk girl who has been crying. So I just curl my lashes and leave it at that. Eye makeup can be a dead giveaway as to whether or not you're wearing makeup, so I love how natural just curling comes out.