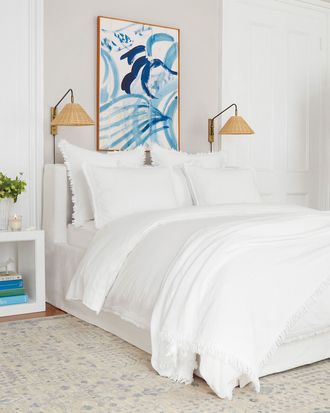 Photo: Courtesy of the retailer
While lamps and overhead lights like chandeliers tend to be folks' first recourse when it comes to brightening up a room, wall sconces can be just as functional — especially in smaller spaces. As Alessandra Wood, a VP of style at online interior-design service Modsy, notes, "Wall sconces don't take up a footprint on the floor or require an end table to host them." Incorporating wall sconces somewhere that's already furnished with other lights can make that space even more functional, according to the experts we spoke to. "This type of fixture can provide more direct lighting closer to something you're doing, like reading, without needing the entire room to be illuminated," explains Becky Sturniolo, a luxe designer with Modsy. Like other elements of décor, wall sconces are also an easy (enough) way to give a room a new look without a complete overhaul. "Layered lighting always creates many moods for a space," says Melissa Wagner, who works in creative and design at online interior-design service Havenly. Brooke McReynolds, another luxe designer with Modsy, agrees, telling us that wall sconces can "change the interior of a space in a dramatically effective way."
To find the best wall sconces for spaces of all sorts, we asked Wagner, Sturniolo, McReynolds, Wood, and ten other designers about their favorites. Before we started reporting, we set a budget of $500 — and the designers, in fact, told us they try to stick to that price ceiling, too, because most sconces are typically sold individually but look best in pairs or multiples. As for where to put them, the experts say sconces can be most effective when flanking another object, whether that's a bed, a couch, a dining-room table, an oversize mirror, or a piece of art. One final note: Because most of the sconces on this list are hardwired, they may require an electrician for installation. For those who want to keep things as easy as possible, we've noted which options are plug-in and therefore easier to install.
Best wall sconces under $200
Best overall wall sconce under $200
Three of the experts we spoke to — Sturniolo and Decorist designers Lina M. Gómez and Fendy Castillo of Nemai Studio — told us about this wall sconce from CB2 that's made of two overlapping discs of cream onyx and a glass globe light. At right around $100 a sconce (technically a little less), it is one of the most affordable options on this list. Sturniolo, who often turns to CB2 for décorlike sconces, calls the Astr "a gorgeous, more natural, modern option." Gómez and Castillo add that in addition to being a light, the piece also functions as an artwork, describing it as a "sculptural focal point that adds uniqueness and a wow factor to a space."
More recommended wall sconces under $200
For something that swivels, consider this sconce from CB2 that Decorist designer Eda Bejko and interior designer Brianne Bishop recommend. Bishop calls it "edgy yet so functional," in part because the plug-in sconce is a cinch to install (all you have to do is mount it on a wall with a nearby socket). To wit, she says it's a particularly great option for any wall where "you don't already have electric wiring installed." Bejko suggests putting it near a bedside table, telling us the piece's slender neck, glossy brass steel, and warm walnut-finished ash-wood plate give it a "mid-century twist."
This sconce, the most affordable on our list, also has a swing arm. It comes recommended by Decorist designer Vanessa Yufe of VY Designs, who again told us that swiveling sconces like this are great for framing a bed. "Mount a swiveling wall sconce strategically and it can illuminate your nightstand," she says. But that's just one place she says it could live in a home. "Depending on how you tilt it, the sconce can be used as task lighting near a desk or bookcase, or to illuminate artwork on a gallery wall." Summing it all up, Yufe says the chrome-finished metal sconce "can pretty much be placed anywhere" and costs "a fraction of the price of a high-end designer light fixture."
Bejko pointed us to this fabric-shaded sconce with what she calls "a subtle and refined look" thanks to its "warm brass finish and clean lines." Shown in that brass finish, the fixture, which has a linen shade, also comes in brushed-nickel and matte-black finishes.
This swiveling wall sconce, according to Gómez and Castillo, has a "classic industrial look that can work with many styles due to the simplicity of its design." With longer joints, it looks a touch more dramatic. As for where to put it, they say above nightstands, near a desk, or "next to your favorite reading corner." This sconce can either be hardwired or plugged into an existing wall socket and comes in two finishes: antique bronze and brass.
If you want to add two lights for the price of one sconce, consider this double-headed option that Sturniolo told us about. She says the swiveling fixture with conical shades would be another great choice for folks looking for a "more industrial option." In addition to the blackened-bronze finish shown, it's available in a more subdued brushed brass.
If you're shopping for a bathroom sconce, Bejko suggests this three-light style that she says is "simple and minimal while providing the perfect amount of lighting to a vanity." The sconce's three faceted shades are suspended below metal arms that come in several finishes, including brass, bronze, and chrome.
This super-basic sconce would be a good option for anyone looking to inject a pop of color because it comes in 14 different shades, from orange to Kelly green to ochre. Decorilla designer Devin Shaffer loves how it "unapologetically juts its way into a room," calling the sconce "simple with an obvious need to be noticed and talked about."
For something a bit more whimsical, Jessica Davis, the principal designer at JL Design, suggests this sconce designed to look more like a candlestick made of bamboo. Embellished with details like petals and the ridges you'd find on actual bamboo, it comes in a bunch of colors (nine, to be precise), including lime green, turquoise, coral, and yellow. "This fun sconce is the perfect way to brighten any room with an unexpected pop of color while staying classic and simple," Davis says. "Try a pair in a bathroom, hallway, or flanking a window — the sconce can be combined with any style."
Best wall sconces under $300
Best overall wall sconce under $300