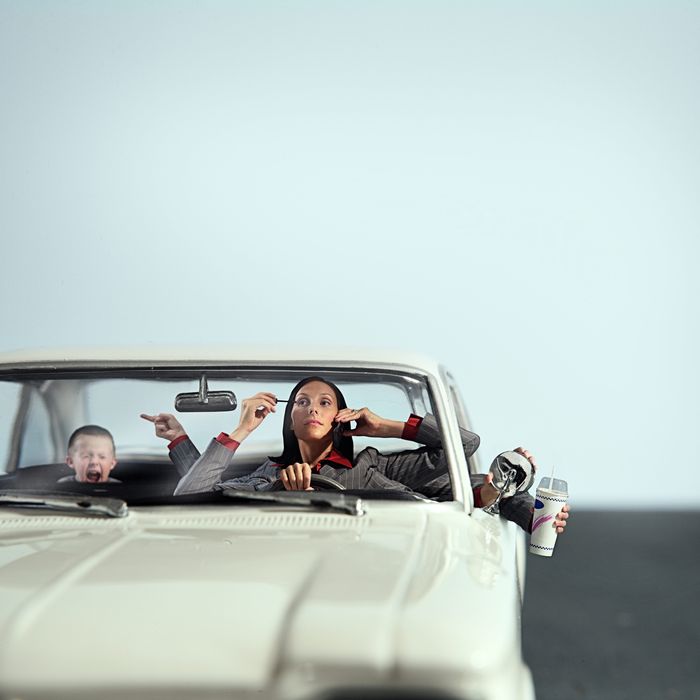 Photo: C.J. Burton/Getty Images
As soon as April turns into May, I begin anxiously scanning the internet in preparation for the second Sunday of the month. Finding something suitable enough for the most important person in my life causes me deep stress. I'm at peace with gifting silly it's-the-thought-that-counts things to my friends, but my Mother's Day gifts must be equal parts chic and heartfelt, exciting and useful. In an added bit of overachiever criteria, I'd also like for my mom to use my gift daily.
Luckily, researching beauty staples and holy grail products is something I do daily. My mom, while not particularly tapped into the beauty world, is and always has been a diligent groomer, making her an ideal candidate for a beauty gift. I've scoured the internet, read review after review, and overwhelmed many a beauty-counter representative in order to self-educate on the topic of sensitive, mature skin, such as my mom's. If you, like me, are anxious about the imminently approaching holiday, and have yet to buy anything, here are mom-friendly beauty gifts that can still ship and arrive by Sunday (be it through Prime, Sephora Flash, or — last resort — expedited shipping). I wouldn't say all of these gifts are low-cost dupes, per se, but who better to splurge on than your dear mom?
I'm a huge fan of everything by Tata Harper when it comes to my own skin, but I also find myself again and again buying and recommending her products to my mom as well. This brand is a perfect example of how natural products can be just as effective as synthetic ones, and giving an all-natural, nontoxic product to someone you love feels good. I would honestly recommend any Tata product as a great Mother's Day gift, but I've seen firsthand that this Floral Essence actively improves the overall radiancy of my mom's skin.
Rich with anti-aging, plumping, and hydrating properties, these masks are the perfect gift for a mother that's just getting into the skin-care craze. Not only is the packaging sleek and elegant, but you can see this mask's glowy and moisturized effects immediately — and instant gratification is always a good thing with a gift.
All of the packaging from this company is stunning, so if your mother is into aesthetics, this line is a good choice. You also get great results with their stuff — this hand cream in particular is ideal for a gift. With chamomile and shea butter extracts, this effective hand cream is ideal for throwing in purses or looking beautiful in a bathroom cabinet. (Bonus: If you're in New York, you can get this by same-day delivery.)
A mist might seem like a beauty supplement, rather than staple, but I've actually found that for an on-the-go mother who doesn't want to dedicate too much time to her skin-care routine, this stuff is great. It's the perfect way to quickly tone skin and get a boost of radiance in the morning and throughout the day. While I personally love this for setting my makeup or a midday pick-me-up, I know a lot of other women who swear that this is the perfect post-cleansing toner. I also love the smell!
Another all-star when it comes to gorgeous packaging: this facial oil from Herbivore. This oil uses natural ingredients to replenish your skin with vitamins, antioxidants, and moisture — the perfect treatment for those concerned with dryness, fine lines, and wrinkles. For those moms who don't wear much face makeup, this is the perfect product for a lovely, healthy, all-over glow.
Not only is this anti-aging, K-beauty cream insanely effective, it's also really cute! The cream is portioned in tiny little spheres, and each ball contains the exact amount needed for one round of a nourishing treatment. This is a product where the results show immediately: Rub the treatment in and then wrinkles are clearly smoothed out, and skin is instantly plumper. For any mom with dry skin, or a mom who's interested in trying out some K-beauty, this is a great way to start. I gave this to my mom last year, and she's been using it everyday since, not to brag …
I love gifting minis to my mom and seeing them pop up in her toiletry bag when she comes to visit me in New York. This Nightbright duo from Drunk Elephant includes two of my favorites from the line, the perfect combination for a boo