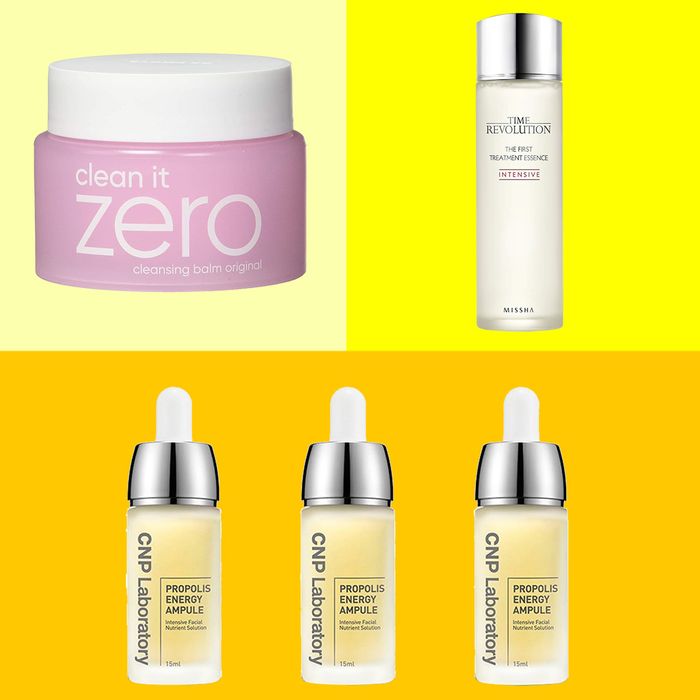 You've heard the hype on Korean skin care, but there are so many serums and masks and essences to try that it's hard to know where to look when you want to dabble in something new. So we turned to some of the people who would know best about K-beauty, the beauty bloggers and vloggers who have made it their mission over the years to catalogue and review new products. Here, they point us to some of the products that are essential to their routine, many that are delightfully obscure (so you might be the first to evangelize about them to your friends).
Best K-beauty cleansers
K-beauty blogger and founder of cruelty-free K-beauty store Dot Dot Skin Elisa Lee likes to use this cleanser when traveling and recommends it for sensitive or acne-prone skin. "This is an oil-free all-in-one cleanser. I don't need to double cleanse when using this; it removes all my waterproof makeup and dirt in one go, while leaving my skin hydrated. It contains aloe vera juice, portulaca extracts, and papaya extracts to keep the skin calm, non-irritated, and moisturized."
This cultish cleanser is a favorite of vlogger Michelle Choi and the Cut's Kathleen Hou. "I love using the cleansing balm to not only remove my makeup but also to clean out my pores," says Choi. "I tend to produce a lot of sebum around my nose, and I can see some darkening from it being oxidized. The balm does a great job of melting down all the oil and dirt stuck in the pores and keeps them clean."
Best K-beauty toners
Mizu Chan of Marvelika Life likes this toner from K-beauty brand Benton, which contains salicylic acid, a popular ingredient for combating pimples and acne. "I apply the toner with a cotton puff, after cleansing to remove any dirt on my face," she says. "The toner is really hydrating. And it doesn't make my face sting, like a lot of other popular toners."
"One of the secrets to healthy skin is using a darn good exfoliator," says beauty blogger Eunice Cho. "This is an AHA (alpha hydroxy acid) product, but it has a larger molecular size than most AHA products out in the market, which means it's super-mild. All skin types, including sensitive skin folks like me, can use it. It helps to exfoliate skin mildly while not stripping away the moisture from skin. I use it two to three times a week after applying my toner."
Best K-beauty exfoliators
Charlotte Cho, the founder of K-beauty marketplace Soko Glam, recommends this exfoliator from Unpa that (gently!) peels away dead skin. It also uses charcoal to exfoliate and smooth, vitamin B5 to help hydrate and protect the skin's barrier, ginseng root to calm, and baikal skullcap root extract to help with hyperpigmentation.
Best K-beauty essences
"Essences are essential to my skin-care routine, and this one is one of my all-time favorites," says YouTuber Morgan Stewart of this essence from Missha, which Strategist writer Rio Viera-Newton also loves. "It's a watery product that goes on after you cleanse and tone your skin. It contains fermented ingredients that help smooth, hydrate, and brighten the skin. The fermented ingredients in this also help with anti-aging and repairing damage," says Stewart.
Best K-beauty serums and ampoules
Robey likes this ampoule (which is basically an ultraconcentrated serum) from CNP Laboratory, one of the top science-focused brands in Korea (that's still fairly under the radar here in the U.S). Propolis extract, a resinous mixture that honey bees produce for hive upkeep, is the main ingredient — it supposedly works well as an antibiotic, antifungal, and especially as a moisturizer. "CNP mixes propolis with some humectants to create a skin syrup that's so effective, I usually only use a drop or two at a time (the bottle is a small 15 ml, so don't slather)." she says. "A few drops will soften even the scaliest skin over night. And when I want wildly glowy, K-drama-actress skin, I mix a few drops into my facial cream."
Best K-beauty masks
K-beauty blogger Tracey E. Robey of Fanserviced-b is a fan of these masks from Papa Recipe, which she says are a great budget buy. "I bust these out after cleansing when my skin is feeling dry and irritated — or when I just want to relax," she says. "The sheet material is super-flexible, and the hydrating, fairly thin essence smells like honey and slowly sinks in to plump up fine lines, takes care of dry flakes, and give a great glow."
Cho likes this mask from K-beauty brand Enature, which is designed to work while you sleep. Hemp seed oil helps soothe inflammation and improve texture, and fatty acids help protect against free radical damage. It also works for all skin types, says Cho, including acne-prone and sensitive skin.
Best K-beauty moisturizers
"Mizon Snail Recovery Gel Cream was one of my first K-beauty loves, and has remained a staple in my skin-care stash ever since," says K-beauty blogger and reviewer Cat of Snow White and the Asian Pear. "It's a simple product that soothes my skin and speeds healing of my breakouts. It's lightweight enough to use in the heat of summer, and works wonders on accidental sunburns. If my skin is irritated and won't tolerate anything else, this is the product I reach for."
Co-author of Korean Beauty Secrets and co-host of beauty podcast Triple Bees Coco Park swears by this moisturizing cream for dry skin and recommends it for nighttime use. "This cream's first ingredient is saccharomyces ferment filtrate (a yeast derivative that's supposedly a powerful anti-aging ingredient), so you know you're in for a treat," she says. "This is on the thicker side, and is probably better suited to nighttime, unless you have the driest of the dry skins. It has a beautiful texture and performs much more like a high-end luxury cream than the $20 cream that it actually is."