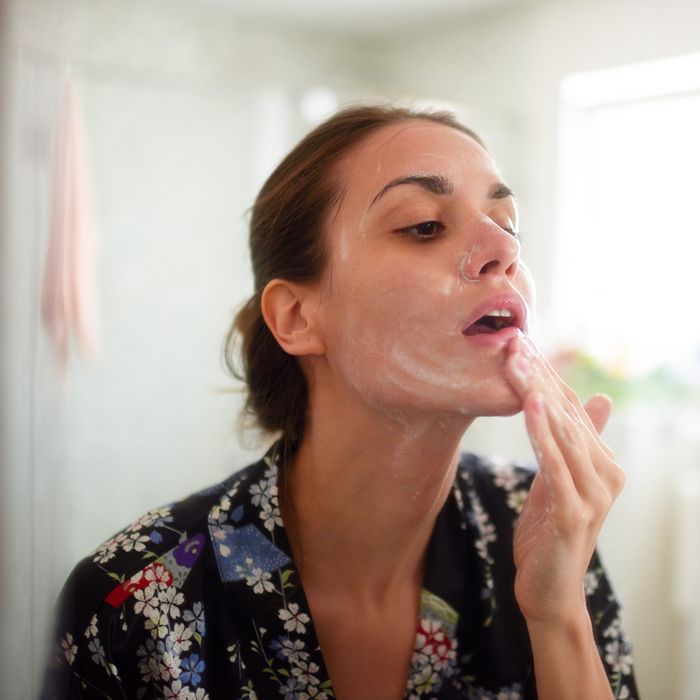 Photo: Courtesy of retailer
Anyone who has ever suffered with acne understands that it can be a many-headed monster. You successfully address one area of breakouts only to have another, far more intense one, creep up; you go many months, and sometimes even years, without a hint of a blemish, and then, seemingly out of nowhere, it's zit city all over again. And all of this — even in these acne-positive times — can do a number on your psyche. We wish there was a one-size-fits-all panacea for the problem. There's not. But a good place to start is with the right acne wash.
While cleansers may have shorter contact with your face than, say, your serum or moisturizer, they're especially crucial for the acne prone because "they help balance the pH of the skin," notes Tess Adams, facialist and co-founder of New York's Take Care spa; they also kill pollutants and bacteria we absorb in everyday life, and, of course, remove our makeup. Put another way by Rescue Spa founder Danuta Mieloch: "Face wash is the most underrated product!" And so, we spoke to Mieloch, Adams, and a slew of other top dermatologists and facialists about their acne-specific favorites, which range from the creamy to the foamy to manuka honey. Just one thing to keep in mind as you read on: Even the most widely beloved of the following cleansers might require some trial and error to determine what your very individual complexion responds to. "No acne is the same," says Adams. "And it's caused by many internal and external factors — so it can be a dance to find the balance."
Best overall acne cleanser
Best acne cleanser for hypersensitive skin
For the most reactive skin, dermatologist and co-host of The Doctors Dr. Sonia Batra recommends this "gentle oil-, phthalate-, and paraben-free pH-balanced cleanser." (It's also very highly rated in user reviews.) "It contains bromelain to reduce inflammation caused by acne, and apple amino acids to hydrate the skin," Batra adds. And it's free of sulfates, which, as dermatologist Dr. Whitney Bowe explains, "are aggressive surfactants that can wash away your healthy fats and lipids and dry out the skin." Even though acne sufferers might think they actually want a drying-out effect, overdrying in fact causes the skin to produce more oil, setting off a vicious cycle. And so, says Bowe: "I advise all my patients, but especially those with acne, to avoid sulfates."
Best acne cleanser for hyperoily skin
Adams thinks exfoliating acids like salicylic and alpha hydroxy acids "can be imperative for healing cystic or severe acne." And this foaming cream, which happens to have both, is thus particularly well suited for those conditions, and for treating a more general state of extra oily skin. "It loosens dead cells and increases cellular turnover to reveal new skin," says Batra, adding that, meanwhile, "the acids work to rid skin of common acne concerns such as oiliness, pimples, and blackheads." Because it does have an acid-heavy formula, though, be mindful of the other products in your routine to avoid irritating or overdrying. Facialist Sofie Pavitt's M.O.: "Stick to only one or two products with active ingredients."
Best acne cleanser for oily skin
If you're looking for something without actives then this foaming facial cleanser from Cerave is a good, affordable option. "It's formulated specifically for normal to oily skin," says physician assistant for Curology Nicole Hangsterfer. "It also helps remove excess oil, dirt, and makeup while maintaining the skin's moisture balance with ingredients like hyaluronic acid, niacinamide, and ceramides."
She also recommends this lesser-known cleanser from Neutrogena, which works as a cleanser and makeup remover both. "It's an effective yet gentle cleanser," says Hangsterfer, "and helps to remove excess oil, dirt, and makeup without over-drying your skin." She also likes that it was formulated with acne-prone skin in mind (it's non-comedogenic and hypoallergenic), which, she says, doesn't guarantee that it won't trigger a breakout but means it's much less likely to cause one.
Best acne cleanser for dry skin
If you have dry skin and are also acne prone, Hangsterfer recommends looking for something with a gel texture rather than foam. "It comes down to personal preference, but gel cleansers tend to be more hydrating than foaming cleansers, so they often work better for dry skin," she says. She likes this one from Derma E in particular, which uses hydrating and soothing ingredients like hyaluronic acid and chamomile along with vitamins A and E to gently cleanse skin. "It's moisturizing and sulfate-free," she says, noting that sulfates can potentially clog your pores.
Best benzoyl-peroxide-based acne cleansers
Benzoyl peroxide is not just for teenage acne; in fact, it remains a tried-and-true dermatologist favorite no matter your generation. "It kills acne-causing bacteria and helps control oil," says Wechsler. And Batra adds that the powerful ingredient "releases oxygen onto the skin to destroy bacteria that can lead to acne," and that "it's also anti-inflammatory and comedolytic, which means it calms skin and decreases clogged pores." Both dermatologists Dr. Mona Gohara and Dr. Shari Marchbein are fans of PanOxyl, in particular, for its gentle but efficacious formula. Just remember, as with all cleansers with an active ingredient: Keep it on the skin long enough to give it time to work — dermatologist Dr. Joshua Zeichner says to sing the alphabet before you wash it off, and Anolik suggests doing some beauty multitasking (shaving legs if you're in the shower, etc.) while you wait.
Dr. Jessie Cheung of Cheung Aesthetics and Wellness is also a fan of benzoyl-peroxide based cleansers, noting that the ingredient helps with inflammation. She likes this cleanser from acne-fighting classic Clean & Clear in particular, which contains acne medication that continues to work even after you wash it off.
Best no-frills acne cleanser
With acne, "gentleness is key," says Gohara. And if you're using any kind of acne-treatment product (like a retinoid, prescription or otherwise), your best cleansing bet may be a super-simple one like this fragrance-free, ceramide-packed drugstore buy. A gentle cleanser like this "will help support the potentially irritating and drying prescription topical medications," adds Marchbein. (And, as previously mentioned, overdrying can be a major vicious-cycle inducer for acne sufferers, whose barrier function — or, the ability to keep the skin hydrated — is already compromised.) Marchbein recommends looking for products that are hypoallergenic, fragrance free, and that have the addition of ingredients like ceramides and hyaluronic acid (this CeraVe has both). And, generally speaking, be mindful about how your skin feels post-wash: "Squeaky clean means you've actually overcleansed, and this can disrupt the skin barrier," Marchbein adds.
Best creamy acne cleansers
For those who prefer a creamier cleansing experience, Mieloch loves this milky version from cult-favorite brand Biologique Recherche, which, she says, benefits from the addition of oils (like jojoba, squalane, and vitamin E) in the formula. "You always get a much more effective cleansing with a cleanser that contains some good oils to remove the bad oils," says Mieloch. (She also recommends mixing in MBR's Enzyme Cleansing Booster — if you're really willing to splurge — a few times a week to "get a nice enzymatic exfoliation that removes layers of buildup.") In terms of the application, while Mieloch recommends everyone be diligent about really working that cleanser onto the face — "Always spend time massaging it in" — she and many of the other experts are wary of mechanical facial brushes for anyone acne prone, because they tend to be an easy harbor for bacteria. If you're a devotee, Batra says to at least limit usage to a few times a week and try one like the Foreo Luna, which is made of silicone and is thus 35 times more hygienic than nylon bristles. Or, says Pavitt, try a compressed sponge for a similar effect: "You can buy a pack of 50 on Amazon for about 20 bucks, and if they're cellulose, you can compost them."
Another good creamy cleanser is this one from clean beauty brand Alpyn Beauty, which comes recommended by Dr. Cheung. "It has gentle AHAs and pomegranate and papaya extract to clean away dull, dead skin cells and refine pores," she says. The fruit enzymes and AHAs exfoliate while vitamin C brightens — ideal if you deal with post-breakout hyperpigmentation.
Best natural acne cleanser
Old-school natural brand Dr. Alkaitis has what is one of facialist Carrie Lindsey's favorite cleansers for breakouts. The blend of cold-pressed oils, medicinal herbs, and plant extracts like seaweed, chamomile, and sambucus-nigra flower make this cleanser "both detoxifying yet gentle," she says. If you are a wearer of eye makeup, though, Lindsey suggests swiping it off with micellar water first, because the cleanser's castile base can sting if it gets in your eyes (much more on micellar water below). And, since Lindsey and others are in agreement that water temperature can also impact inflamed skin, don't make it too hot. "Most acneic skin has heat to it," Lindsey says. "I always recommend using tepid water — it can be warm, but not hot — for cleansing and then doing a cold rinse to constrict the pores and calm inflammation."
Best micellar acne cleanser