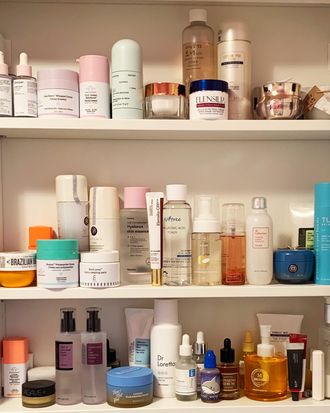 Two years ago, the Strategist posted an edited version of my Google doc — the hastily typed-up list of skin-care products I sent to friends who were curious about the routine that transformed my skin from pimply and irritated to smooth and acne-free. There were 16 items on that list: Every single one was something I'd used for months, and truly believed changed my skin for the better. Since my skin changes so much year to year, and since I test products almost constantly, I now use the Google doc's anniversary as a chance to break down my current daily routine. This isn't the stuff I like fine or would consider repurchasing; these are the products I force those near and dear to me to buy, the ones I sprint to repurchase the second I run out.
My routine has changed drastically in the last year, because my skin has changed drastically. On the bright side, my eczema has improved enormously. On the not-so-bright-side, my hormonal acne came back with a vengeance around Christmas. Breakouts led to picking, which then led to scarring. It was a mess. And for whatever reason, my old tried-and-true go-to's (like Biologique's P50 and Acne Barrier Protect Spots) just weren't doing the trick.
Instead of throwing in the towel, or sticking with my old products and hoping they would kick in eventually, I set out to create a new routine that would get my skin back on track. I searched on Reddit threads and K-beauty blogs, and scavenged the shelves of oo35mm for products that were equal parts healing and anti-inflammatory, in the hopes of combating my pesky zits without further irritating my skin. Then I integrated each new product slowly, and one by one, so I could gauge exactly how my skin responded to every single one.
It's been about six months since Pimplegate and I've never been so happy with the way my skin looks. I'm still healing from a few of my self inflicted wounds, but overall I've been able to bring my skin back from the brink. Some of the products listed below you'll recognize from previous Google doc articles, some of them are newfound loves.
Evening routine
There is nothing, and I mean nothing, more satisfying than coming home from a long day and rubbing this beautiful cleansing balm all over your (dry) face, sudsing it up with some warm water, then rinsing it off and watching as your makeup melts off of your eyes, skin, and lips. This is as good at removing makeup as Banila Clean It Zero, which I've long loved for its ability to quickly and easily melt off all my day's makeup, but doesn't leave your skin feeling plastic-like, and doesn't have that candy-sweet, headache-inducing smell. Then I Met You contains antioxidants, fatty acids, and vitamin E to make sure your skin is left soothed, nourished, and moisturized. It's a dream, and I freak out when I run out.
Cleansing — so nice we do it twice! I used to fear the double cleanse because I thought it would strip my already dry skin. Turns out, I was very wrong! In fact, if you're dry and acne prone, it's one of the most important things you can do to ensure you're going to bed without a trace of bacteria on your face. I noticed a huge, huge improvement in my breakouts once I started double-cleansing with the Then I Met You followed by this (very, very watery) gel-textured foaming cleanser by Dr. Loretta. This product is incredibly gentle, and has never once left my skin feeling tight. It contains marine peptides that supposedly promote collagen and hydration levels, and well as chamomile which soothes any redness or irritation. The brand itself is also really awesome — it's woman-owned, and all their products are formulated by a licensed dermatologist. We love.
Before I tell you about this product, let me remind you why using a toner is important in the first place: It helps remove any undetectable dirt and grime that your cleanser didn't quite get, balances your skin's pH level, and adequately prepares your skin for the rest of your routine. Let me also tell you that I used to be highly suspicious of toners. My skin is super-dry and sensitive, and old cult-favorites like the Acwell Licorice Balancing Toner often made my skin feel super-tight, dry, and dehydrated. This hyaluronic acid toner from Instree makes me feel none of those things, and is easily the best toner I've ever used in general. Not only does it ensure that any leftover grubbies are washed straight off your face, it also helps pump moisture back into your skin after your double cleanse. Plus, it has the immediate effect of making you look like a baby cherub the second it's patted into your skin.
I have reconnected with this AHA exfoliant in a serious, powerful way. Honestly, P50 who? There's something about this particular exfoliant that sends my zits and dark marks running. If I use it at night, I wake up to find brewing pimples have subsided, dark spots have faded, and my skin is bright and smooth. Every other night, I press this product into my skin, focusing on my problematic areas like my jaw, chin, and hairline. Then I wait 20 to 30 minutes before I move on to the next step (my Cosrx essence, below). It's annoying, I know, but the wait time is super-important for this one. Brush your teeth, do the dishes, do whatever you need to. Trust me, it makes a massive difference.
I first fell in love with this product because I thought it was a really solid dupe for the very expensive, cult favorite, brightening and moisturizing SK-II Facial Treatment Essence. After using it for a couple of months, I have to say: I think it's better. As I mentioned, I've been dealing with hyperpigmentation this year. This essence has helped even out my overall complexion more than anything else on this list. It contains 95 percent galactomyces ferment filtrate, an ingredient known for smoothing out texture and brightening and hydrating the skin. And it also incorporates niacinamide, one of my favorite ingredients for brightening up dark spots, and adenosine, which is a known skin-smoother. If you pick your skin, which lord knows I do, you will really love having this nourishing, brightening, and healing essence in your beauty arsenal. I drop about four pumps into my hand and press it into my skin.
This serum is chock-full of anti-inflammatory and brightening ingredients, including centella asiatica, niacinamide, and terpineol (a derivative of tea tree oil). Which, in practice, means it makes it calms down already existing zits, and blocks new ones from forming. I've found that using it every night has really smoothed out the texture of my skin.
If, like me, any of your suffer from redness and irritation (psoriasis, eczema, or even if you're just a very sensitive-skinned individual), you should consider using this little gem from I'm From. Not only do I find that it makes my skin incredibly luminous and soft, it's also a very helpful serum to use to calm any kind of inflamed and angry zits, or general skin redness. If I happen to stumble across a little mysterious red patch on my skin, if my zit is super pissed off and in need of some serious soothing, I incorporate this into my routine.
The original Shark Sauce is a product I've relied on it for years to help me brighten up any pesky, flattened zits. Since then, they've developed a new line of products, all of which take the original Shark Sauce formula and replaces some of its distilled water with a variety of different ingredients which cater to different skin needs. The Great White Sauce incorporates vitamin C and is a powerhouse when it comes to brightening up old zit scars. I also really love the Bamboo Shark, which has added bamboo extract and centella asiatica, both of which are super-ingredients for soothing red spots. I don't put any of these "sauces" all over my face — rather, I apply dabs of it to problem areas. If you don't believe how effective this product is at brightening up old spots, I implore you to Google before and after pictures.
Every single person I've talked to who has tried this cream is completely and totally obsessed with it. Unlike my Cosrx Hyaluronic Acid moisturizer which was super-hydrating, but also very heavy and sticky, this Drunk Elephant cream feels incredibly light on the skin. After using this cream, which is packed with peptide signals and amino acids, a couple of times, I noticed a discernible change in my skin texture. It looks plump, bright, dewy, and tight all at once. She's expensive, I know, but I really do stand by this product being worth it. I've been describing it to friends as my "weird Benjamin Button cream." As of right now, I use this moisturizer just in the evenings (my SPF is hydrating enough to act as a morning moisturizer in the summer), but as soon as fall comes around this will be my go-to for AM and PM both.
For those of you that don't want to spend the $68 on the Drunk Elephant Protini cream, let me introduce you to this very convincing, extremely hydrating, calming, and nourishing dupe from E Nature. Whenever I use it, I wake up with plump, even-toned skin, thanks to two important ingredients: chamomile and, strangely, birch-tree sap. It's great for anyone with sensitive or acne-prone skin.
Listen, I'm a pimple-patch girl through and through. But one evening, I ran out of patches and decided to test out this spot treatment from Cosrx. I was floored when I woke up the next morning and the zit I had picked and prodded at the evening before was flattened out, less irritated — essentially gone. Like the pimple patches, this cream just sucks all the oil and gunk out of your zit. Gross, but so so satisfying. Put it on right after your moisturizer, before bed, and sleep in it.
I've never felt anything quite like this eye cream. It has this really balmy texture which might sound scary and heavy, but is actually so lovely and nourishing — not to mention majorly firming — on your under-eyes. It contains 80 percent collagen extract for plumping fine lines and wrinkles, and niacinamide for brightening up darkness and discoloration. This has taken the place of my former favorite, the Ole Henriksen Banana Bright Eye Crème, for two reasons. The first is that I firmly believe it is just as good as the Banana Crème when it comes to brightening, but is actually better when it comes to moisturizing and plumping. And the second is the packaging — the Banana Crème comes in a tub, which means you have to scoop it out with your finger. This, on the other hand, comes in a convenient little tube.
The most nourishing lip treatment in the game is undoubtedly this one from Bite Beauty. Seriously, this beats Laneige's cult favorite by miles. I put it on my lips every night as the last step in my routine and I wake up with plump, hydrated lips. This is the best!