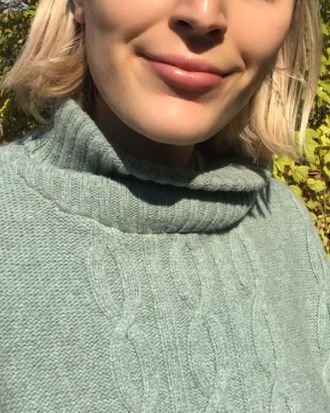 A barely there lip tint that's crazy hydrating.
Photo: Rio Viera-Newton
It's not quite winter yet, but already, my naturally dry skin doesn't love the seasonal shift. My lips especially hate it. October and November always mark the flakiest, driest, most chapped time of year for my lips — it's almost like my lips are throwing a fit because they know what's about to hit them.
I've tried a lot of lip balms — some of them are great, and some of them don't work at all. But what I find especially difficult to find in a balm is one that actually lasts all day long, so that you don't have to keep reapplying it every hour. I had read tons of rave reviews on the Sephora website for Bite's Agave Lip Mask (4.5 stars with 4,000 reviews, for those who are asking, though we should not take those as gospel): "An overnight miracle. You need this, I swear." "Best lip product I have ever used." "The only thing that's ever worked on my crazy chapped lips. So worth the price!" I was intrigued, but who really convinced me to take the plunge was makeup artist Shayna Goldberg, who told me it was an essential on photo shoots for keeping models' lips nourished all day. I stumbled into Bite's Soho store, picked out the red tinted shade "Smashed", and sighed as I handed over $26.
Let me just say: This product has single-handedly changed the game. What's most unusual is its texture — the consistency is syrupy rather than creamy. It takes getting used to, but something about the honeylike formula really allows the product to sink into the lips rather than just sit on the surface. Put this on in the morning and you'll notice a huge change in the texture of your lips throughout the day — that tightness will disappear, and they'll feel smooth and hydrated all day long. Use it before bed and when you wake up your lips will feel moisturized and nourished, with none of that morning crusty-lip feeling.
But beyond the moisturizing effects, the Bite also leaves a tint that I'm especially obsessed with. Smashed is a cherry red that's quite sheer (it's not a lip stain). Instead, on top of giving you the most nourishing boost of hydration to your lips, it also gives your lips the most beautiful, slightly bitten, flush. And even after your lips absorb the product, that faint tint lasts all day long. It's perfect for "no-makeup makeup" looks, when you just want a little touch of color that looks completely natural.
No product has helped bring my very dry, chapped lips back to life quite like Bite's Agave Lip Mask. I've been wearing it every single day and intend on repurchasing it again and again. It's also half off right now at Sephora, so do yourself a favor and act fast.
The single version is sold out on Sephora, but you can buy it as a trio of minis right now.
More Rio-approved lip products
Rio says: A "treatment that I always have in my cabinet is this Golden Monkey Glamour Lip 3-Step. It comes with an exfoliant, mask, and oil. The first step is a gentle exfoliating wipe that gets rid of any dead skin, creating a perfectly smooth canvas. The second step is a mask that uses hyaluronic acid to help with plumping and moisture. And the third step (an essence) gives your lips that extra boost of hydration and vitality for the rest of the day."