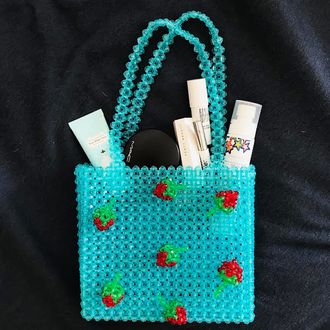 The author's purse.
Photo: Courtesy Rio Viera-Newton
Not all of your favorite makeup can go to work with you in the morning. Trust me, I've tried. But on days when you'll be going straight from the office to drinks with friends, it's important to at least have the option to touch up your makeup. Or, ideally, it would be nice to generally have tools on hand in the case of a beauty emergency, such as a huge, bulging zit emerging on your forehead halfway through the day. Fortunately, I've managed to assemble a happy balance: the perfect not-too-heavy on-the-go kit that allows me to wander from place to place without ever having to go home to refresh my face. Below, a list of my favorite products that I really, truly don't leave the house without.
As you guys know, I have very bad eczema, which, in practice, means that I constantly have cracked skin. I use this on my hands throughout the day for a boost of hydration, or I lather it on other areas of my body, like my feet and legs, if they're looking a little dry and scaly. This product is thick and rich, and leaves you feeling smooth and velvety, not greasy. It has a soft baby-powder smell, but nothing too overwhelming — great for day-to-day use if you, like me, get a headache from perfume-y lotions but still need to apply a more-than-normal amount of product to combat dry skin.
Nothing has saved me from on-the-go beauty emergencies quite like this powder from M.A.C. This is especially great for retouching a big, intense pimple that you've already covered in the morning — it resets any makeup that has slipped off during the day, and also puts in some extra concealing work. What's great about this powder is that while it works wonders for concealing, it can also be used as a supersubtle setting powder as well. I've tapped it only under my eyes or on shiny parts of my face for a natural, soft, mattifying look. In other words: perfect for day-to-night events when I want to give my skin extra coverage, but don't want to have to go home to fully redo my makeup.
How do you use a powder on the go without throwing a brush into the depths of your crumby, dusty, old, receipt-ridden purse, you might ask? With this touch-up brush from Fenty. As far as brushes go, it's a game changer: It's petite, fluffy, and comes with a cap that allows it to brave even the dirtiest of purses. A must-have for those who need to combat shine on the go, or just for general powder-foundation lovers.
I really love my Charlotte Tilbury beach stick in Formentera, but recently I ran out and decided to give this similar-shade Make Beauty Bisou Bisou product a whirl. When I look at my skin halfway through the day, it's usually one toned and pretty bleh. With this I can dab on a beautiful rosy, berry shade wherever I need it (lips, cheeks, and eyelids) so that my skin looks more healthy and alive.
I've written about the Supergoop! setting powder, which I still love and often carry with me. But in the August heat, a cool spritz that also happens to double as an SPF is a true dream come true. I always apply a lotion with SPF in the morning to ensure that my skin has gotten the maximum protection necessary, but halfway through the day when I want my skin to get another layer of protection (and when I'm usually sweating my ass off), I love having this setting spray on hand as well. I switch back and forth between this and my SPF setting powder, which I also love for getting rid of shine when I feel super sweaty and greasy.