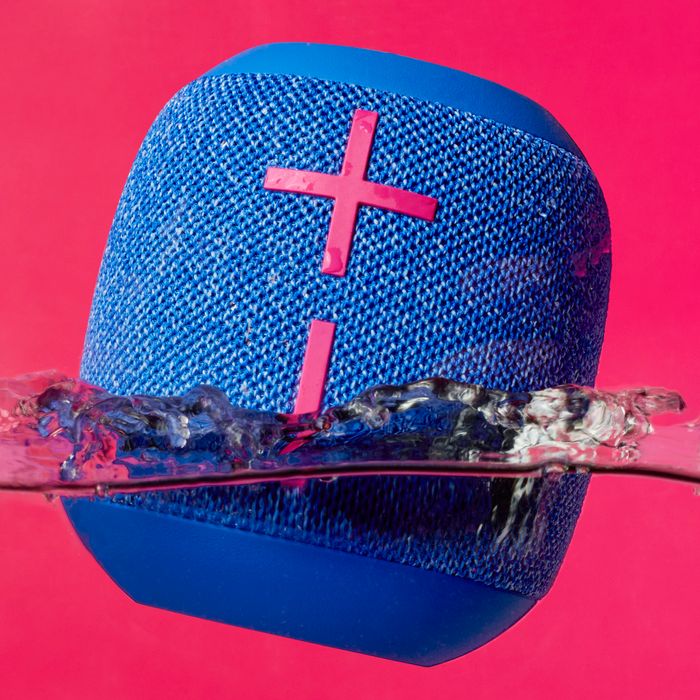 The joy of a good Bluetooth speaker is that you can listen to music anywhere without sacrificing great sound quality. But not all Bluetooth speakers are good. Some are so fragile that you're nervous to actually take them out of your house, which defeats the purpose. Others sound great — with deep bass and clear vocals — but they have a short battery life or an overly complicated setup process. And the market is saturated with different shapes, sizes, and sounds, giving you hundreds of options to choose from at a variety of prices.
I've been using Bluetooth speakers for nearly ten years and have tested several models over the last year. Based on my testing and that of former Strategist writer Jordan Bowman, combing through our archives for recommendations, and feedback from other Strategist staffers about their favorite speakers, I've rounded up the best options for anyone who likes to jam out at home, takes their tunes on the road, or enjoys a more old-school gadget without losing the latest features.
The speaker's weight will help determine how easy it is to carry around and varies widely; many models come in under one pound, but some can weigh up to about three pounds. Rugged speakers tend to weigh more, and smaller home-office speakers weigh less, though the smaller size may also result in a slight drop in sound quality. I've found that the ideal weight is about one pound; that's big enough to project a good sound in a variety of spaces but small enough to throw into a bag for a trip. If you're planning on not moving the speaker around much, or don't mind hauling around the extra weight, bigger speakers may be worth the trade-off for better sound.
Dust and water resistance
Most Bluetooth speakers have an IP rating, which tells you how protected the device is against water and dust. The first number indicates dust resistance and the second tells you how waterproof the speaker is — in both cases, the higher the number, the better the protection. To learn more about how IP ratings work and what they tell you, check out our explainer.
The way a speaker sounds will lure you in, but the battery life will determine whether you continue to use it. Nothing is worse than hearing the low battery warning go off while you're mid-jam session or just as the podcast you're listening to is getting interesting. I looked for speakers with anything between a ten-hour and 20-hour battery life. Every speaker on this list can clock more than ten hours with decent recharge times. Naturally, larger speakers will have larger batteries, but even small speakers should offer over ten hours of battery life.
Best overall Bluetooth speaker
Weight: 0.94 pounds | Dust and water resistance: IP67 | Battery life: 14 hours
UE's Wonderboom speakers have long been a Strategist favorite, and the Wonderboom 3 is no different. Pairing is simple: All you have to do is hold the pairing button and it shows up in your phone or tablet's Bluetooth menu immediately. It will connect immediately when powered back on. You can easily pair two Wonderbooms together for a stereo experience with a couple button pushes.
For its size, the Wonderboom sounds surprisingly good, even at lower volumes. At louder levels, usually around 80 percent or higher, sounds can start to feel muddled, especially with genres like hip-hop or metal (I tested with Lil Wayne's Tha Carter II and Lamb of God's Sacrament), and the vocals can drown out instrumentals. It's not enough to detract from how good the Wonderboom sounds, though. When kept below that threshold, songs sound as clear and vibrant as on other UE speakers such as the Boom.
The Wonderboom 3 is larger than the Clip 4, so it's slightly less portable, and its elastic loop is less effective than the JBL Clip 4's metal clip for attaching it to things, but the speaker also produces clearer sound, likely owing to its larger size. Like the previous versions, the Wonderboom 3 is waterproof, so you can use it in the shower or even float it in the pool. It has a plastic door that covers the charging port when not in use to prevent water from sneaking in and mucking things up. It's rugged enough to withstand the rough and tumble of being carried with you on your next vacation, or just getting moved from room to room.
Best (less-expensive) Bluetooth speaker
Weight: 0.81 pounds | Dust and water resistance: IPX7 | Battery life: 24 hours
Former Strategist writer Jordan Bowman, who tested this speaker, says that despite its budget price, "the Tribit XSound can almost compete with the JBL Clip 4 and the UE Wonderboom 2," the previous version of our best overall pick. He notes that at higher levels there may be some distortion, but that concession will save you a few bucks. The XSound Go features a plastic shell that resembles the old Beats Pill rounded speaker, with simple controls for powering on and off, playing and pausing, and connecting with Bluetooth.
While the XSound Go doesn't sound as good as the slightly pricier Wonderboom 3, it'll give you a battery life of up to 24 hours, which is higher than that of any other speaker we've tested.
Best portable Bluetooth speaker
Weight: 0.53 pounds | Dust and water resistance: IP67 | Battery life: 10 hours
Most of these Bluetooth speakers are portable, but the Clip 4 is the lightest and smallest speaker we've tested, coming in at just over a half-pound. Despite that fact, its battery still lasts up to ten hours. It's easy to underestimate the sound quality of a speaker as small as the Clip 4, and granted, it doesn't sound quite as good as the Wonderboom 3, but it does the job adequately. In our testing, it managed to sound clear and vibrant even with outdoor sounds like waves and wind in the background. The clip design allows you to attach it to nearly anything — it holds on just as well to a hiking pack as it does a bike basket or shower rod. The speaker has rubber ribs on the back that allow you to place it flat on smooth surfaces without having to worry about it sliding all over the place. This makes sense because at peak volume, the Clip 4 is prone to significant shaking. The speaker is waterproof and dustproof, and it can withstand a few knocks against a hard surface.
Best Bluetooth speaker with manual controls
Photo: retailer
Weight: 1.51 pounds | Dust and water resistance: IPX4 | Battery life: 20 hours
Like most Marshall products, the 1.5-pound Emberton speaker has manual controls, but it also adds a circular joystick control to the mix. Move it to the right or left to skip songs, nudge it up or down to raise or lower the volume, or hold it down to power on or off. This might not seem like a game changer, but the delight that comes with this approach shows that good controls shouldn't be an afterthought.
If you like the way old-school guitar amps look, the Emberton will be right up your alley. The speaker is shaped like a brick, feels about as tough as one, and is covered in thick, protective silicone. It produces a full, immersive sound across all genres, whether it's punk rock, reggae, or even a podcast. This is a great speaker with a 20-hour battery life (and a convenient LED that always displays how much battery is left) that'll appeal to any music lovers who prefer a more retro aesthetic.
Best Bluetooth speaker for sound quality
Weight: 1.23 pounds | Dust and water resistance: IP67 | Battery life: 18 hours
Bang & Olufsen has always made products with superior sound, and the next-generation A1 is no exception. Like its predecessor, the latest version of the A1 produces sound with clarity you wouldn't expect from a speaker this small. On several different albums, vocals came through even on songs with heavy bass. Bowman said, "The dustproof and waterproof Beosound doesn't sacrifice loudness for clarity; it's tuned just right."
The Beosound has a battery life of up to 18 hours, and supports USB-C charging for an up-to-date cable setup (many like the Wonderboom still use micro-USB). It weighs just over a pound, but that's mostly thanks to its tough metal shell and rubber base. Additionally, this speaker supports Alexa, if you like to keep your smarts with you wherever you go, but Bowman notes that in his testing, the voice assistant was a bit tedious to set up.
Best smart Bluetooth speaker
Weight: 0.93 pounds | Dust and water resistance: IP67 | Battery life: 10 hours
If you want a Bluetooth speaker that'll seamlessly integrate into your home-theater setup, the Sonos Roam is a great option. It's about as portable as many of the other speakers we recommend, while also being able to pair to other Sonos devices like the One or Arc for a more full stereo sound. It supports both Google Assistant and Amazon Alexa, so you can control it and the rest of your Sonos gear all with your voice.
As for sound quality, Bowman notes that its sound quality was the crispest of any speaker he tested, with the best balance of bass and treble. Strategist senior editor Winnie Yang says, "We prefer the sound of the Roam with its flatter response to that of the similar-sized Bose Mini Soundlink, which we used previously and found was much more bass-heavy." Additionally, Sonos has packed some nifty software into this speaker that will adapt its sound to your environment, so it'll spread sound out more evenly when placed outdoors or tone down the bass in a smaller room so the rest of the sound doesn't get drowned out.
Paired with other Sonos devices, you can also quickly swap sound between two devices, like the Roam and a Sonos soundbar. Bowman says that its battery life is weaker than many of the other speakers we tested, but it's also Qi compatible, so you can charge it wirelessly.
Best Bluetooth speaker with a built-in radio
Weight: 1.75 pounds | Dust and water resistance: IPXX | Battery life: 12 hours
The Tivoli Pal BT was seemingly designed in defiance of the modern Bluetooth speaker, trading low-profile buttons for three protruding knobs that you can twist and turn with surgical precision. And don't bother calling Alexa or Siri or any other digital assistant — the Tivoli Pal isn't compatible with them. Inspired by Tivoli's classic Model One, a tabletop AM/FM radio, the Pal has been chopped and screwed and flipped vertically to combine a radio and a Bluetooth speaker in one sleek package. It is a beautiful machine that can be placed anywhere in your home.
If you're streaming music from a phone, it's easy to pair to the speaker by pressing and holding a discreet Bluetooth button on the back. If you'd rather hear live radio — a feature that really sets the Pal apart — use the knobs on the front to find your desired station. No matter what you're listening to, the Tivoli Pal produces a smooth sound with clear vocals and distinct bass and drums. It's also capable of maintaining that wonderful sound at high volumes, where the output from lesser speakers can become a distorted mess. Bowman tested this speaker by playing the soulful leanings of Billy Preston, the matter-of-fact rapping of Vince Staples, and the laid-back pop of Benny Sings, and he says it always delivered excellent sound quality. It has a 12-hour battery life, a headphone jack, and a tiny antenna that is hidden in the back for better radio reception. While the Pal is one of the most expensive speakers on this list, it's a worthwhile two-in-one purchase for anyone who loves listening to the radio or their music or podcast library in equal measure.
Do note, though, that unlike the other speakers we recommend, the Tivoli isn't rated for dust or water resistance, so it's not an ideal model for taking along on adventures.
Best Bluetooth speaker with built-in LEDs
Weight: 3.2 pounds | Dust and water resistance: IP67 | Battery: 12 hours
If you want a speaker that looks as good as it sounds, JBL's Pulse 5 looks like a modern take on a lava lamp and sounds great. It's notably bigger than most of our other picks, standing at 8.5 inches tall, but that's to its benefit: its bright, cylindrical array of lights play a variety of animations. It's packed with options as far as lighting, including spinning rings of different colors, lights that look like clouds moving through a blue sky, and pulsing dots. You can also change the tempo of the animations to better match the vibe of your room, though every tempo syncs to your current song automatically.
It goes beyond just being a nice bit of decoration; it's a solid speaker, too. In my testing, it performed well across a variety of genres, including classical, electronic, hip hop, and rock, with minor discrepancies on higher frequency notes, but nothing too noticeable.
It's not as portable as the Wonderboom, Clip, or Flip, but it's notably louder and its sound is richer, plus that extra size makes for a better light show, which is the main attraction.
Best Bluetooth speaker for listening to records at home
Weight: 14.5 pounds | Dust and water resistance: N/A | Battery: N/A
If you want a pair of bookshelf speakers that can wirelessly stream your records, Jake Sullivan, co-owner of Wooden Tooth Records in Tucson, Arizona, recommends Edifier's R1700BT. He sells them in his shop, and says customers love them. "It's the perfect price point for somebody who's getting a new turntable or speaker system but doesn't wanna blow their budget," he says, adding that despite their compact size, they're loud enough to fill a room.
If you want to connect these speakers to a turntable that's not Bluetooth-enabled, it has inputs for traditional stereo cables. The added Bluetooth functionality is handy for when you're not playing a record, so you can blast a playlist or two straight from your phone without having to switch to a separate speaker.
The right speaker has a side panel for controlling the volume, as well as bass and treble levels. There's also a wireless remote you can use to adjust those same levels plus toggle the mute function and switch input devices. Unlike other speakers we recommend, these speakers don't have a built-in battery, so you'll need to connect the R1700BT's to a power source.
Best Bluetooth speaker for family barbeques
Weight: 13 pounds | Dust and water resistance: IP67 | Battery: 24 hours
Most speakers can get loud enough to hear outside in ideal conditions with small groups of people, but if you throw a lot of parties or large get-togethers, you may want a bigger speaker that won't get drowned out by chatter or wind. JBL's Boombox 3 is a large speaker, but it has a built-in handle that makes it easy to grab and transport. At 13 pounds, it's significantly heavier than any other speaker we recommend, but the handle is balanced so that you don't notice all that weight.
And all that extra heft pays off: It's by far the loudest speaker we've tested, and that extra boost doesn't come at the expense of sound quality. At 40 percent volume, it's louder than smaller speakers at maximum volume, and it's hard to imagine many scenarios that would need to crank it to 100 percent. Bass is heavy without overpowering other frequencies, and vocals sound crisp from up to a few hundred feet away.
If you have another JBL speaker, like the Pulse 5, you can even pair them together for a richer sound, though they have to stay pretty close to each other so you shouldn't use this as a way to carry tunes between rooms. Its battery can last up to 24 hours on a single charge (and still lasted a couple hours after being inactive for a month), and it has a USB-A port you can use to charge your devices if you take this speaker with you on the road (or a visitor needs a quick charge before heading home).
Best Bluetooth speaker for smaller gatherings
Weight: 1.2 pounds | Dust and water resistance: IP67 | Battery: 12 hours
For those sticking to smaller get-togethers or solo listening parties, JBL's smaller Flip 6 provides enough volume to fill a room while having a small footprint. It's about the size of a small water bottle, and can easily be tossed into a backpack or tote without adding too much heft to your bag. Sound is rich, with surprisingly powerful bass for a speaker this size. It's louder and has clearer sound than the Wonderboom or Clip, but it's not quite as loud as the Pulse 5 (though it's significantly smaller).
On the side, there are buttons for volume control, play/pause, and a toggle for JBL's PartyBoost mode that lets you easily pair multiple JBL speakers together without having to fiddle with any settings. It also has an easily removable fabric loop that you can grab onto when carrying it from room to room or before dropping it into your bag and heading out for the day.
Sullivan has been using an older model of the Flip for nearly ten years and says it's still holding up well enough to use for small gatherings. During a recent get-together, he was able to play six hours worth of music on a patio with a small group of friends.
Best portable and loud Bluetooth speaker
Weight: 2.03 pounds | Dust and water resistance: IP67 | Battery: 20 hours
If you need a speaker that's louder than an Alexa speaker and more portable than a party speaker, Logitech's Megaboom 3 boasts a big sound in a relatively small package. It's nearly nine inches tall, so it's not really compact; it's about the height of a large Hydro Flask. That additional size makes it a notably louder speaker, though, and it's still small enough to drop into a tote or in the backseat. Aside from the Boombox, it's the bassiest speaker I've tested for this guide. When listening to albums like Danny Brown's Old, the bass shone through without muddling other sounds.
Like Logitech's other speakers, you can pair it with additional Ultimate Ears devices for a louder, stereo experience. The company says it can work with up to 150 speakers, but I've only tested it with a total of four. That said, with four speakers paired together, which you do from the Ultimate Ears app, my small living room went from a coffee shop with background noise to a Friday-night house party packed with plenty of bass and good tunes.
The Strategist is designed to surface the most useful, expert recommendations for things to buy across the vast e-commerce landscape. Some of our latest conquests include the best acne treatments, rolling luggage, pillows for side sleepers, natural anxiety remedies, and bath towels. We update links when possible, but note that deals can expire and all prices are subject to change.