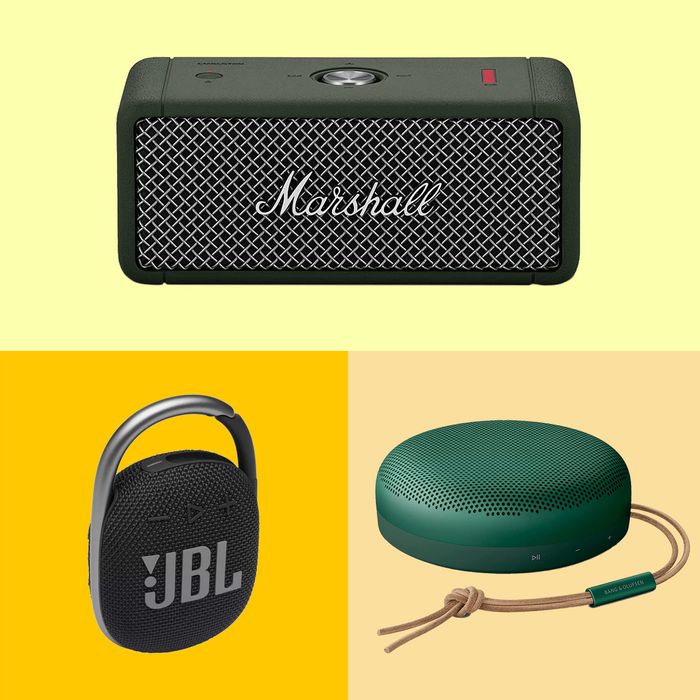 Photo-Illustration: The Strategist. Photos: Retailers
For a long time, my favorite Bluetooth speaker was an old UE Wonderboom; it was even a Strategist favorite, getting praise from other writers and editors. I loved the iconic and sometimes comically large buttons that were easy to press, the simple setup, and its overall ruggedness. It survived enough drops and falls to be in a John Wick movie. But after testing the best Bluetooth speakers over the last six months, I've been impressed with how much these other speakers can do. Finding great speakers for your specific-use case can be a daunting task. A lot of speakers sound good, but they might have weaker batteries. If not that, they have an overly complicated setup process, or they're so fragile you can't take them anywhere, which kind of ruins the point of a portable speaker. But that's not the case with the speakers on this list. I carried them everywhere — on hikes through the California desert, on trips upstate, in my backyard during summer BBQs, on bike rides, and, of course, on my desk. To test a full range of sounds, I listened to Lou Reed's classic album Transformer, Vince Staples's self-titled album, Navy Blue's lo-fi album Navy's Reprise, and much more, taking note of how each one handled hip-hop drums or the bass on more boombastic tracks. And to get a sense of straight vocals, I also listened to podcasts from Blamo and NPR's Pop Culture Happy Hour. After all that, I can confidently say that these six speakers are all great, with exceptional sound quality and durability, and pairing processes nearly as seamless as a new pair of Apple AirPods. There are some differences, of course. Some are better to have poolside, while some are better off at your desk. It really depends on how you plan on using a speaker. But overall, I don't think you can go wrong with any of the options below.
I initially thought there was no way you could fit a good speaker into something as small as the Clip 4, but I was quickly proven wrong. When I set the speaker in the sand on a small beach in California, it managed to sound clear and vibrant while playing Haim's Women in Music Pt. III, even with waves crashing quite loudly nearby. While walking around the city, I saw different delivery workers and couriers who had attached their own Clip 4s to the back of their bags while they weaved in and out traffic, their music playing loud enough for the rest of us to hear clearly too (whether we wanted to or not). Weighing only 0.53 pounds, the Clip 4 is the lightest and smallest speaker I tested. Despite that fact, its battery still lasts up to ten hours. The clip design allows you to attach it to nearly anything — it held just as well to a hiking pack as it did a bike basket. It also has rubber ribs on the back that allow you to place it flat on smooth surfaces without having to worry about it sliding all over the place. This makes sense because, at the peak of its volume, the Clip 4 is prone to shaking like a SpaceX launch. The speaker is also incredibly durable. It's waterproof and dustproof, and I've knocked it against hard surfaces, had it roll through a pile of sand, and fall flat on its face against hardwood floor without the music skipping a beat.
From the plastic door around the back that's meant to block any water leaking into the USB-C charging port to the squishy and easily identifiable buttons, every part of the 15-ounce Wonderboom 2's design is built to resist water damage. It floats, too. Although the Wonderboom 2 fares well when listening to most music, throw something like Kanye West's Yeezus into the mix and the vocals can start to crumble and fall apart like a poorly designed sandcastle being swept away by a rogue wave. The good news is it only seems to happen when the volume is above 85 percent; you can avoid the problem entirely by activating outdoor boost mode, which increases loudness and vocal clarity to handle more chaotic outdoor activities like a BBQ or large party. With a battery that lives up to 13 hours, it'll last you through nearly any event.
The Sonos Roam is trying to do two things at the same time: It wants to be the perfect portable speaker, while also connecting seamlessly with the other Sonos products you might have in your home. After spending some time with it, I can confirm that it does an excellent job of both. As a home speaker, the Roam supports smart voice commands from Google or Alexa, so it can control itself or your entire Sonos setup. There's also a technology called Sound Swap that means you can pass along the audio from your Roam to any other Sonos speaker by holding down the play button. It's small but powerful, with a sleek design (it feels more luxurious than the other speakers I tested) that fits on any bookshelf or your desk. When it's time to take the party elsewhere, just grab it and throw it in your bag. You shouldn't need to charge it for ten hours. The waterproof, dustproof speaker weighs less than a pound and has easy-to-press buttons that I found myself using more than the app. In terms of music quality, the Roam was among the most crisp-sounding portable speakers I've tested. Where other speakers can turn vocals into a murky pool swallowed up by bass, the Sonos balances everything gently. James Blake's "Unluck" sounds lush and vibrant, and the monstrous snare easily surrounds his vocals without turning into a mess. What really impressed me, though, is Trueplay, Sonos's sound-optimizing software. It tweaks the speaker's settings depending on the room you're in, so if you place the Roam outside, the sound will adjust to fill the open space, but in a bathroom, it tightens up the bass so you don't get those big sounds bouncing off the walls and overwhelming the vocals. Not many speakers could juggle so many tasks, but the Roam does it flawlessly.
Even at $43, the Tribit XSound can almost compete with the JBL Clip 4 and the UE Wonderboom 2. There's slight distortion at the higher levels, of course, but that's to be expected for a speaker this small and inexpensive. The waterproof and dustproof XSound has a tough plastic shell with smooth, curved edges that almost make it the perfect dupe for the Beats Pill. It has simple controls, with a play/pause button, Bluetooth button, and on/off button. It weighs just under a pound, which is about average, but where this speaker really shines (other than that price) is battery life. It'll last you a full 24 hours.
Photo: retailer
Although digital everything has improved our lives in many ways, I will never prefer a relatively nonresponsive button to a knob control. Like most Marshall products, the 1.5-pound Emberton speaker has manual controls, but it also adds a circular joystick control to the mix. Move it to the right or left to skip songs, up or down to raise or lower the volume, or hold it down to power on or off. This might not seem like a game changer, but after testing all these speakers, I've seen how many companies fail to realize that good controls shouldn't be an afterthought. The speaker is shaped like a brick and feels about as tough as one. Plus, it's covered in a thick silicone rubber. Functional and durable, yes. Super-attractive, no. But the Emberton does produce a full, immersive sound across all genres, whether it's punk rock, reggae, or even a podcast. My only gripe — and it really is minor — is the annoying start-up sound. It sounds like someone playing a few notes on a grungy guitar. Otherwise, this is a great speaker with a 20-hour battery life (and convenient LED that always displays how much battery is left) that I would always be happy to have with me.
Bang & Olufsen has always made products with superior sound, and the next-generation A1 is no exception. Like its predecessor, the new A1 produces sound with clarity you wouldn't expect from a speaker this small. On Vince Staples's "Law of Averages," the sped-up samples, percussion sounds, and high-pitched vocals all come together perfectly to complement Staples's matter-of-fact style of rapping. Other speakers this small would've swallowed the vocals with the pulsating bass and kick drum. The dustproof and waterproof Beosound doesn't sacrifice loudness for clarity; it's tuned just right. It also has an 18-hour battery life and USB-C charging, and it weighs a respectable 1.23 pounds. It has a tough metal outer shell with tiny perforated speaker holes and a rubber base that keeps it in place. If you're interested, it also supports Alexa. This was the only pain point for me. To set up Alexa, you will need to download the Bang & Olufsen app, which can feel a bit tedious. I was happy to be finished with setup and avoid fiddling with my settings purely because I don't want to go back into the app. The physical controls aren't quite as intuitive as the Marshall's, but they're there, and they're quite responsive.
The Strategist is designed to surface the most useful, expert recommendations for things to buy across the vast e-commerce landscape. Some of our latest conquests include the best acne treatments, rolling luggage, pillows for side sleepers, natural anxiety remedies, and bath towels. We update links when possible, but note that deals can expire and all prices are subject to change.