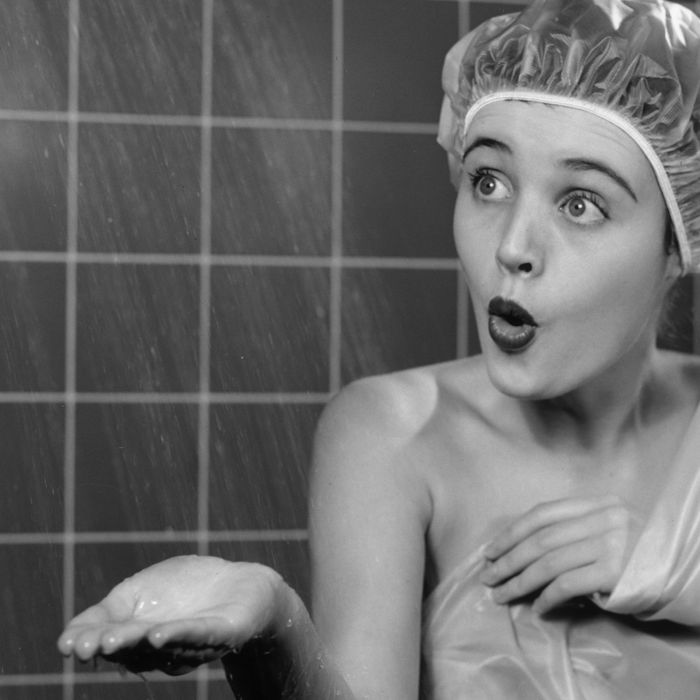 Photo: Courtesy Lambert/Getty Images
Here at the Strategist, we like to think of ourselves as crazy (in the good way) about the stuff we buy, but as much as we'd like to, we can't try everything. Which is why we have People's Choice, in which we find the best-reviewed products and single out the most convincing ones. (You can learn more about our rating system and how we pick each item here.)

And while we've written before about all sorts of bathroom décor — including bathroom-transforming bath mats, the best bath towels according to interior designers, and a teak wood bath tray — here we've rounded up the best shower curtains as praised by the most enthusiastic reviewers on Amazon.
Best rated (and least expensive) shower curtain
With over 5,000 five-star reviews, this shower curtain is simple, but it still does everything reviewers want a shower curtain to do "for an extremely low price," as one reviewer puts it. "I think this shower curtain is the best ever invented," one writes. "The quality is superb, not to mention it feels like cloth and yet is still water-resistant." Another says, "Just like a hotel! No odor, easy to clean, and large magnets make sure it stays put." One reviewer explains trying in vain to find what they were looking for elsewhere: "In the stores all I could find were the really heavy ones, and I want as much light to filter through the curtain as possible. Check and check. We recently had our cumbersome bath enclosure removed and this curtain made the hassle worthwhile."
Best heavy-duty shower curtain
Over 80 percent of reviewers gave this shower curtain a five-star rating, saying that it's heavy-duty and "gets the job done," all at a great price. "This thing is incredibly thick and durable," writes one purchaser. Another adds, "Nothing fancy, just a good simple shower curtain that can tolerate a real cleaning (unlike cloth) and it's a good heavyweight material. It's not vinyl but something better, more flexible, no smell." One feature that many satisfied customers highlight are the weighted "glass stones," which one says helps "keep it hanging nicely." A reviewer explains, "For years, I have been annoyed by the shower curtain blowing in against me. This product is fantastic. They replaced those useless magnets (cannot remember the last decade I was in a metal shower/tub where a magnet would actually work) along the bottom of the curtain with small, clear, decorative rocks. This actually does keep the curtain hanging straight down." One reviewer sums up the value and quality of this curtain: "Thick and lays flat. This is much higher quality than anything at the big box stores and half the price."
Best striped shower curtain
Reviewers say this striped shower curtain from AmazonBasics is a great deal, and the "neutral palette" and bold stripes allow it to fit in easily with most design schemes. According to at least one buyer, it's "very chic looking," and looks like it costs more than it does. "As a first time home buyer 'ballin on a budget' it is so hard to make your home seem uniform without spending a fortune." Another praises it as "much more stylish than most curtains in this price range." And while this shower curtain's design is certainly one of its most celebrated features, many purchasers also highlight the benefit of its "100 percent polyester" material. "This polyester shower curtain beats vinyl hands down. It is much lighter, adheres to the inside of the tub better, and dries in one-third of the time," one reviewer concludes.
Best shower curtain for kids
"This is a great shower curtain for kids," writes one happy purchaser. "My son loves it, and makes me tell him the names of the letters and animals." Another parents call it "an awesome little shower curtain" and says the illustrations of the animals are a big hit with their daughter. Others even say it is even more stylish than it looks online. "The pictures do not do it justice. The colors are muted which make it more whimsical and give it a bit of a vintage vibe," a parent writes, adding, "I couldn't be happier with the way it looks and with the durability."
Best tropical shower curtain
For a fun and colorful shower curtain, reviewers love this vintage-style tropical print design from AmazonBasics. "It would make any mundane bathroom pop," says one purchaser who praises its style and adds, "It also looks very good with baby pink." Many report that this bright and bold shower curtain really changed the look of their whole space. "It really dressed up my dreary bathroom," one writes, while another simply states, "Literally adorable. I love it, you'll love it. Buy it."
Best fabric shower curtain
This fabric shower curtain is available in a variety of different textures and finishes, but many reviewers particularly like the "linen-style" option, which one purchaser describes as "modern, yet vintage at the same time," adding, "It's simply lovely in an elegant but minimalistic way. It doesn't call attention to itself, but if you glance its way you'll notice the nice linen pattern or the reinforced holes or the rings." Reviewers praise the "linen-style" fabric, and some even think it's better than the real thing. As one purchaser puts it, "What I love [about this] is linen shower curtains are often very light, but the material here has a heft to it. It is very durable and well-crafted." Another laudes the fabric and the price, "I really feel that this shower curtain looks and feels like it came from a high-end department store."
Best shower curtain with pockets
Reviewers say this shower curtain's built-in pockets make for a handy bathroom storage solution. "It took my bath from 'drab to FAB,'" writes one reviewer. Another calls it, "An absolute lifesaver for our house with one bath," with enough room for seven people's toiletries. Installing the curtain with the nine pockets facing outwards provides more general bathroom storage space, but many purchasers seem to prefer the pockets facing inwards to hold all their toiletries. As one happy purchaser explains, "The amount of things I had covering the side of our bathtub was horrendous. Now, there's a place for everything, and I'm not constantly knocking things over." In addition to its organizational features, this shower curtain gets high marks for being "easily washable" and for its "soft, flexible" material, which many say is far nicer than "standard shower curtain plastic."
Best patterned shower curtain