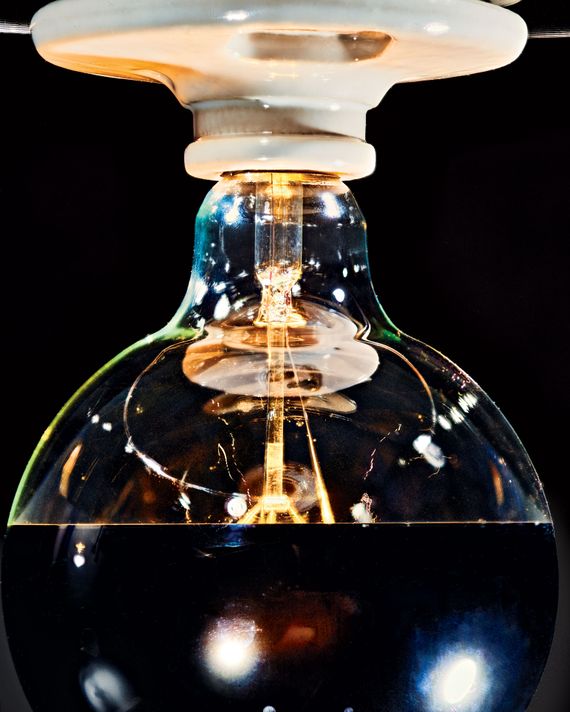 Most interior designers have a few inexpensive room-transforming tips up their sleeves, unsexy Home Depot finds that you won't see credited in World of Interiors. One particularly tried-and-true strategy is to replace depressing light fixtures with the classic hardware-store pairing of a white porcelain socket and a globe bulb ($9 for both), seen above. In this brass-obsessed design moment, the utilitarian favorite "leaves things looking nicely unfinished," says David Netto, a Los Angeles–based interior designer who learned about it from architect Annabelle Selldorf. "They're sexy in their simplicity." Other small but equally impressive fixes include adding a stately, plaster-esque ceiling medallion ($30) or swapping in a more traditional-feeling black toilet seat ($50), which can, surprisingly, make a world of difference. Ahead, a list of more high-impact, modestly priced upgrades gathered from decorators and aesthetes.
Sub in a non-hideous faucet
It's not an expensive, or difficult, thing to do these days — just make sure it matches all the rest of your metal fixtures, from your towel bar to your sink faucet handles to your toilet paper holder. Whether it's matte black, chrome, polished nickel, satin nickel — make them consistent. It bumps up the whole aesthetic of the space. —Nye Basham, designer
Hardware-store pegboards make cheap key holders
Photo: Optimarc/Shutterstock
Hang a pegboard for organization. It's easy, and they're cool-looking. —Emily Wissemann, architecture student
Replace your Home Depot boob lamp with a mint-green socket and oversize bulb
A classic white porcelain socket always looks beautiful. And these are like a fiesta version of those. Screw in a chrome-tipped bulb and you're done. —David Netto, designer
Hide bad floors (or carpet) with a huge sisal rug
Use a sisal rug even — or maybe especially — if you have wall-to-wall carpets. Throw them right on top to create room separation, and to add some beauty. They also look great layered under Moroccan rugs. —Leanne Ford, designer
Stick a Noguchi-style lantern over dumpy fixtures
Use with a porcelain socket or white-cord kit to replace any dumpy light fixture — the bigger the better, in my opinion. They work especially great over the dining table or in the bedroom. —L.F.
Turn carpet foam into Sottsass-esque cushions
Photo: Clemens Kois, Courtesy of Jonah Takagi
I came across this foam in the hardware store. It kind of resembles a granite or terrazzo look. Top a layer of it on a plywood bench, and you have a cool cushion. —Alex Proba, founder of Studio Proba
Do cabinets over in matte-white paint …
Photo: Simone Kitchens
You may have the dreaded orangey-grained '90s oak kitchen cabinets. If your landlord is cool with it, paint them with a cabinet kit. It comes with instructions, which are simple to follow. The main thing to know is that it takes a few days for each step — the de-glosser, the primer, the paint, and the clear topper — to dry, but it's quite transformative. And quite tackle-able for even the non-handy among us. —Daniel King, co-owner of Home Union
… And install a pot rack with three screws
Photo: COURTESY OF VENDOR
Life is too short to spend time digging through cabinets and deep stacks looking for the pan you need. So get yourself a pot rack. I get tons of compliments on this one, from Cuisinart. It's easy to install (just three screws — make sure you find the studs) and doesn't take up a ton of wall space. —Taryn Williford, Apartment Therapy editor
Change unsightly cords to fabric ones
Even expensive lamp cords tend to be quite ugly. An inexpensive solution is to swap in fabric cords. I like them in a classic brown or black, but a color can give a room a pop of fun. —N.B.
Simulate original plaster molding
Photo: COURTESY OF VENDOR
Switching out existing overhead light fixtures is always a good idea, but I like to take it a step further by adding ceiling medallions. They're my secret (and incredibly cost-effective) weapon; they dress up a ceiling, and draw the eye up. —Molly Torres, Homepolish designer
Switch out floor grilles for a cohesive effect