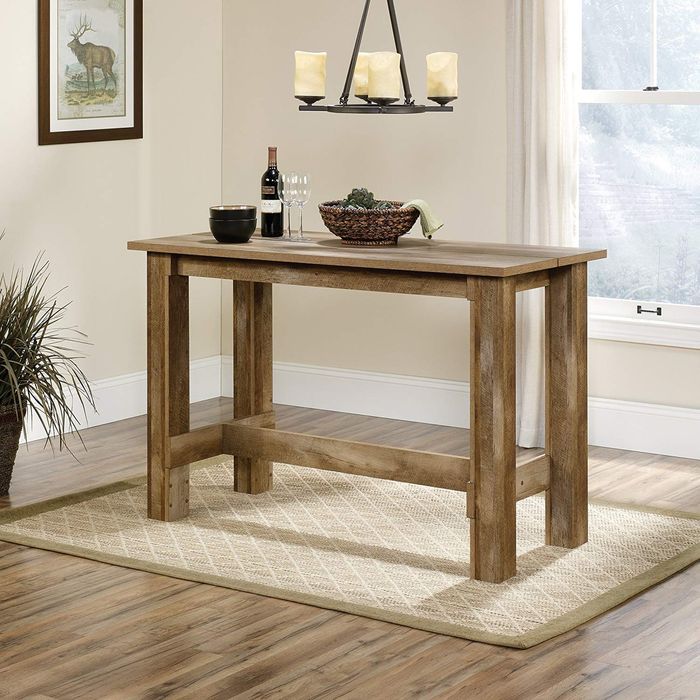 Photo: Courtesy of the retailer
Here at the Strategist, we like to think of ourselves as crazy (in the good way) about the stuff we buy, but as much as we'd like to, we can't try everything. Which is why we have ​People's Choice​, in which we find the best-reviewed products and single out the most convincing ones. (You can learn more about our rating system and how we pick each item ​here​.) 
And while we've written about lots of furniture — including the best cheap but expensive-looking chairs, living-room décor accents, and dining-room décor — here we've rounded up the best dining table, as praised by the most enthusiastic reviewers on Amazon.
Best-rated dining table
"If you need a small, solid wood table that is sturdy and attractive yet inexpensive, this is your table," one reviewer writes. The relatively low price and wood construction are a selling point for more than a quarter of five-star reviewers. "This is a solid hardwood table at a price that usually gets you particle board," one writes, while another says it's sturdy, explaining, "The bolts have not started to loosen after four months of use, even with the vacuum bumping into the legs sometimes when I'm cleaning." They add, "The top is easy to clean, very well coated to protect against water damage." However, several reviewers note that this table is pretty small. One even says they "purchased this table as a replacement for the dining room table in our fifth-wheel RV," and more than 15 percent of reviewers note it's the right size for just two people. However, one does add, "There have been several times when we had a guest over and pulled up another chair, it's tightish but it works."
Best-rated less-expensive dining table
"I'm amazed," one reviewer writes. "I just assembled the table and it's flawless. Very well-made, sturdy, easy to put together (just bolt the legs on). Very solid." And 45 percent of five-star reviewers also agree that assembly is easy. One says, "It took no more than 10-15 minutes to install and the instructions were self-explanatory." Many also note it is great for small spaces. One compares it to "the size of a card table," while another thinks it is "the perfect table for 1 or 2 people to sit at comfortably." According to pictures attached to reviews, however, many squeeze in four chairs around this table, too. More than 15 percent of reviewers are so impressed by the way this comes packed: "the Styrofoam, which protected the wood during shipment, was wrapped in plastic so it didn't get everywhere."
And now for some micro-picks of every type of dining table you might be looking for.
Best four-person dining table
"IT IS REAL WOOD," one reviewer says, adding, "Perhaps not the highest quality wood, but nicely finished and very attractive." And while a quarter of reviewers describe it as small, more than 15 percent say it's great for four people. "It is a small table, almost too small for our dining area, but would be perfect in a smaller space and will be great for our family of four," one writes, while another says, "I have my 4 dining chairs set up one on each of the four sides, but they also fit fine 2 per each of the longer sides." A few also praise it for how good of a deal this is for a mid-century-modern design. "Most mid-century style furniture at this price point looks obviously faux, so it's great to have something nice looking without a huge investment," one reviewer explains.
Best bar-height dining table
"I wanted a simple wood table for the kitchen to go with barstools I recently finished," one reviewer writes. "This matches perfectly and the quality is exceptional for the price." Another adds that "being SOLID wood, [it] is extremely sturdy" too. One user notes that they can get four barstools around this table and another says it "fits well with the 29-inch-high seated stools, elbows hit naturally at tabletop height." Another reviewer says that the table is so nice that it tricks them into thinking they're somewhere else for dinner: "We have this in the basement and it is a fun way to relax with a homemade meal and almost feel as though you are eating out."
Best counter-height dining table
"I. Am. Obsessed. With. This. Table," one reviewer writes. "Seriously, I saw the same one on a furniture website for like $150 more. I wanted it so bad, but sometimes budgets are bitches. But then I found this on Amazon! And I was so happy. I get so many compliments from friends and family who visit. I have it as my main dining room table." And though many others do use this as a dining table, about 10 percent say this doubles as an island for them, thanks to the countertop height. One reviewer who says, "I searched and searched for a table that could act as an island and eating area for our small house," writes that this "completed the look in my kitchen and the functionality is exactly what I needed." Another even thought further outside the box and says, "We are using it as a craft table; however, it would make a great breakfast table, island, or desk, too."
Best round drop-leaf dining table
"It's neat, pretty and I love that you can control the size with the leaves," one reviewer writes, and they're one of many who are enamored with the fact that they can change the size of the table in an instant. "The things I love the most about this table is a. it's real wood, b. love having the leafs which are held up by wooden pegs and c. the size of this table is perfect for just about any place you might need it," one reviewer concludes. Another says, "We just drop the leaves and move it up against the wall when it's not in use, or pull it out and open it up to dine." When the leaves are down, however, reviewers described it as compact, but according to at least one user, there is still plenty of surface area. A tarot-card reader describes it as big enough to fit "a ten-card spread with room to spare. In fact, I was able to display 60 cards with the leaves down, so with them open a full deck of 78 could be displayed." One thing many reviewers urge future customers is not to panic if they can't find the assembly instructions. One writes, "I found the instructions hidden in the center of the column pedestal!"
Best narrow drop-leaf table
As one reviewer points out, "With both side leafs dropped, the width of the table is 8 inches," making this the narrowest drop-leaf table on our list. It's so narrow that this user "uses [it] as a shelf space" when folded up. Another says, "This affordable table solved a major space problem my tiny condo kitchen." While many think it is great for small spaces when folded, when expanded it can hold a small dinner party. The same reviewer adds, "I have four folding chairs to go with it and I can easily switch between a sit-down dinner for four and tucking it out of the way entirely." But both leaves don't need to be up or down at once. "We have one leaf down up against the back of the couch near our dining wall," one reviewer explains, adding, "It has helped define our space and made a great eating area for a family of three."