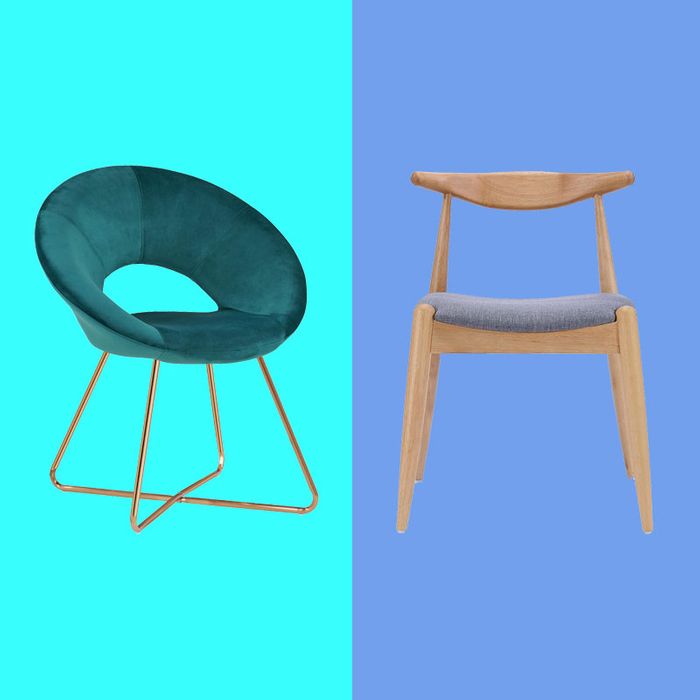 Photo: Courtesy of the retailers.
We love things that look expensive, and we really love things that look expensive but aren't (like things for kitchens, bedrooms, and bathrooms). Here, we turn our attention to chairs, because we all need more seating. You can get extremely cheap chairs and extremely expensive ones, but we set ourselves a limit of $150 (or thereabouts, making exceptions for a few that were too good to exclude or sets of chairs that break down to $150 or less per chair). Whether you're looking to spruce up a dining table, a bar counter, or a living room, any of the options would be a good way to put those overworked Ikea chairs out of their misery.
Living room chairs
This mid-century-style accent chair has undeniable Mad Men vibes.
If you're all set with living-room seating, we think this velvety, dark seafoam-green scoop chair would also look elegant in the corner of a bedroom. (Bonus: the open back can serve as a deterrent from letting clothes pile up).
In a lighter pistachio, the fuzzy fabric on these chairs not only suggests they'll be cozy to sit in, but also makes them a lot more interesting to look at.
This jute pouf is casual and design-y at the same time, like a newly restored barn filled with fiddle-leaf figs.
Armchairs
The seat is big and cushy, but the slim wooden legs and light-colored fabric let it blend in without feeling like it's taking up too much space.
We're very into accent chairs in vibrant colors. This one has a bold shape, but it still looks like something you'd actually want to sit in.
If you've ever lived in an apartment with roommates, there's always that one super-comfortable chair that's always been there and no one knows where it came from. (Think Monica Geller's apartment aesthetic.) This is like that chair, but brand-new.
Dining room chairs
As does this (far more affordable) set of two chairs, which we think would look quite nice around a circular table.
If farmhouse chic is more your style, these Shaker-inspired chairs will do the trick (and help you sit up straight).
Or perhaps you'd prefer some tufted-leather chairs to make your dining-room seating feel more like those restaurant banquettes you haven't been able to cozy up in for a year.
Adding some cane to your dining room will give the room some texture and warmth. Now would be a particularly good time to try these, as cane chairs are having a moment.
They're on the pricier end, but if shabby chic is more your taste, these dining chairs have some big Rachel Ashwell vibes for a fraction of the cost.