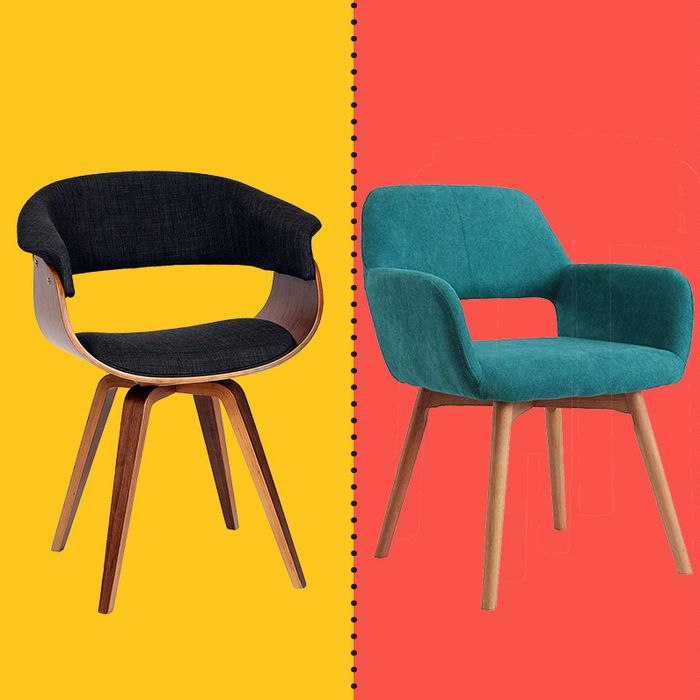 Photo: Courtesy of the retailers.
We love things that look expensive, and we really love things that look expensive but aren't (like things for kitchens, bedrooms, and bathrooms). Today, we turn our attention to chairs, because we all need more seating. You can get extremely cheap chairs and extremely expensive ones, but we set ourselves a limit of $150 (or thereabouts, making exceptions for a few that were too good to exclude). These are options for sprucing up a dining table, a bar counter, or a living room, because it's time to put those overworked Ikea chairs out of their misery.
Living room chairs
We think these would look cool as a pair around a similarly curved-shaped coffee table. Or, put one in your living room and tuck another in a corner of your dining room to create some symmetry throughout the house.
It may not be the coziest to sit on, but this bright orange fiberglass stool-chair will definitely brighten up a room.
This mid-century-style accent chair has undeniable Mad Men vibes.
Okay, one more more mid-century modern dupe.
This velvety, rose-colored scoop chair would be particularly elegant in the corner of a bedroom. (Bonus: the open back can serve as a deterrent from letting clothes pile up).
This two-tone jute pouf is casual and design-y at the same time, like a newly restored barn filled with fiddle-leaf figs.
Armchairs
The seat is big and cushy, but the slim wooden legs and light-colored fabric let it blend in without feeling like it's taking up too much space.
We're very into accent chairs in vibrant colors. This one has a bold shape, but it still looks like something you'd actually want to sit in.
If you've ever lived in an apartment with roommates, there's always that one super comfortable chair that's always been there and no one knows where it came from. This is like that chair, but brand-new. (Think Monica Geller's apartment aesthetic).
Dining room chairs
If farmhouse chic is more your style, these Shaker-inspired chairs will do the trick (and help you sit up straight).
Adding some cane to your dining room will give the room some texture and warmth, not to mention that the material is having a moment.
They're on the pricier end, but if shabby chic is more your taste, these dining chairs have some big Rachel Ashwell vibes for a fraction of the cost.
Classic mid-century dining chairs that could also pass for much more expensive pieces from DWR.
Yes, these are also part of the mid-century trend, but the walnut wood and kind of geometric shape set them apart from more ubiquitous MCM styles.
A set of two Scandinavian-style dining chairs that look like they should cost double the list price.
Clear plastic chairs (okay, ghost chair look-alikes): They match anything and are easy to clean.
These blue, open-backed chairs would work anywhere, and the black wooden legs are a little more subtle than the typical exposed woodgrain.
We love these velvet accent chairs. They could make for a stylish dining chair set if you're not worried about spilling food on the pastel purple fabric.