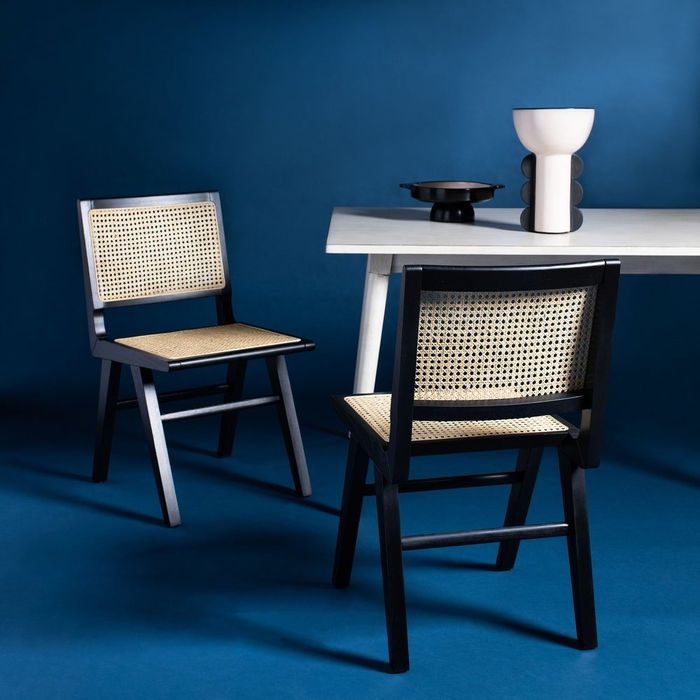 My own beautiful (but so, so stiff) Safavieh Couture Hattie French Cane dining chairs.
Photo: Retailer
In our advice column, Ask the Strategist, we take your most burning shopping questions and survey friends, call up experts, and draw on our own personal experience to answer them. If you have an online-shopping question of your own, please send it to strategist@nymag.com with the subject Ask the Strategist. We're here to help.
I caved and bought a cane chair. It's absolutely beautiful, and I wouldn't dream of returning it. But it's very uncomfortable, especially when I'm sitting in it all day long. Is there an attractive seat cushion that will give me some relief without taking away from the aesthetics of the chair?
Cane chairs seem to be having a moment, though maybe, as our friends at Curbed pointed out a year ago, they've never stopped having one. Whether you're in the resale market seeking out vintage furniture or simply browsing Urban Outfitters, the classic woven rattan chair is everywhere. And while they're beautiful and timeless, if you've ever had the pleasure (?) of sitting on one of these fine specimens, you know that their longevity has nothing to do with their comfort. First popularized by Marcel Breuer's Cesca design in the late 1960s and '70s, the cane chair is perfectly fine if you're only sitting on it at mealtime, but any prolonged use (say, for instance, as a pandemic-era desk chair) can be downright unpleasant.
As a fellow cany, if you will, I feel your pain — quite literally. I purchased two cane chairs last month for my dining table, which, for the last year, has doubled as my workstation. After a week of sitting on one for eight hours a day, I was in agony. They were far too beautiful to return, so I started researching chair cushions in earnest. And though I haven't settled on a pair just yet (I'm writing this from my chair covered in a Barefoot Dreams blanket, which helps only a little bit), I've turned up 12 options that will provide you some relief without completely throwing off your aesthetic.
When I first started looking for a cushion for my cane chair, my mind immediately went to sheepskin (who doesn't like sheepskin?), and I landed here. The soft texture of this seat cushion will create a nice contrast with the rough cane, and the neutral color won't take away from the natural tones of your chair. This set of two from Article is made from 100 percent New Zealand and Australian sheepskins and will give you about two inches of extra support.
If your cane chairs are around a dining table, white sheepskin might feel a tad risky. This one is also 100 percent real sheepskin — but in black, so you can count on fewer trips to the dry cleaners, which is the recommended way to keep both of these intact.
You could also opt for a sheepskin rug and drape it over your chair. This is both stylish and functional — not only will it cushion the seat, but it'll add a layer of coziness to the back of the chair too. Writer Lauren Ro loves her sheepskin rug from Overland. "As soon as it arrived, my toddler dove onto it and started rolling around like a dog, literally giggling with glee at how nice it felt. We were both immediately obsessed," she says. This is smaller than Ro's runner, but the perfect size to toss over a chair.
For a more traditional look, there's this tufted chair cushion. The color will seamlessly blend with the seat of your chair, and if you're worried about the seat cushion slipping off, this one comes with chair ties to help keep it in place.
For a slightly more modern version of the above, this one is almost exactly the same but without the traditional tufting.