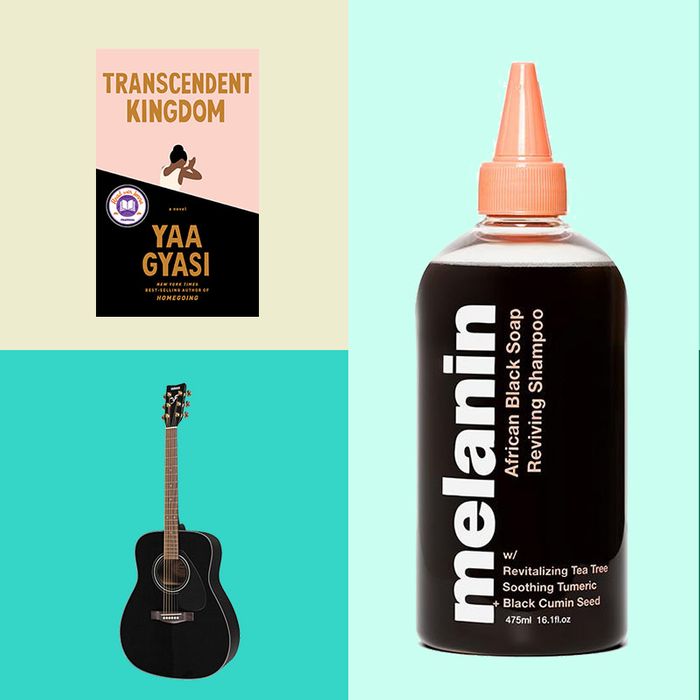 Photo-Illustration: retailers
If you follow our monthly feature Your Shopping Cart, you know that we have some eerily good intel on what you all are buying. Which led us to think that, as Strategist editors, we could turn the tables and highlight all the things we've been buying for ourselves. As you'll notice, it's both a blessing and a curse to be a Strategist editor; we're picky, but sometimes we just have to get on with it. (It's online-shopping expertise meets IRL needs.) Below, what we all bought in September.
Casey Lewis, senior editor
I bought this dog toy mostly because of the nostalgic appeal of Nerf, a company I fondly remember for its foam blasters. If Nerf made toys that were durable enough for my rambunctious brother and me back in the day, maybe it would make dog toys tough enough for my pit-bull-boxer mix. I've tried dozens of plastic and rubber toys, all of which my dog chews through in minutes. But not this one! Even though it's fairly inexpensive, especially compared to the "tough chewer" toys, it's endured a month of daily use. It's big-dog approved, but even my parents' little white fluffy dog — who tops out at ten pounds — loves it.
Jordan Bowman, writer
I decided it was time to replenish my stock of basic T-shirts. I picked up a few from the Uniqlo U line because it's a heavier fabric compared to the Uniqlo packaged DRY tees. I personally prefer a heavyweight tee, which you can layer under a denim jacket, a hoodie, or a nice fleece during the colder fall mornings. If you're feeling more adventurous, Uniqlo also has a boxy-fit tee.
When you read Greg Tate, you spend most of your time wondering if you've been experiencing culture the wrong way. He's capable of writing about music and culture in a way that makes the experience feel enlightening. You start to wonder, Did I actually hear this album? Whether it's a breakdown of Outkast's legacy or Ghostface Killah's albums, Tate continues to pique my interest with every sentence, helping me decipher the meaning of art that I thought I had already understood.
Peter Martin, senior editor
Infants may not mind the discomfort of traditional thermometers, but toddlers do. And they tell you about it. (They also tell every new person they see that "Daddy run red light," even if it only happened once and you explained that it was an accident.) We bought this forehead thermometer after our 2-year-old made it clear that she was ready for an upgrade. Instead of a wriggly fight on the changing table, we just run this thing from one temple to the other for an instant readout. The other day, she actually asked me to take her temperature just for fun.
There are many benefits to working with Liza, but the one I've appreciated the most lately is her mask expertise. Now that my wife and I are back in the city and wearing masks more often, we are stocking up. Liza suggested these Baggu masks for my wife, since they have adjustable ear straps to customize the fit and extra fabric panels to cover the nose and chin, which provide a good seal and will help keep her glasses from fogging up. My wife can't bring herself to wear the leopard print, but now we also have a good gift for my mother-in-law.