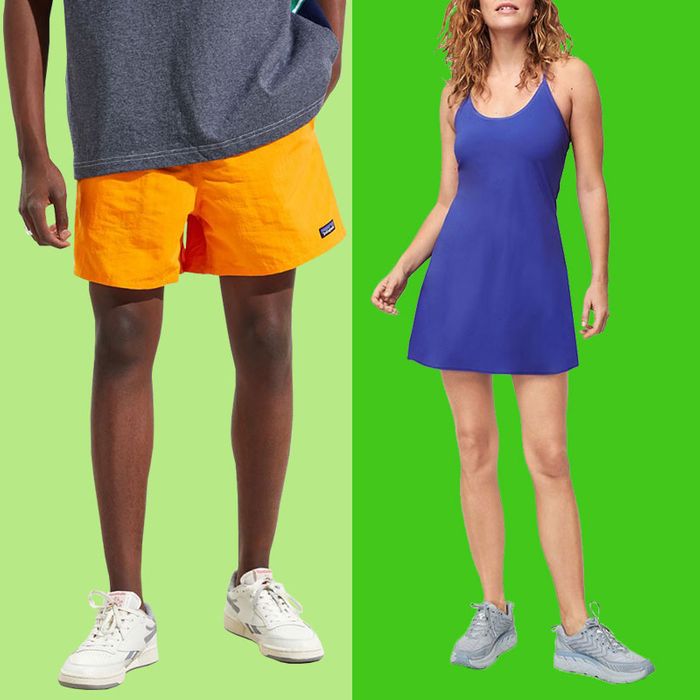 Photo-Illustration: Retailers
If you follow our monthly Strategist Haul, you're familiar with the idiosyncrasies of our editors' and writers' shopping habits. While we think of those as the highlights, there are plenty of other, less glamorous things we buy — and love — on the regular too. So whether you've wondered about the work bags we tote around or the underwear we're most loyal to, this is the Stuff We Buy Ourselves. In this edition, the loungewear our editors and writers are living in while sheltering in place.
Alexis Swerdloff, Strategist editor
I have been alternating between two pairs of pants. Most days I wear these Lou & Grey joggers that I mused about in a recent Deal of the Day. The satiny joggers made from cupro (which appears to be a cousin of tencel), are airier than your standard sweatpants, and just so soft. As I noted: "These days, I wear them pretty much every workday as a way to feel ever so slightly presentable were a Zoom call to ever to catch me below the waist, and so I can feel a little more 'together' as I click away on the couch. They machine wash and dry like a charm, and hit at the ankle in a pleasing way so as to look pretty great with these 'grass green' Crocs I just bought."
Also, while perusing Old Navy for some toddler-sized pants with feet (that's a story for another day), I stumbled upon these leggings, which, at the time, were on sale for $17, and I thought, "Hey, why not," because I have been in the market for some leggings with pockets for my semi-regular runs. Turns out they are so dang comfortable I've been wearing them around the house too — plus, I like the inky shade of teal.
Karen Iorio Adelson, senior writer
Stretchy and soft yet not too schleppy-looking, these are my ideal sweatpants and I've been wearing them nearly every day during quarantine. Since they're made from "athletic" materials, they're also somewhat odor-resistant so I can go … a while without washing them.
When I'm not wearing the Vuori joggers, I've been getting a lot of use out of these Core 10 leggings from Amazon (I wrote about them here). Interestingly, they weren't my go-to weekend leggings before we started social distancing, because I thought they were a bit stiff for lounging. But I've recently discovered that some of my stretchier leggings lose their shape after a few days of wear, and do that weird bagging-out-around-the-knees thing, while these stay snug and supportive.
Katy Schneider, senior editor