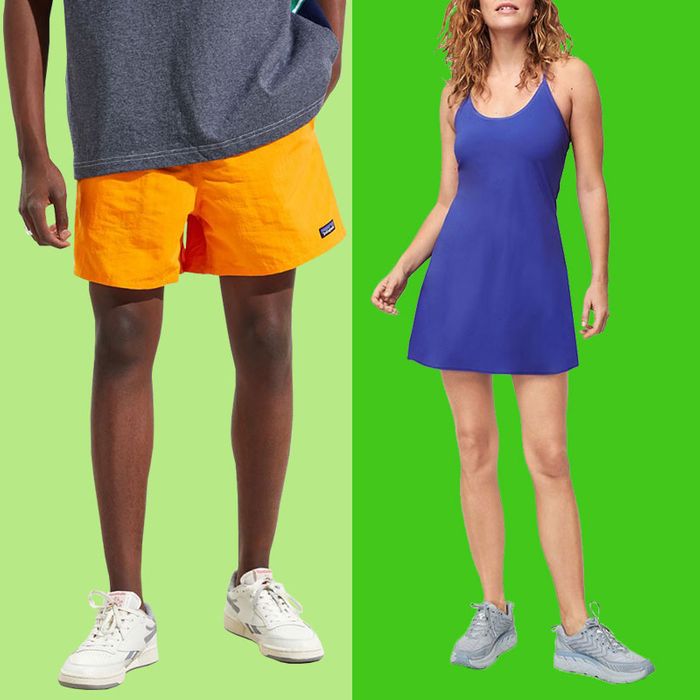 Photo-Illustration: Retailers
If you follow our monthly Strategist Haul, you're familiar with the idiosyncrasies of our editors' and writers' shopping habits. While we think of those as the highlights, there are plenty of other, less glamorous things we buy — and love — on the regular too. So whether you've wondered about the work bags we tote around or the underwear we're most loyal to, this is the Stuff We Buy Ourselves. In this edition, the loungewear our editors and writers are living in while sheltering in place.
Alexis Swerdloff, Strategist editor
I have been alternating between two pairs of pants. Most days I wear these Lou & Grey joggers that I mused about in a recent Deal of the Day. The satiny joggers made from cupro (which appears to be a cousin of tencel), are airier than your standard sweatpants, and just so soft. As I noted: "These days, I wear them pretty much every workday as a way to feel ever so slightly presentable were a Zoom call to ever to catch me below the waist, and so I can feel a little more 'together' as I click away on the couch. They machine wash and dry like a charm, and hit at the ankle in a pleasing way so as to look pretty great with these 'grass green' Crocs I just bought."
Also, while perusing Old Navy for some toddler-sized pants with feet (that's a story for another day), I stumbled upon these leggings, which, at the time, were on sale for $17, and I thought, "Hey, why not," because I have been in the market for some leggings with pockets for my semi-regular runs. Turns out they are so dang comfortable I've been wearing them around the house too — plus, I like the inky shade of teal.
Karen Iorio Adelson, senior writer
Stretchy and soft yet not too schleppy-looking, these are my ideal sweatpants and I've been wearing them nearly every day during quarantine. Since they're made from "athletic" materials, they're also somewhat odor-resistant so I can go … a while without washing them.
When I'm not wearing the Vuori joggers, I've been getting a lot of use out of these Core 10 leggings from Amazon (I wrote about them here). Interestingly, they weren't my go-to weekend leggings before we started social distancing, because I thought they were a bit stiff for lounging. But I've recently discovered that some of my stretchier leggings lose their shape after a few days of wear, and do that weird bagging-out-around-the-knees thing, while these stay snug and supportive.
Katy Schneider, senior editor
A couple of years ago, my sister and I purchased my dad a set of Sleepy Jones pajamas. He never wore them! A couple of days (weeks? months?) ago, I stumbled upon them while looking for a sweater in my mother's closet, and have not taken the top off — it's an XL, but, with the sleeves rolled up, looks vaguely … professional (?) on Zoom calls, and is silky and comfortable.
I didn't realize how long I'd be leaving the city for when I packed, so I only packed about three shirts and two pairs of pants. Fortunately I had the forethought to bring two tops from my friend Lili's company Leset — a boxy, white long-sleeve one and a boxy, black short-sleeve one. I've been basically circling between them for weeks, and when they're both in the wash, I wear old Bat Mitzvah sweatshirts, which there is no shortage of in this home.
Chloe Anello, junior writer
Champion makes the greatest sweatshirts. Not only are they thick and warm, but also they fit well without being too oversized and bulky. I originally thought that $70 was a bit crazy to spend on a sweatshirt, but after my boyfriend got me one for my birthday last year, I realized that they really are worth every penny. I'm particularly attached to this dusty-rose color — now that I'm thinking about it, a lot of my loungewear is this color — but they come in a plethora of different shades and designs.
If you went to Syracuse University and joined Greek life, chances are you also marched down to Manny's on Marshall Street and bought this T-shirt. I got it oversized to wear for tailgates (and as a minidress, because, college), but now I wear it with Nike Spandex when I'm watching movies in bed all day because it keeps me from overheating (I keep two blankets — a down comforter and a weighted blanket — on my bed, plus an old laptop that often overheats). It also matches my other dozen or so Syracuse sweatshirts, if I need to throw on an extra layer — which, incidentally, makes for an excellent washed-up-alumni look.
Maxine Builder, managing editor
I'm a sucker for a matching set. In my regular rotation are a cashmere-wool-blend set from La Ligne (that I bought at a sample sale a while ago and can't find online) and a waffle-knit option from Terez (which, full disclosure, was gifted to me). But my favorite loungewear has to be the Cloud Knit line from Outdoor Voices. I wear their much-lauded sweatpants for any activity, indoors or out, and switch tops — short sleeve, long sleeve, or hoodie — depending on the weather.
Now that the weather is warming up, I also find myself gravitating toward OV's Exercise Dress. I was skeptical when I first got it, because never have I ever thought, Wow, I'd love to workout in a dress. (And I haven't, except for a couple rounds of tennis.) But it is surprisingly excellent loungewear that's very hard to stain with coffee or wine, and remains supportive and comfortable, not constricting, all day long.
Lauren Ro, writer
I've had these pants for a while and they've held up beautifully through constant wear. The sweats are supersoft, warm, and have deep pockets that are the perfect size for carrying my phone around the house. The joggers look nice enough to wear outside and make me feel polished. Both pairs are also great as pajamas. During the week, I'll also pull on the occasional pair of workout tights (including my maternity Lululemons, which are getting a bit pilly), but the Uniqlo sweatpants and joggers are my go-tos when I want to look like I've tried.
Jessica Silvester, contributing editor
Before quarantine, my husband Dan's "loungewear" consisted of Nike Dri-FIT and Amazon Essentials. But then the current circumstances inspired him to invest in a pair of Vuori shorts, after being tipped off by a friend who discovered them on sale at a hotel gym in L.A. (the company is based in Southern California). Addiction ensued — sweatpants, tees, pullovers; he couldn't get enough of the peach-skin-soft fabrics and salt-air-tinged colors. And now when he "gets dressed" in the morning — to go nowhere but the couch and see nothing but his laptop — I half-expect him to say he's headed out for yoga on the beach followed by brunch in Malibu (all the more surprising considering he is neither a yoga nor a brunch guy). It's actual escapism just to watch the clothes being worn. I've also started to wear them myself, since, like an evangelist, Dan has been moved to share. We wash them multiple times a week and the ecofriendly, synthetic materials remain like new. Dan also runs and bikes and sweats in them and swears, "I will never work out in another pair of shorts." And if we ever get out of the house again, he's excited that they have a tailored enough fit to pull off in public — maybe even at brunch.
Casey Lewis, senior editor
Although I'm loyal to my Madewell leggings when it's cool outside, the second it warms up, I'll be in a Skargorn #60 Tee Dress, a style I've been wearing since 2013. I bought my first one at a long-gone store in Williamsburg called Life:Curated, and then bought three more. Most T-shirt dresses are either too flimsy or too frumpy, but this one's perfectly constructed and really drapes beautifully, which is how I've justified repeatedly spending upwards of $80 on what's basically an oversized T-shirt. It's not at all sheer, and also somehow doesn't shrink or fade or pill. The slouchy scoop neck looks nicer on Zoom than your average T-shirt, and best of all: I don't have to worry about putting on pants.
Anthony Rotunno, senior editor