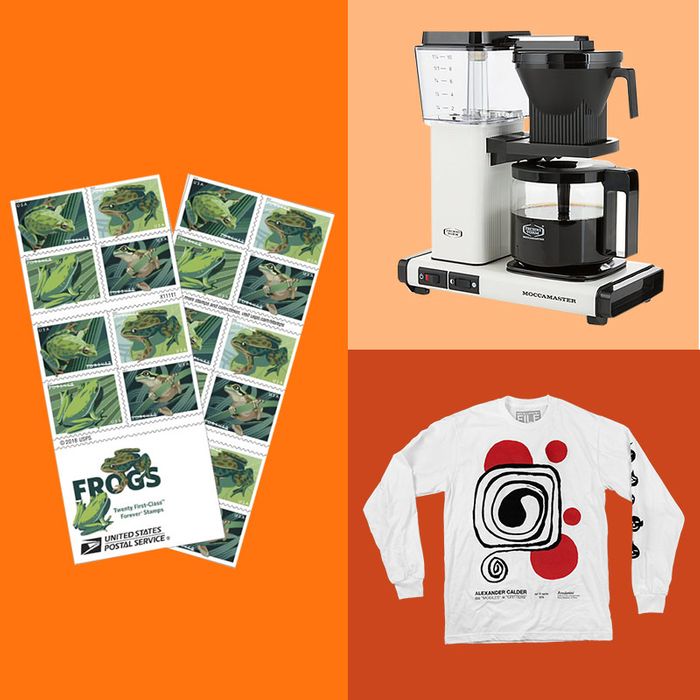 Photo-Illustration: Retailers
If you follow our biweekly feature Your Shopping Cart, you know that we have some eerily good intel on what you all are buying. Which led us to think that as Strategist editors, we could turn the tables and highlight all the things we've been buying for ourselves. As you'll notice, it's both a blessing and a curse to be a Strategist editor; we're picky, but sometimes we just have to get on with it. (It's online-shopping expertise meets IRL needs.) Below, what we all bought in April.
Casey Lewis, senior editor
Every time I've tried to go to my local Whole Foods recently, the socially distanced line to get in has been around the corner and down the block. I'd been craving their raw cashews, of all things, for weeks, and after seeing Chris Black give Nuts.com a shout, I placed an order for six pounds of nuts (plus a nut butter, for good measure). I was astonished that it only took two days to arrive — even faster than Amazon these days — and now, I'm set for months.
Lauren Ro, writer
These are hands down my favorite quarantine purchase to date. A couple of weeks into working from home, I realized that not wearing shoes was doing a number on my feet. Perhaps it was precisely because they were so free and unsupported (and not cooped up in moisture-trapping shoes) that they were becoming chapped and cracked. I decided I needed at-home footwear that was enclosed but still breathable and, of course, comfortable. So I got a pair of classic Crocs clogs in the cheeriest lemon yellow. (They're the polar opposites of my "sexy" Crocs sandals in terms of looks.) Not only are they a delight to behold, they've helped my feet heal and given me a sense of grounding. One note: The product description said to size down for half sizes, but it's wrong! I would size up.
Katy Schneider, senior editor
My sister, boyfriend, and I collectively purchased four pairs of $12 Gildan sweatpants this month: one navy, two black, and one green. We were inspired by the model and actor Miles Garber, who told the Strategist that he and his girlfriend purchased three pairs to share. They're very comfortable and strangely — flattering? Or at least, not as baggy as other sweats.
Photo: reatailer
I'm quarantining in my hometown and my local bookstore R.J. Julia (where I also happened to work as a teenager) is doing curbside pickup. After tearing through Marjorie Morningstar, which involves Borscht Belt romances and the Upper West Side in the 1930s, I picked up Light Years by James Salter, which was recommended to me by two friends, one of whom said, convincingly, "You'll want to live life inside of there." Sold!
Tembe Denton-Hurst, writer
Photo: reatailer
I bought an incredible amount of books this month, all of which I'm really excited about. I'm even more excited about Bookshop, which gives a portion of their proceeds to support local bookstores. Most of the books I purchased this month came from there; the rest I purchased at WORD, a favorite local store of mine. One of the books I'm most excited about is Lakewood, a debut novel by Megan Giddings that deals with medical experimentation and race. Given the long history of experimentation on the black body, I have a feeling this is going to be a haunting, impactful read.
Photo: reatailer
I'm also excited about Conjure Women, another debut novel that deals with the pre-and post-Civil War South and gives me big Beloved vibes. It tells the story of three women — two who can conjure and heal, and one who's the master's daughter. From what I've seen so far, this book is getting great reviews, and I'm excited to dive into Akora's world for myself.
Jessica Silvester, contributing editor
Photo: reatailer
I'm getting close to my due date and shopping my way through the anxiety. Rigorous podcast research led me to this sleep mask, which comes highly recommended as a tool for finding a mental oasis during labor. (The midwife-doula team Birth Kweens are big fans.) And for only $11, I'd say this is also a great investment even if you're not trying to block out the hellish reality of your delivery room. It's made of contoured foam that stays put against your face and seals off the light; it's also airy as a meringue and won't smudge your eye makeup or indent your temples. I am calmed by the mere sight of it near my go bag.
Like just about everyone, my son has started having nightmares lately. (His are about a monkey.) He's been getting out of bed at all hours and trying to begin our days at 4:30 a.m., which needed to stop. This color-changing night-light hasn't been delivered to us yet, but I'm heartened by everything I hear about the "time-to-rise" function. (It's also widely praised for its double duty as a sound machine.) Via Bluetooth, you can set the color of the lamp to adjust according to a timer — so, say, it will glow blue while your kid is supposed to be sleeping, and turn green once it's 6:30 a.m., when he is free to get out of bed and ask for breakfast and scream bloody murder while rattling the gate. My friend's nephew, who's just a little older than my 3-year-old, apparently will not disobey the laws of the light, and that seems like a dream.
Jordan Bowman, tech writer
During quarantine I've had to completely rethink my workspace and my work-from-home habits. What used to be a pile of sticky notes, random papers, and books has turned into something resembling an organized office. I also bought this cube-shaped digital alarm clock to help me keep track of time, because it's all too easy for it to slip away when you're sitting at a desk all day.
Photo: reatailer
Being stuck at home and constantly flipping through apps, answering DMs, and talking over Zoom has me thinking about communication lately. Maybe I'm longing for more natural conversations instead of the ones spent talking over unstable internet connections, but I decided to check out David Sedaris's Me Talk Pretty One Day. Sedaris spends most of the book thinking about communication and how hard it can be in day-to-day life to get simple ideas across, especially when you're in a foreign country. He spends the back half of the book trying to learn French, one bizarre noun after another. I kept wondering what Sedaris would say about this time and how people have adapted to communicating with their devices after nearly two months of isolation. I just hope my Wi-Fi holds up or else the title of the book might change to Me Talk … One Day.
Alexis Swerdloff, Strategist editor
My 19-month-old flat out refuses to keep his socks and shoes on while going for walks in his stroller, and given that it's still quite cold out, and walks in the stroller are truly all we have left in this world, my husband and I had to come up with a solution for keeping his little piggies warm. Our first idea was to simply wrap his shoes and socks with masking tape; try as he might, he could not take his shoes off. This worked for a few walks, but took so much time and so much masking tape, that it was really not a sustainable solution. So I went on the hunt for toddler-size pants with feet. This is not such an easy task since pants with feet are not meant to be worn by toddlers. they are meant to be worn by helpless newborns. But a few brands make them in sizes 18 to 24, including one I found on Amazon, City Threads, as well as Old Navy (which has since sold out of them). I ended up getting the Amazon ones, and while he looks a little ridiculous in them, they get the job done. His sneakers also fit on top of them, so he can get out and walk. We've taken to calling them his "going-out pants."
While perusing Old Navy, I stumbled upon these leggings with pockets (which I'd been in the market for). I am so in love with them, and have been wearing them to "work" as well as on my semi-regular weekend runs. The deep teal color is very pleasing to me.
Chloe Anello, junior writer
My sister just accepted a new job at Apple, and I thought it'd be funny to send her a box of apples as a congratulations gift. I looked at a few companies that do fruit boxes but very few had boxes of just apples. I eventually found this brand, and after reading a bunch of reviews, I decided it was probably my best bet. The apples shipped from Oregon, and my sister said they were excellent — although if they weren't, I doubt she'd tell me. They even allow for gift notes and specialty ribbons to add a personal touch. (I added a blue "Congratulations!" ribbon, if you were wondering.)
Speaking of, my sister is also getting married in February 2021. She didn't give me many guidelines for my maid of honor dress — aside from it having to be navy blue — so when this dress at Fleur du Mal that I've admired for quite awhile went on major sale, I instantly bought it. She's wearing a suit, and her fiancé is wearing a jumpsuit, so I thought it complemented the whole tailored, menswear-inspired vibe they're going for. It honestly was kind of a risk to buy, because I could only get store credit if it didn't fit, and I've never bought anything from the brand before. But it fits perfectly, and it's not as short as it appears in the photos. Plus, it has pockets, which every woman knows is a very exciting feature. It's currently sold out in the navy, but you can get it in gold and red, which are also quite pretty, if you're in the market.