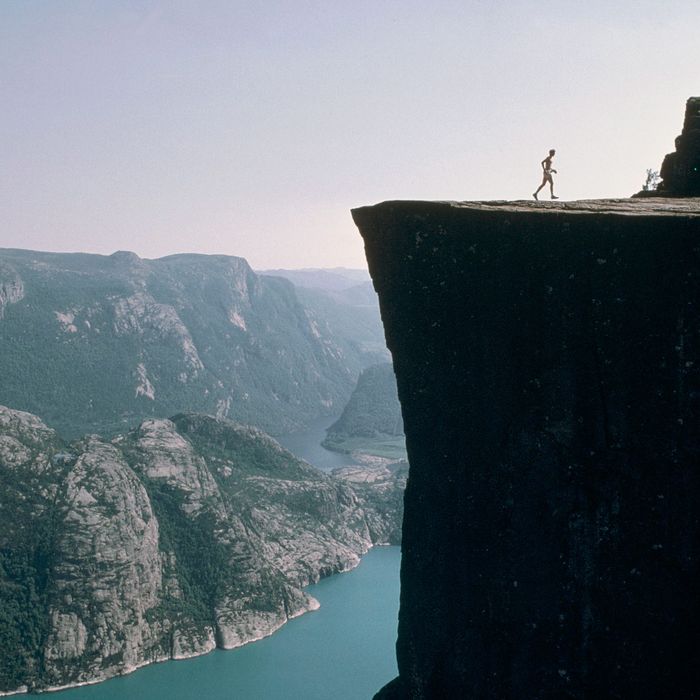 Photo: Gerard SIOEN/Gamma-Rapho via Getty Images
If you're at all serious about trail running, you should own a few types of trail running shoes. That sounds excessive, but it's really because no two trails are exactly alike — some are rocky, some are steep, some are sandy, some traverse grassland, some cross streams — and in fact, the same trail can vary wildly from season to season or even day to day when you account for rain and temperatures. I've run many miles of trail over the years, and tossed dozens of runners — now I own just these five for all situations, which should have you covered for just about every recreational trail running experience.
In case you're not familiar with Adidas's Boa lacing system, that's the first thing we need to talk about. Boa uses a rotating dial on the side that tightens slender, durable wire laced back and forth across the shoe, tightening the entire thing evenly around the foot. This means you don't have to tug at the laces at each eyelet, nor do you lose tension as you make your knots and bows. I've never worn a pair of trail runners that is so easy to slip on and secure or easy to loosen and remove. Even without the lacing system, they'd still be among my favorites for being lightweight, breathable, and made using ecofriendly "NoDye" materials.
I own three different pairs of Columbia Sportswear trail running shoes. The great thing about the Montrail Variant X.S.R.s is that, strictly speaking, they're not trail running shoes, but hybrids specifically designed for runs that include hard surfaces like cement and asphalt, and the varied terrain of a trail or off-road run. The tread pattern on the sole is grippy enough on mud, rocks, moss, wet grass, and more, but the lugs aren't so aggressive as to feel like I'm running on pegs when I'm on the road or sidewalk. The generous cushioning underfoot is also well-suited to road and trail, easily managing the repetitive hard strikes that come with concrete and absorbing the sporadic but often jarring strikes from rubble on the trail.
Any good trail run covers a decent amount of ground, but most trail runs don't go for miles and miles. When they do become super-long-distance jaunts (we're talking ten miles and longer), then you should consider having a pair of North Face Ultra Endurance shoes on your feet. These shoes offer two things in surplus: cushioning and protection. Their reinforced toe and heel plates protect your feet from hard impacts, while thick Vibram soles absorb abuse and provide traction. The OrthoLite footbed and EVA midsole are ergonomic and cushioned, keeping your feet feeling good, even as you log mile after mile after mile out there.
Certainly, when it comes to fashion appeal, the Salomon Speedcross 4 trail runners score pretty low marks. These are, how do I put it, kind of funny-looking shoes. But I've never slipped an inch off trail wearing them. The things have such an outsize aggressive tread pattern that you almost can't wear them on pavement or even on a packed, graded trail. But on untended forest floor, mud, loose scree, wild grass, or even snow, they give you grip to spare.
At just 7.4 ounces per shoe, these add very little to your gear weight. The soft, flexible design of the upper can pack down nearly flat against the sole, and it keeps your foot comfortable, supported, and protected on all sorts of terrain. While the New Balance Minimus 10v1 trail runners offer significantly less protection against toe-stub injury than others on this list, and a fair amount less defense against pain from repeated hard-heel strikes, they are nonetheless a great choice for someone who wants good performance from amazingly lightweight trail running shoes.
If you're looking for trail running shoes for very specific needs, here are some highly reviewed options from Amazon, according to hyperenthusiastic verified purchasers.
"The Salomon Speedcross 4 WP version has quickly become my go-to shoe for all things outdoors. It provides excellent traction and comfort in everything from short day hikes to ultramarathons. The fit, like in the previous incarnation, the Speedcross 3, runs a tad narrow for me. I wear a nine in most other trailer runners, but take a 9.5 in this model. However, this hasn't been an issue because the Salomon lace system seemingly never needs readjustment. The bottom tread is definitely an improvement over previous models. The spikes seem more aggressively placed and deeper, too. The longevity of the Speedcross tread is relatively short compared to competitors' trail runners, but the grip is unparalleled. I run three to four days a week on mixed terrain, and I replace the shoes every few months. Overall, this is a five-star-worthy trail running/hiking shoe that is worth every dollar spent on them!"
"I've been through two pairs of these. They seem to be good for 400 miles before they need to be replaced. I've been very happy with them, as a heavier runner, because they've proven to be durable and comfortable. They can stand up to my 160-plus-pound weight, even on varied terrain, without causing my feet to ache. I've only gotten to half-marathon distances, but the shoes are not what's holding me back from longer runs. The shoes have been beneficial. And they're actually waterproof. I've run through snow and puddles without my feet getting wet. I'll continue replacing spent pairs of Xodus 6 with new ones unless I ever have a reason not to."