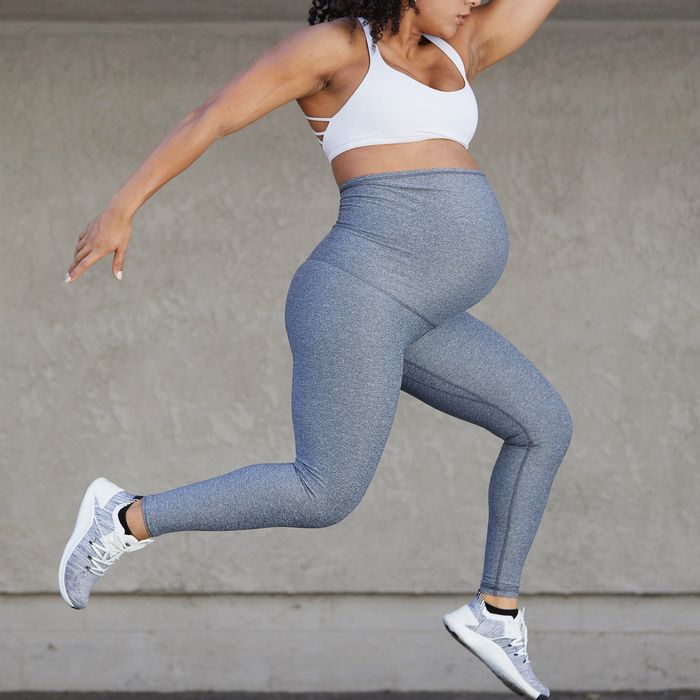 When you're pregnant, dressing comfortably is key, which is especially important during a workout. "Make sure the clothes are breathable and that nothing is going to feel too constricting," says Deb Flashenberg, founder of the Prenatal Yoga Center in Manhattan, when giving advice about maternity exercise clothing. (Don't forget that pregnant women will also need extra support for a growing belly and breasts.) To find out the best options for pregnant women, we spoke to Flashenberg; Neelu Shruti of Love Child, a holistic pre- and post-natal yoga and support center; and Carolina Gunnarsson of Fit Pregnancy Club about their favorite leggings, bras, and tops for expecting women to wear to the gym or yoga studio.
Best maternity workout pants
You can't talk about maternity leggings without bringing up Lululemon's Align pants, which FPC's Gunnarsson (and mother of three young children) wore until she was 30 weeks pregnant. Flashenberg wore Lululemons throughout her pregnancies, too, while writer Jessica Silvester attests to their supportive but not-tight qualities, likening their soft Nulu fabrication to "ranunculus petals" and "the bear from the Downy commercials."
Another favorite of Gunnarsson's are leggings from Bao Bei Maternity, a company founded by a physiotherapist. "They have a lot of support for the belly and they're also chic," she says. "They don't look like maternity pants. Just because I'm pregnant doesn't mean I want to wear purple paisley."
Gunnarsson also loves the leggings from London-based luxury activewear brand Leo & I. "They work with physical therapists to develop pregnancy and postpartum workout clothing that supports the woman's body," she says. "I lived in their pants specifically. They have built-in support for back and for the bump and offer compression without restricting the breath." As a co-founder of a fitness studio catering specifically to prenatal women and the "pump and kegel" breath technique, Gunnarsson cautions against wearing anything too tight over the bump and even postpartum: "We don't recommend those tight tight pants or belly-binding situations. It actually creates dysfunction in your core unit and your pelvic floor and can lead to all sorts of problems."
Gunnarsson also recommends Beyond Yoga's leggings: "They're very soft and not restrictive at all over the bump. We're all about freeing the bump here."
Love Child's founder Shruti, a yoga instructor and prenatal and postpartum doula, adheres to a more holistic approach and finds that her clients are minimalists. As such, she recommends buying products that are "ethically sourced and made with sustainable, nontoxic materials that are good for the planet and good for you." She recommends staying away from polyester and spandex and finds that most yoga leggings are not quite breathable, especially in the vaginal area. One of her favorite yoga outfits is a bamboo jumpsuit made from Minneapolis-based Etsy designer Cori Taylor. "I get so many compliments every time I wear it," she says. And while it's not specifically maternity, measurements can be customized.
"I also wore the brand Hard Tail since some of their yoga pants have a roll-down panel," says Flashenberg. "I either kept it rolled down, or as I got farther along and wanted some support for my belly, would roll them over my bump." These also have the benefit of being 90 percent cotton.
Flashenberg also notes that a lot of her pregnant students like leggings from maternity brand Ingrid and Isabel. This breathable, moisture-wicking pair features a crossover panel that supports the lower back and can be folded over or under the belly. They also have cute ankle-zip details.
You can't go wrong with basics from Gap Maternity, another popular choice with Flashenberg's students. This pair features a full belly panel for maximum support and comfort.
Best maternity sports bras
"It is very important to upgrade your bra when pregnant," advises Flashenberg. "The circumference of the rib cage expands significantly during pregnancy, so I highly recommend getting a properly fitting bra during pregnancy and postpartum if you are breastfeeding." Her favorite sports bras came from Cake Maternity. Bonus points if the bra can be worn for nursing, like this one.
Flashenberg also likes Gap's maternity sports bras. This one offers maximum adjustability.
"My favorite brand for [maternity sports bras] is called Milx and they only make one style," says Gunnarsson. "It's a really pretty sports bra that also functions as a nursing bra and a pumping bra so it's literally the only bra I've been wearing with my 11-month old. I never have to change a bra. I can work out in it, I can go nurse him in it, and then I can pump in it. It's life-changing, honestly. It is the best one I've seen and it's really the only one of its kind. They're a very small company and they're growing."
While pregnant, Gunnarsson stuck to her favorite sports bras from Lively. "I sized up because you do get larger," she says. "That being said, sizing can be really individual depending on what size you are from the beginning. I really love Lively's sports bras. They're quite supportive but not huge. I like the legging-and-sports-bra look — I don't necessarily cover my bump with a top over it — so it was important to me that the sports bra was cute-looking." This bralette features adjustable straps to accommodate growing breasts and is cute enough to wear on its own.