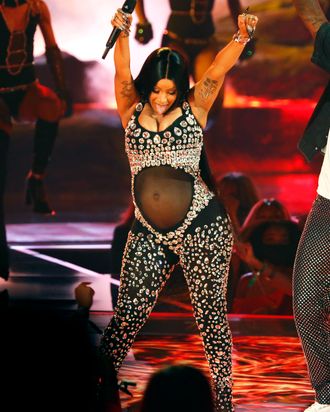 While preparing for the birth of your child is an overwhelmingly joyous occasion, being pregnant does come with more than a handful of inconveniences, including having to give up certain foods (sushi, cold-cuts, wine) and activities (high-intensity and high-impact workouts). Pregnant women also have to be careful about what they put on their skin, as products containing potent acne-fighting ingredients — like prescription retinoids, over-the-counter retinols, hydroquinone, benzoyl peroxide, and salicylic acid, to name a few — are not safe during pregnancy.
This, understandably, can come as bad news to moms-to-be with acne and other skin conditions that pregnancy can often make even worse. What's more, some of these ingredients should still be avoided even after giving birth — especially if you're breastfeeding, since topicals like retinoids can be absorbed into the skin then excreted into breast milk, or simply transferred to a baby's skin upon contact. But the data on lactating mothers is limited, so it can be confusing to know exactly what is or isn't safe to use while breastfeeding.
To help you navigate what is already a stressful time, we spoke to eight dermatologists about what ingredients to absolutely avoid during pregnancy (and breastfeeding), alternative ingredients to look for, and the best products expectant mothers can use to tackle problems like acne, dry skin, dark spots, and more. But before using any, Dr. Jennifer MacGregor of Union Square Dermatology says that it's best practice to "get a recommendation from your dermatologist and check with your OB before trying to conceive, or as soon as you find out you are pregnant." The same goes for once the baby has arrived: If you have any questions about the safety of any new product, speak to your doctor and pediatrician before trying it.
Best
non-retinoid
products
to
treat
acne
Unfortunately, retinoids (and retinols), the Vitamin A–derived holy-grail ingredient that works wonders on both acne and fine lines by promoting skin-cell turnover, are considered unsafe to use during pregnancy. "Those molecules have pretty good data showing that they can affect embryo development in the first trimester," says Dr. Abigail Waldman of Mohs and Dermatologic Center at Brigham and Women's Hospital. "Even though most of the studies were done when the medication is taken orally, we believe that it is absolutely contraindicated to use any cream or lotion with those ingredients at least during the first trimester. But I generally say avoid it during all of pregnancy." For breastfeeding moms, the data is less clear, but the dermatologists we spoke to generally agree that it's best to avoid oral or topical retinoids and retinols during lactation, too. According to Waldman, "There are no data studying it in lactating mothers and in breast milk, so it's kind of one of those unknowns. I generally recommend not using it when breastfeeding."
So how should pregnant women address acne if many go-to products contain retinoids and salicylic acids (another ingredient to avoid during pregnancy)? All eight of our experts recommend using azelaic acid, a topical also used to treat rosacea, that works by killing bacteria found in pores and decreasing the body's production of keratin. Dr. Michelle Park of Washington Square Dermatology says azelaic acid makes a fantastic substitute for retinols. "It's my favorite topical acne treatment to use during pregnancy and breastfeeding," she says. "It helps clear redness and acne, as well as decrease pigment production, so it helps with the dark marks that acne can leave behind." MacGregor agrees, noting that "azelaic acid has a subtle brightening effect." Although typically prescribed by doctors (under the name Finacea, for example), azelaic acid can be found over the counter, including in this creamy formula from The Ordinary that came specifically recommended by Park.
In addition to azelaic acid, New York City–based dermatologist Dr. Cybele Fishman says that pregnant women can use "topical erythromycin (prescription) and all over-the-counter topical sulfur, zinc, and niacinamide treatments." From the latter category of over-the-counter products, Fishman recommends the sulfur-based acne medication, Acnomel, as well as The Ordinary's niacinamide and zinc blemish treatment. (Park; Dr. Nava Greenfield of Brooklyn's Schweiger Dermatology Group; and Dr. Yoon-Soo Cindy Bae, a clinical assistant professor at New York University who also works at the Laser and Skin Surgery Center of New York, also agree that sulfur-based products are safe to use to treat acne while pregnant or breastfeeding.)
Photo: unknown
Good news: Rio's favorite pimple patches from Cosrx are also dermatologist-approved for use while pregnant and breastfeeding.
These hydrocolloid patches from Hero Cosmetics are safe to use too, and are a favorite of dermatologist and founder of Tone Dermatology Dr. Caroline Robinson who says they promote post-blemish healing.
As is this two-step patch from Acropass — as long as you take care to make one important change when it comes to using it, according to Park. The first part of the Acropass patch (which Rio also recommends) includes sanitizing the blemish with a swab soaked in salicylic acid, so she advises skipping that part and using regular alcohol instead. But otherwise, our experts say the product is safe — including its microneedles (in general, microneedling is considered safe during pregnancy, but other procedures like Botox and fillers are not).
Best
non-retinoid
products
for
brightening
dark
spots
Vitamin C is an effective ingredient that can also take the place of retinoids when it comes to treating dark spots and general skin-tone issues while pregnant or breastfeeding, according to Waldman and Park. "Used in conjunction with sunscreen" — more on that below — "vitamin C not only has properties that boost collagen production and has a retinod-like effect, but also works as an antioxidant that helps fight sun damage," Park explains.
Of all the vitamin C formulas out there, Park told us she trusts one above the rest: "I always stick with Skinceuticals CE Ferulic acid for its efficacy and the research they have put into their product." Bae also recommends Skinceuticals' vitamin C serum for hyperpigmentation, dark spots, and discoloration. And, to further support its worthiness, we should note that this took the title of best overall vitamin C serum when we talked to dermatologists about their favorites.
Robinson recommends this vitamin C serum from Revision, which she calls "one of the most advanced vitamin C products on the market." It has a 30 percent concentration of tetrahexydecyl ascorbate — a more stable version of vitamin C — and MelaPATH technology, which helps to make skin brighter and more even. "It visibly brightens and evens skin tone which can be very helpful for pigment changes on the skin."