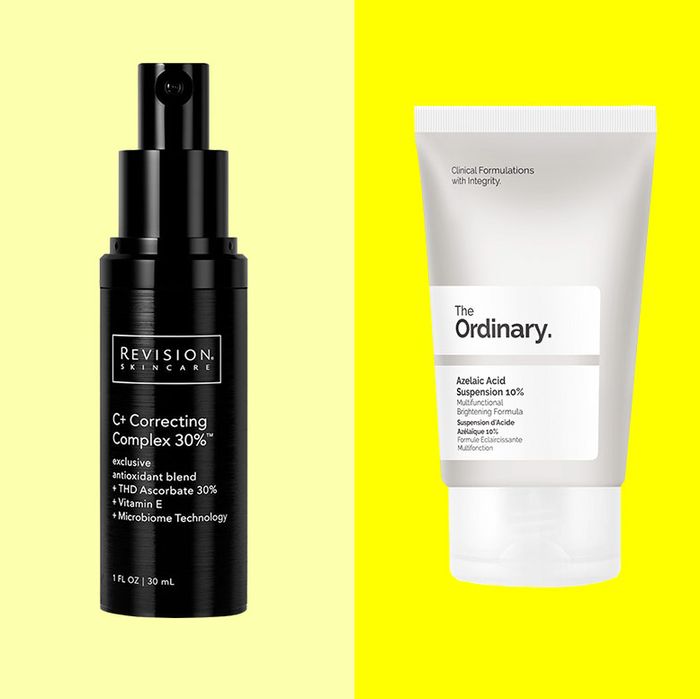 Photo: Courtesy of the vendors
Hyperpigmentation can be caused by pretty much anything — whether it's a festering pimple, a bad bout of eczema, the sun, genetics, hormones, or just a cut. It's a skin reaction that can be triggered by inflammation of any kind, and leaves an often challenging-to-get-rid-of dark mark behind. One of the biggest hyperpigmentation triggers is UV light, which stimulates melanin production. Every dermatologist we spoke to stressed the importance of protecting the skin from UV light with sunscreen, whether you're treating spots or trying to prevent new ones altogether. Tinted sunscreens are particularly helpful for this thanks to iron oxides, which protects the skin from visible light — a known trigger of resistant forms of hyperpigmentation. Asides from sunscreen, most recommended products formulated with pigment-production-blocking ingredients, namely antioxidants like vitamin C (it helps to block tyrosinase, an important enzyme in pigment production), and prescription topicals like retinoids, hydroquinone, and Cyspera.
But before we proceed, a note about retinoids and their over-the-counter sibling, retinol. When it comes to pretty much any skin woe (fine lines, wrinkles, acne, hyperpigmentation …t he list goes on), the vitamin A–derived topical is considered the gold standard in getting you quickly on your way to glowy, unfiltered skin. And while all of this is true, people with dark skin should be cautious, and check with a dermatologist before working it into their routine. "Prescription-strength retinoids are great fading marks," says Miami-based dermatologist Laura Scott, "but for many of my patients with darker skin, too much too fast can cause inflammation and potentially lead to more hyperpigmentation." To combat this, she always prescribes the lowest strength and sees if skin can tolerate it before prescribing something stronger.
Best Sunscreens for Hyperpigmentation
"Sunscreen is most important thing for both preventing and treating hyperpigmentation, so I recommend those that are broad spectrum and at least SPF 30," says dermatologist Tiffany Clay. She particularly likes this moisturizing oil-free option, which is packed with ceramides (fatty acids) that help protect skin against environmental aggressors that can lead to hyperpigmentation. "It is very good for sensitive-skin types, and blends into any skin type well without leaving a white cast," says Clay.
This sunscreen has also topped our Best Sunscreens for Dark Skin list, for its efficacious ingredients (including niacinamide and lactic acid, which both aid in treating uneven complexions) and a truly sheer finish. "The niacinamide and lactic acid are great for helping clear dark spots even faster," Scott says.
Best Serums for Hyperpigmentation
One of the best ways to combat hyperpigmentation is to use topical antioxidants like vitamin C, says Caroline Robinson, a dermatologist and founder of Tone Dermatology, a practice that specializes in ethnic skin dermatology. "It's a potent antioxidant that can help to block tyrosinase (the key enzyme in excess pigment production), and therefore has a correcting and brightening effect." Her top recommendation is the Revision C+ Correcting Complex 30, a lightweight, nonirritating serum that has a potent form of vitamin C along with vitamin E and other antioxidants to target hyperpigmentation from multiple angles. Clay recommends it too, noting that this formulation also protects skin from ultraviolet rays and high-energy visible light (the technical term for the lights emanating from our screens).
Robinson also likes PCA Intensive Brightening Treatment, which is specifically formulated for discoloration. "This nighttime serum has a blend of 0.5 percent pure retinol, resveratrol, hexylresorcinol, and niacinamide," she says, "which together wards off pigment-triggering inflammation and directly address discoloration while you sleep."
"I regularly recommend this," says Clay, "because it is affordable and works well to reduce hyperpigmentation without causing irritation. It also doubles as an anti-inflammatory, so for those with acne, this is a good dual agent product." The genius is in the inclusion of azelaic acid, a pigment reducer that naturally occurs in skin and blocks the production of excess melanin in the skin.
The active ingredient in this super-concentrated ampoule is ascorbic acid, a natural form of vitamin C. While ultra-effective, it's also a fairly unstable ingredient (meaning it tends to go bad quickly when exposed to air), but ISDINCEUTICS Flavo-C Ultraglican utilizes single-use sealed glass ampoules to ensure you get the freshest, most stable form upon use. Robinson particularly likes the delivery system, noting that ampoules are already very popular in Europe (ISDIN was founded in Spain).
Best Serums for Sensitive Skin
Scott likes mandelic acid for sensitive-skin types, noting that this is her go-to for patients who can't tolerate stronger acids but still struggle with hyperpigmentation. "The molecule is larger than others, so it penetrates more slowly," she says, adding that it's also great for treating mild acne.
Best Serums for Dry, Sensitive Skin
If you're both sensitive and dry, Scott recommends lactic acid, a gentle acid that moisturizes while it brightens and exfoliates. She likes Good Genes by Sunday Riley for this reason, an AHA treatment that uses purified lactic acid along with licorice and lemongrass to brighten the skin.
Best Topical for Hyperpigmentation