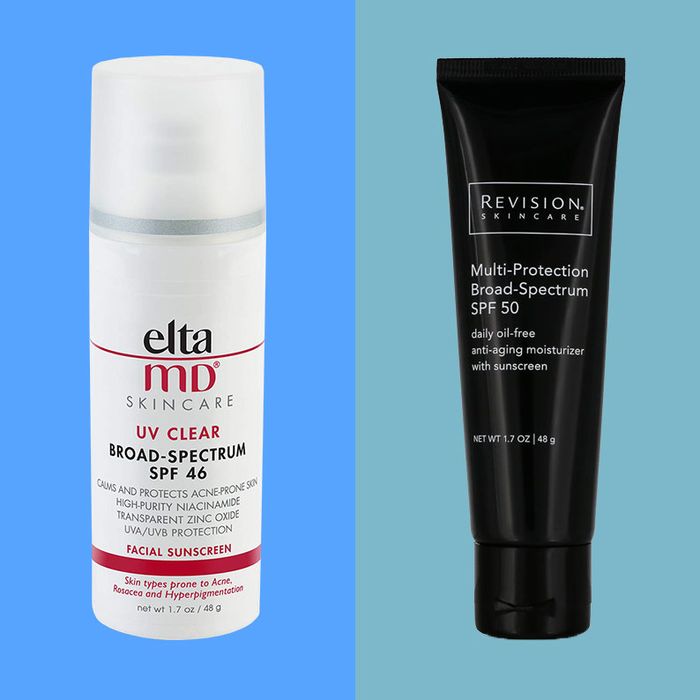 Photo: Courtesy of the vendors
Although dark skin does have some built-in sun protection (thanks, melanin), it's still imperative to use SPF to protect it. While sun-induced skin cancer is rarer in darker skin tones, it can happen, and is often caught at a much later stage. "It tends to be more advanced, with poorer outcomes by the time the patient walks in the door," says Caroline Robinson, M.D., dermatologist and founder of Tone Dermatology, a practice that specializes in alopecia and ethnic skin dermatology. She says this is partly due to a lack of education of the various risk factors for skin cancer in darker skin tones. Melanin also makes darker skin more highly prone to hyperpigmentation, which can be brought on by sun damage (and pimples, and, says Dr. Robinson, "anything that causes inflammation"). Consistent SPF usage is one of the best ways to avoid this, and some sunscreen products contain ingredients to address hyperpigmentation head on. For patients with stubborn dark marks she recommends reaching for formulas that contain zinc oxide (found in many tinted formulas) which protects skin from the sun, and indoor light (including from our screens).
There are two types of sun protection: physical (which means the sunblock sits on top of the skin and reflects the sun's rays) and chemical (which absorb into the skin, then absorb UV rays, convert the rays into heat, then releases them from the body). Both options, Dr. Robinson says, are safe options for people of color, and some formulas are a mix of the two. Whatever you choose, it should have an SPF of at least 30 (although higher won't hurt). And ultimately, the best sunscreen, as Miami based dermatologist Laura Scott, M.D., says, "is one you'll actually use."
The Best Overall Sunscreen
Almost every dermatologist we spoke to name-dropped Elta MD UV Clear Broad Spectrum SPF 46, a chemical-and-physical hybrid option with high levels of zinc-oxide. "I recommend this all the time in my office," says Dr. Laura Scott. "It's got niacinamide that calms inflammation and fades dark marks, and a small amount of lactic acid to help gently exfoliate and keep skin glowing." Three of our other experts mentioned it was safe for acne-prone skin. And according to Rose MD Skincare founder and dermatologist Rose Ingleton, MD, it goes on crystal clear: "It's very sheer and does not leave a gray hue on the skin," she says.
The Best Lightweight Sunscreen
Paula's Choice Clear Ultra-Light Daily Hydrating Fluid SPF 30+ "is really, really clear and light," says Dr. Scott. She doesn't recommend it for anyone with very sensitive skin however — the chemical formulation means it can be lightly irritating on the skin.
The Best Sunscreen for Hyperpigmentation
Ideal for anyone dealing with hyperpigmentation, NeoStrata Sheer Hydration SPF 35 contains grape seed extract (which is packed with dark-mark-fading Vitamin E) and is one of Dr. Ingleton's top picks. "I like sunscreens that absorb quickly and are not visible when applied to darker skin," she says. "This is lightweight, oil-absorbing and formulated to help to reduce the appearance of dark spots."
Another good option for hyperpigmentation is this inexpensive drugstore pick from Aveeno which Ingleton likes for its low price point and use of soy complex, which effectively helps to even out skin tone and reduce the appearance of dark spots.
Best Sunscreen That Doubles As Makeup
"Supergoop Unseen Sunscreen is a very popular choice among my patients,"says Chaneve Jeanniton, M.D., the founder of Brooklyn Face & Eye and skin-care brand Epi.logic. "It wears completely sheer and works very well as a makeup primer as well." In addition to going on clear, it's also oil-free, packed with antioxidants, and reef-safe (meaning it's octinoxate-free).
Skin-care/makeup hybrids are especially popular right now, particularly tinted sunscreens and BB creams that offer skin protection and coverage in one swipe. But it can be difficult to find formulas that blend seamlessly into dark skin — many turn up gray or ashy. Boscia's Skin Perfecting BB Cream Broad SPF 30 is an exception: "It comes in a dark shade, and blends well" says Dr. Scott, noting they "could still use a darker shade or two." In addition to sun protection it also contains turmeric, rice germ extract and iron oxides which "protects against all sorts of external irritants and can help fade dark marks."
Powder sunscreen is a relatively new category, and is perfect for those who'd like to quickly reapply their sunscreen on top of existing makeup (it also adds a little bit of coverage). This mineral formula is a favorite of dermatologist Tiffany Clay, M.D., who uses it herself. "It doubles as a mattifier for me if I get a little oily during the day. I love that, because it's a powder, it never gets melty or messy," says Dr. Clay.
Best Sunscreen for Acne-Prone Skin
"This is a purely physical sunscreen that is great for those who are acne prone and/or with persistent hyperpigmentation," says Dr. Robinson. The zinc and iron oxide together helps to protect skin from both UV and visible light, and its lightweight texture won't clog pores or leave you greasy.
The Best Sunscreen For Anti-Aging
Recommended by two dermatologists, this chemical sunscreen is packed with anti-aging peptides, and contains Vitamin C (a popular antioxidant) that also helps to prevent sun damage and brighten skin. "It's very blendable, dynamic, and lightweight," says Dr. Robinson. Dr. Clay agrees: "It feels amazing on the skin."
Best Tinted Mineral Sunscreen