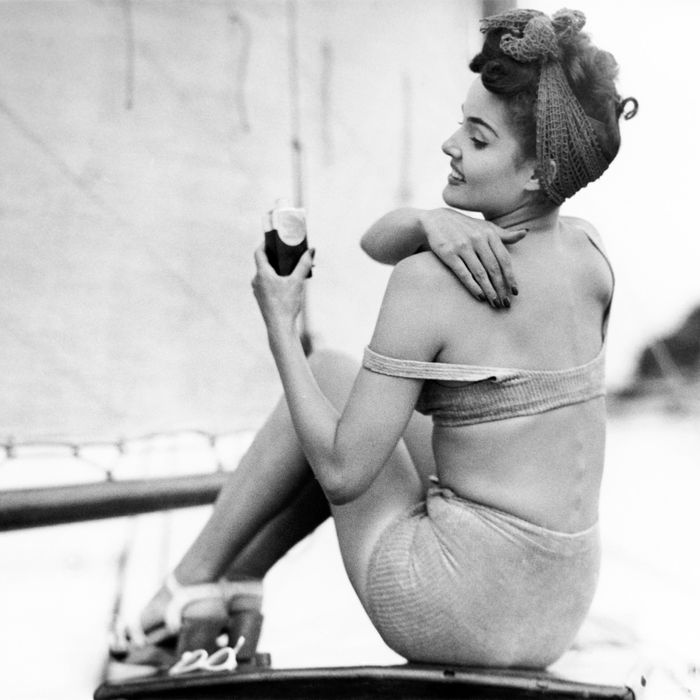 Photo: George Marks/Getty Images
Here at the Strategist, we like to think of ourselves as crazy (in the good way) about the stuff we buy, but as much as we'd like to, we can't try everything. Which is why we have People's Choice, in which we find the best-reviewed products and single out the most convincing ones. (You can learn more about our rating system and how we pick each item here.)
And while we've written about lots of sunscreen — including moisturizers with SPF, sunscreen for your face, and baby sunscreen — here, we've rounded up the best natural sunscreens, as praised by the most enthusiastic reviewers on Amazon. According to our friends at the Cut, natural sunscreen is defined by its key ingredients, which must include either titanium dioxide, zinc oxide, or both. It also might be marketed as a mineral sunscreen, physical sunscreen, or sunblock. And all the sunscreens we found below meet this criteria.
Best-rated natural sunscreen
More than 2,600 reviewers give this mineral sunscreen five stars. Unlike others that are "too chalky, too sticky, too tacky, too irritating and too smelly" according to one reviewer, many agree that this is not. One reviewer, who has finally come to terms with their need for a strong SPF "given past brushes with melanoma and the sincere desire to not have the hide of an alligator," finds that this "doesn't smell 'perfumey' — it might have a hint of suntan lotion smell, but it's really faint. Second, this cream is NOT GREASY and disappears fast — even though it has 9% zinc oxide." Another says it "plays well with makeup and moisturizes, is still effective in Houston summer heat and humidity, and doesn't trigger my adult acne." More than 15 percent of reviewers also mention that their dermatologist recommended this to them and it also tops our list of dermatologist-recommended sunscreens. Dr. Patricia Wexler told us that along with being fragrance-free and non-comedogenic, it's especially effective because it's rich in antioxidants that help protect against skin-damaging free radicals."
Best-rated (less expensive) natural sunscreen
Nearly a third of reviewers mention that this sunscreen in a TSA-approved size is perfect for travel, but it's also good to have around on a regular basis. "I love having these sample sizes so I can have them stashed everywhere," one explains. "I have four kids who love to be outside, so I can never have too many." Another calls them a "great little size, but still plenty of product in there." They add, "Not burning or stinging kids' eyes is a huge bonus." And while one reviewer admits that the formula is thick, given the choice between a sunscreen with "chemicals that may or may not cause cancer or an all-natural, mineral based sunscreen that is a pain to put on," they choose this one. They even explain, "It works and lasts much longer than chemical ones."
And now for some micro-picks of every type of natural sunscreen you might be looking for.
Best no-residue natural sunscreen
This natural sunscreen caught reviewers' eyes for being reef-safe, hypoallergenic, non-comedogenic, and waterproof. But even more fell in love with the non-greasy formula that doesn't leave a white residue and lasts a long time. "This is the best. I bought it for a trip to Mexico and managed, for the first time in my life, to come back from vacation without a burn," says one reviewer. "It worked all day from one application during a completely cloudless week on the beach, even after multiple trips into the ocean." Many reviewers noted they were skeptical about the banana scent at first, but most came around to enjoying it, with one saying it "creates a nice summery vibe." Another reviewer describes the smell as "a combination of banana and coconut. Might sound gross, but the scent gets an A+ in my book. This is saying quite a bit coming from someone like me, who is generally sensitive to certain fragrances. Also, the smell isn't too overpowering. It is definitely noticeable, but in a good way."
Best matte natural sunscreen
More than 15 percent of reviewers describe this sunscreen's finish as matte. One reviewer who has "tried a number of daily SPF products over the years" calls this one the best because of its "unparalleled, chemical-free sun protection, and goes on invisible, matte, and non-greasy." Another user with typically very oily skin says, "I've gone from using three to five oil blotter sheets a day to just ONE." And even though it's not greasy, one reviewer says it "gives a nice glow." This sunscreen also doubles as a primer, which is how about 12 percent of reviewers use it, since it works well under a full face of makeup. "I recently wore this under my makeup when I was a bridesmaid for a wedding and it performed unbelievably well," one customer writes. "I had done my makeup around 11 AM, and after all the photos, dancing, and sweating, my makeup still looked fresh after 12 hours. Even with the high SPF, there's no flashback in photos either."
Best tinted natural sunscreens