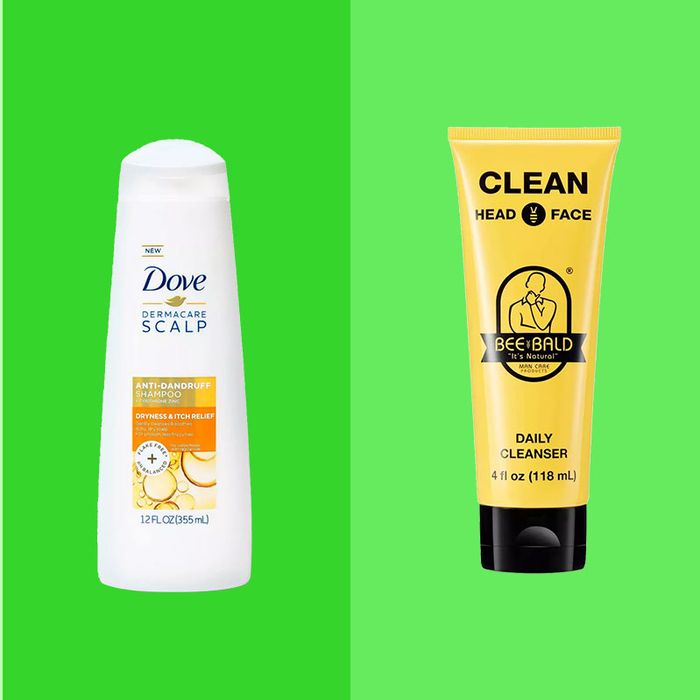 Photo-Illustration: retailers
To the uninitiated, a bald head may seem far easier to maintain than a flowing mane. Bad hair days become a thing of the past. So does that morning mirror time spent trimming those edges. But once you (or fate) decide it's time for Mr. Clean's clean-shaven look, your scalp turns into the main event. That's why several experts — among them barbers and dermatologists — tipped us off to this trick: Think of your caring for your bald head as steps in your skin-care routine rather than part of your hair-care habits.
The two biggest concerns with a bald head are dryness (which can be caused by lack of sun protection) and dandruff, according to our panel of experts — which also include groomers, an aesthetician, makeup artist, and trichologist. As the scalp gets exposed to direct sunlight, it becomes susceptible to sun damage and drying, explains cosmetic dermatologist Dr. Michele Green. Dryness can lead to dandruff. "You don't need hair to get dandruff! Those without hair are actually at a more heightened risk for dandruff," says celebrity cosmetic dermatologist Dr. Paul Jarrod Frank. For bald people of color in particular, either can result in discoloration and "light-colored patches," warns Dr. Andrew Alexis, the director of the Skin of Color Center at Mount Sinai West. (Still, Alexis told us that skin color doesn't change any treatment he recommends.)
Above all, our experts say it's important to keep your bald head clean, moisturized, and protected from the sun, because any irritations will not only bother you, but also be visible to everyone else. Below, our experts share all the stuff they say is integral to keeping a bald head looking its best. To help you better find what you're looking for, we've arranged the products in the order that the pros say you would use them in a daily routine.
Best
scalp
cleansers
for
bald
heads
with
dandruff
Our experts say the first step to a good-looking scalp begins with the products you use in the shower. That's especially true if you're one of the many who struggle with dandruff, as they note that a bare scalp means any scales and redness are even more noticeable. "Dry scalp is really common" among bald people, says board-certified dermatologist Dr. Samer Jaber, who adds that dandruff is too. The first line of defense, according to the pros, would be an over-the-counter dandruff shampoo like this one that contains active ingredients like coal tar, which Alexis tells us has been shown to fight dandruff effectively.
Pyrithione zinc is a common anti-dandruff ingredient that you'll come across, according to dermatologist Dr. Hadley King. This Dove shampoo features it — the ingredient has antimicrobial and anti-fungal properties that can also help with inflammation and itchiness, she says. The mild, pH-balanced formula can decrease yeast on the skin (yes, it can happen on your scalp, too) without causing irritation, King adds.
King mentions that those with oily scalp skin can benefit from a cleanser that has salicylic acid — which is oil-soluble, meaning it can penetrate into pores to gently exfoliate and remove excess (and pore-clogging) sebum. Re-Fresh's formula includes salicylic acid and apple cider vinegar, which does the same thing but is also anti-inflammatory and antimicrobial, she says. And King points out the shampoo has other moisturizing ingredients — like coconut oil — to keep the scalp from drying out even further.
An alternative dandruff treatment Jaber likes is this zinc-based bar soap, which he says might be easier to apply to a bald head, as it won't run the way a liquid shampoo might. (Zinc may not be as widely used for treating dandruff, but it is often recommended by dermatologists and Jaber says it's equally effective). This bar is all-natural, featuring ingredients like oatmeal for gentle exfoliation. Frank similarly says that the zinc helps decrease inflammation while argan oil in the bar soap hydrates.
Best
scalp
cleansers
for
bald
heads
without
dandruff
According to barber Hung Nguyen of Fellow Barber, even if dandruff isn't something you struggle with, bald men are particularly susceptible to a dry scalp because sun exposure will dry out their skin year-round. That's why he and other experts say it's important to regularly wash and cleanse your scalp even if you don't have dandruff (or have moved past it).
To cleanse a scalp that doesn't have dandruff, Jaber and Alexis say you can use whatever you're using on your body, as long as it's moisturizing and gentle — like this classic Dove bar soap that Jaber recommends. "You can think of the scalp skin as very similar to the facial skin," Alexis explains. "So the gentler products you'd use for your face, such as moisturizing soaps, are good for the scalp too." King used the same metaphor, saying that those with bald heads that aren't dandruff- or oily-prone should use a gentle cleanser like they would on their faces. She's another Dove Beauty Bar devotee, but prefers the original formula as it doesn't use any harsh detergents and has several emollients, such as stearic acid, that work to support and soften the skin barrier.