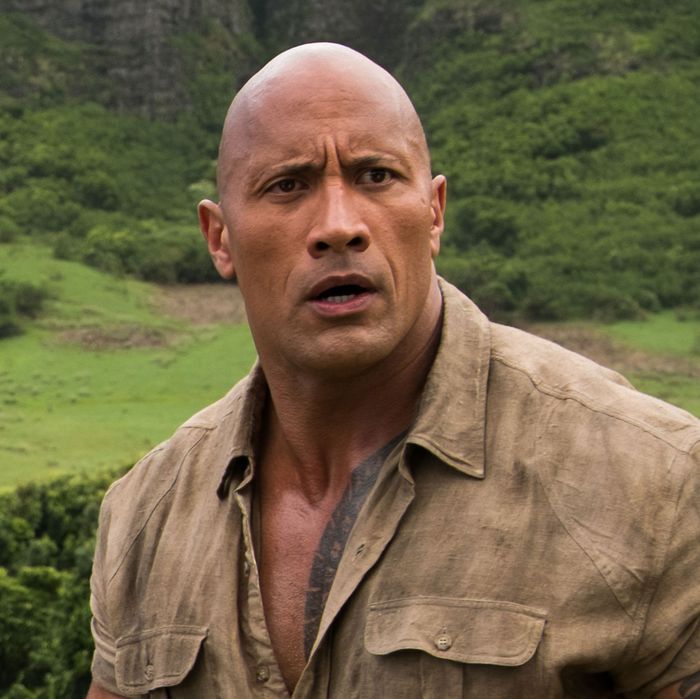 Dwayne "the Rock" Johnson and his well-moisturized scalp in
Jumanji: Welcome to the Jungle
.
Photo: Frank Masi/Sony Pictures Entertainment
To the uninitiated, a bald head may seem far easier to maintain than a flowing mane. While it may be correct that bad hair days are a thing of the past for the bald, the truth of the matter is once a person (or fate) decides it's time to go hairless, your scalp is going to become the main event. The six experts we spoke to — including dermatologists, barbers, groomers, and a makeup artist — told us that even hairless heads have their own set of grooming concerns, with almost as many things to be mindful of as when you're maintaining a full head of hair.
The main things to be aware of, according to our experts, are dryness (which can be caused by lack of sun protection) and dandruff, which affects as many bald people as it does people with hair. According to Dr. Andrew Alexis, the director of the Skin of Color Center at Mount Sinai West, dryness and dandruff are of particular concern for bald people of color, because either can result in discoloration and "light-colored patches." But when it comes to caring for bald heads, Alexis told us skin color wouldn't change any treatment he recommends (all of which are included below). And even if your bald head isn't plagued with dry skin or dandruff, all of our experts say it's still important to make sure it is clean, moisturized, and protected from the sun, because any irritations will not only bother you, but also be visible to everyone else. Below, our experts share all the stuff they say is integral to keeping a bald head looking its best. To help you better find what you're looking for, we've arranged the products in the order that the pros say you would use them in any care routine.
B

e

s

t

s

c

a

l

p

c

l

e

a

n

s

e

r

s

f

o

r

b

a

l

d

h

e

a

d

s

w

i

t

h

d

a

n

d

r

u

f

f
Our experts say the first step to a good-looking scalp begins with the products you use in the shower. That's especially true if you're one of the many who struggle with dandruff, as they note that a bare scalp means any scales and redness are even more noticeable. "Dry scalp is really common" among bald people, says board-certified dermatologist Dr. Samer Jaber, who adds that dandruff is, too. The first line of defense, according to the pros, would be an over-the-counter dandruff shampoo like this one that contains active ingredients like coal tar, which Alexis tells us has been shown to fight dandruff effectively.
An alternative dandruff treatment Jaber likes is this zinc-based bar soap, which he says might be easier to apply to a bald head, as it won't run the way a liquid shampoo might. (Zinc may not be as widely used for treating dandruff, but it is often recommended by dermatologists and Jaber says it's equally effective). This bar is all-natural, with argan oil for moisturizing and oatmeal for gentle exfoliation.
B

e

s

t

s

c

a

l

p

c

l

e

a

n

s

e

r

s

f

o

r

b

a

l

d

h

e

a

d

s

w

i

t

h

o

u

t

d

a

n

d

r

u

f

f
According to barber Hung Nguyen of Fellow Barber, even if dandruff isn't something you struggle with, bald men are particularly susceptible to a dry scalp because sun exposure will dry out their skin year-round. That's why he and other experts say it's important to regularly wash and cleanse your scalp even if you don't have dandruff (or have moved past it).
To cleanse a scalp that doesn't have dandruff, Jaber and Alexis say you can use whatever you're using on your body, as long as it's moisturizing and gentle — like this classic Dove bar soap that Jaber recommends. "You can think of the scalp skin as very similar to the facial skin," Alexis explains. "So the gentler products you'd use for your face, such as moisturizing soaps, are good for the scalp too."
While the Dove soap is very gentle as far as soaps go, its chemical ingredients might still be too harsh for some. "Usually I think it's best to go as natural as possible," says groomer Ronnie Peterson, who notes that any additives increase the chances of irritation or allergies. For anyone with sensitive scalp skin, he recommends this foaming wash. It's made specifically for "bald, shaved, and buzzed heads" and is non-comedogenic (so it doesn't block pores), hypoallergenic, and fragrance-free, so it's extra gentle. It's also "great for healing irritation from razors," Peterson adds.
B

e

s

t

m

o

i

s

t

u

r

i

z

i

n

g

o

i

l

s

f

o

r

b

a

l

d

h

e

a

d

s
After you shower, while your pores are still open, applying a moisturizing oil will further hydrate a bald head, according to our experts, who say it's especially imperative to use one before you shave your scalp. That's because, according to Nguyen, "when skin is moisturized it has more flexibility, so when you're shaving it won't pull as much. And because the skin is smoother, the blade will glide across it better." At Nguyen's barbershop, they use Strategist-favorite Everyday Oil. "It's a blend of hot-pressed essential oils and cold pressed plant-based oils, fused together to make a moisturizing product that doesn't leave that slippery coating like most lotions do," he explains. Nguyen adds that, because the oil is good for any and all skin, there's "truly no waste: If you have any leftover in your hand, you can use it on your face, your neck, your knuckles."
For a cheaper oil, Anthony Michael Tapia, a master stylist at Barbiere barber shop in the East Village, loves the classic Palmer's coconut oil. "It's antifungal, antibacterial, and good for dandruff, too," he says. Even though an untreated, solidified coconut oil — the type you'd find at a natural-food store — is technically more "pure," he prefers this liquid formulation because it's less messy and absorbs quickly.
B

e

s

t

s

h

a

v

i

n

g

p

r

o

d

u

c

t

s

f

o

r

b

a

l

d

h

e

a

d

s
Photo: Retailer
Both Alexis and Nguyen warned that shaving foam has no moisturizing properties, and worse, the chemicals that make it foamy can actually dry and strip skin. Instead, Alexis advises using "a hydrating, thick shaving cream," and Nguyen told us he uses this one on all his bald clients. "It's an Italian brand that lathers very nicely and is really moisturizing," he told us.
Tapia swears by this more affordable cream for cleaning the scalp and preparing it for a shave at the same time. While not technically a shaving cream, he has used it to shave customers' heads for years, with positive results. "If I'm at the shop with a client, I need to work quickly," Tapia explains. He can't give someone a shave if their scalp is dry, so he applies this fast-absorbing cream and they're usually good to go right away. Tapia says it's not greasy and you only need a small amount.
More important than the razor you use (which our experts say could be the one you also shave your face with), this lathering brush is a tool that Nguyen says is one of the best ways to prep for an irritation-free shave. Why? "Because when you apply the shave with the brush, it massages the scalp, which encourages blood-flow, which in turn brings essential nutrients to the scalp. It also lifts the hair as you go, to prep for the blade." Lifting the hair means that it will grow back more evenly, and without razor bumps, because you're shaving hair that's positioned to be cut. You simply wet the brush to create a lather by rubbing it against the soap, then run the lathered brush along your scalp to prep it for the blade. While Nguyen is a fan of the shaving soap from Claus Porto (a brand we've written about before), he says any shaving soap will do.
B

e

s

t

s

c

a

l

p

m

o

i

s

t

u

r

i

z

e

r

s

f

o

r

b

a

l

d

h

e

a

d

s
After you've washed, oiled and shaved, our experts say you'll want to moisturize (a step, they note, you should do whether you shave or not). A perennial Strategist favorite, Weleda Skin Food is a great moisturizer for the scalp, according to Peterson: "I love this cream for everything. It's rich, thick, and natural."
If you want your head to have more of a muted look, Peterson recommends this mattifying moisturizer. "I use this for TV commercials if I'm working on someone with a shiny forehead," he says, adding that it works especially well used in conjunction with this mattifying primer stick. "I usually use this for a photo session with harsh lights, but I think it works wonderfully in daylight."
The Bee Bald line is made specifically for bald and shaved heads, and this post-shave healing balm is one of their most popular products. "It really soothes irritation," says Peterson. "My friend loves it, and he shaves with a razor every three days."
B

e

s

t

s

u

n

s

c

r

e

e

n

s

f

o

r

b

a

l

d

h

e

a

d

s