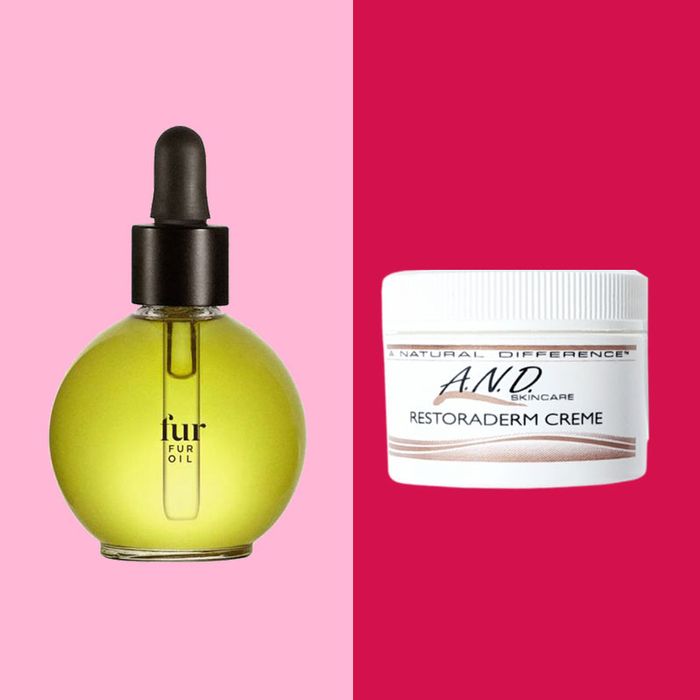 Photo-Illustration: retailers
As if keeping up with hair removal weren't hassle enough, waxing and shaving often lead to painful ingrowns and razor bumps. These spots aren't to be confused with razor burn, which Lara Kaiser, an aesthetician at Brooklyn's Shen Beauty, says is a different thing. "Razor burn is caused by friction against the skin when the skin is not prepped well enough or the person shaved too aggressively," she says. Razor bumps are basically ingrown hairs, which can pop up anywhere you remove hair, and often occur on more delicate areas where the hair is coarse, like the bikini line.
And they can happen to anyone, no matter how you remove the hair: "Razor bumps are very common," assures Ania Siemieniaka, the manager and owner of Freckle, a spa in Greenpoint. Uncle Nat from Uncle Nat's Sugaring, an all-gender and body-positive spa in Flatbush, adds that people of all hair types can experience these issues. "I have a diverse clientele, and we have just the entire scope and range of skin and hair moments," they explain. "I would say that just as many of our clients with straight hair get ingrowns as those with curled hair." While many ingrowns are a result of hair breakage and general waxing and shaving mishaps, some people will simply be dealing with them no matter what. "Maybe you're genetically predisposed to it, or you're generating too much sebum."
If you're dealing with ingrowns at home, it can be tempting to visit a waxing or sugaring service immediately for a fix. But this can actually do more harm than good. "If you're switching to hair-removal services after shaving due to razor bumps, success in this area really is a game of patience," explains Tina Lowitt, aesthetician and owner of The Wild Kind Beauty. If you wax or sugar an area that has recently been shaved, you're going to further entrench yourself in a cycle of breakage, irritation, and bumps. "Make sure you're waiting enough time between sessions — waiting three to four weeks after a shave for the waxing or sugaring, and then closer to six weeks between hair removal sessions."
While you wait between sessions, practice at-home care by developing an exfoliating and moisturizing routine. Luckily, there are lots of products out there that you can use before and after waxing and shaving to help prevent or eliminate irritation — including some products that you might have assumed were only for the face but are more versatile than we thought. We talked to 12 aestheticians, waxing experts, and dermatologists to hear which creams, gels, and serums to reach for in the days after waxing or shaving, and other steps you can take to stave off razor bumps in the first place.
Best overall product for preventing razor bumps
Five of the waxing specialists named this culty product as key to combating razor bumps. The oil, which is specifically formulated to be safe for the pubic area, blends several soothing antiseptic and antimicrobial ingredients, like grape-seed, jojoba, and tea tree oil, which will help keep the area clean and smooth. "A great way to prevent razor burn is by keeping the skin around the bikini line really healthy, like with Fur Oil," says Kaiser. "This is an oil you apply for a few days before or after hair removal that is antiseptic and helps soften hair and hair regrowth. As far as I know, it's about the only product on the market specifically for pubic hair." Uncle Nat recommends avoiding messiness by applying oil in the shower. "Just one pump," they say. "If you're slipping, it's too much." The heat of the water will loosen up the oil, making it easier to apply, thus avoiding product wastage. Samantha Garlow, waxing specialist at Daphne, agrees. She says that while Fur Oil does carry a specific spot treatment for ingrowns, the original Fur Oil "can be used daily on clean, exfoliated skin, and is safe for your most sensitive areas." Audra Senkus, co-owner of Haven Spa, recommended the oil as well, telling us, "We love Fur Oil." She also pointed to the brand's stubble cream as a useful product to keep in the medicine cabinet. The stubble cream "smooths the skin after waxing, and it also softens any prickly stubble," she says, noting that it also "prevents ingrowns and bumps."
Best physical exfoliation products for preventing razor bumps
All of the aestheticians we spoke to said that exfoliating a few days after waxing or shaving is an important step in preventing bumps as hair starts to grow in. There are many ways to exfoliate — manually with a scrubbing mitt or cleansing scrub, or with a chemical exfoliant — and choosing one comes down to personal preference. Kaiser suggests using a "scrubby mitt" made from Korean spa "Italy" fabric, or dry brush. "That leaves less of a chance for the hairs to curl in on themselves, and exfoliates the area so there is nothing to clog pores, making them vulnerable to bacteria and inflammation," she says. "The scrubby mitt or dry brush can be from anywhere, they're all about the same." Registered nurses Carla and Wendy Nelson, co-owners of Fleur de Lis Beauty, like Earth Therapeutics' charcoal exfoliating gloves — especially because "you can get them at any local drugstore."
For those who want to exfoliate with a cleanser (or want to combine one with their scrubbing mitt), Mihoko Ninomiya, skin-care manager at Great Jones Spa, suggests using a gentle facial scrub. She likes Dr. Hauschka's Cleansing Cream, which has a "grittiness close to that of a rice flour or an almond meal or powder," the ideal texture for a scrub for more delicate areas, according to Ninomiya.
And for those who prefer bar soap, Stalina Glot, senior aesthetician at Haven, recommends Crystal Peel Microdermabrasion Exfoliating Soap Body Bar. She says you can use it in the days leading up to shaving, but to "avoid doing that the same day as shaving."
Unlike the other physical exfoliants on this list, Cure Aqua Gel is made with 91 percent hydrogen water, which Winnie Zhong at oo35mm says works on the surface to remove dead skin. She says it can be used on the face and more sensitive parts of the body. "You would use this after cleansing steps or on dry skin; rub the gel into the skin and it reacts to dead skin," Zhong told us.
Best chemical exfoliation products for preventing razor bumps
"While Italy cloth is cute for surface scrubbing, ingrowns happen inside the follicle," says Uncle Nat. "So we must exfoliate there, and that brings us to chemical exfoliants like acids." Nat recommends A Natural Difference's unique Glycolic Polymer Solution, which they say is "buffered for sensitive skin" and "uses the power of polymer chaining to deliver the acid into the pores and follicles." Think of it like draining a bathtub: the polymer chaining allows the solution to swirl down deep into the pores and follicles, sweeping out irritants and dissolving sticky sebum that grips onto hair. Nat says that when their clients dutifully apply this solution pre- and post-sugaring, they'll end up with looser hair that requires less effort (and fewer appointments) to get rid of over time. It's safe for "face, pits, and bits."