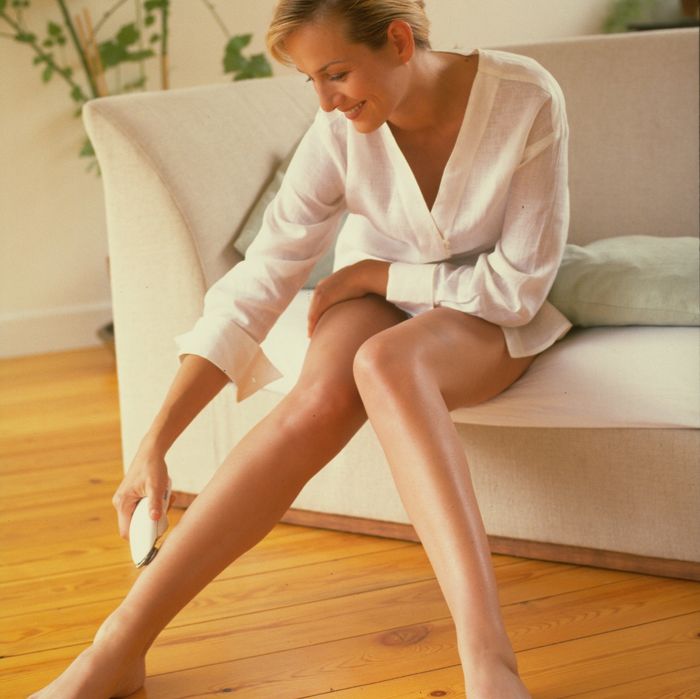 Photo: Frederique Cresseaux/Sygma via Getty Images
As if keeping up with hair removal weren't hassle enough, waxing and shaving often lead to painful ingrowns and razor bumps. These spots aren't to be confused with razor burn, which Lara Kaiser, an aesthetician at Brooklyn's Shen Beauty, says is a different thing. "Razor burn is caused by friction against the skin when the skin is not prepped well enough or the person shaved too aggressively," she says. Razor bumps are basically ingrown hairs, which can pop up anywhere you remove hair, and often occur on more delicate areas where the hair is coarse, like the bikini line. And they can happen to anyone, no matter how you remove the hair: "Razor bumps are very common and can happen no matter what your landscaping method is and how thorough it is," assures Ania Siemieniaka, the manager and owner of Freckle, a spa in Greenpoint.
Luckily, there are lots of products out there that you can use before and after waxing and shaving to help prevent or eliminate irritation — including some products that you might have assumed were only for the face but are more versatile than we thought. We talked to nine aestheticians, waxing experts, and dermatologists to hear which creams, gels, and serums to reach for in the days after waxing or shaving, and other steps you can take to stave off razor bumps in the first place.
Best overall product for preventing razor bumps
Three of the waxing specialists named this culty product as the best for combating razor bumps. The oil, which is specifically formulated to be safe for the pubic area, blends several soothing antiseptic and antimicrobial ingredients, like grape-seed, jojoba, and tea tree oil, which will help keep the area clean and smooth. "A great way to prevent razor burn is by keeping the skin around the bikini line really healthy, like with Fur Oil," says Kaiser. "This is an oil you apply for a few days before or after hair removal that is antiseptic and helps soften hair and hair regrowth. As far as I know, it's about the only product on the market specifically for pubic hair." Samantha Garlow, waxing specialist at Daphne, agrees. She says that while Fur Oil does carry a specific spot treatment for ingrowns, the original Fur Oil "can be used daily on clean, exfoliated skin, and is safe for your most sensitive areas." Audra Senkus, co-owner of Haven Spa, recommended the oil as well, telling us, "We love Fur Oil." She also pointed to the brand's stubble cream as a useful product to keep in the medicine cabinet. The stubble cream "smooths the skin after waxing, and it also softens any prickly stubble," she says, noting that it also "prevents ingrowns and bumps."
Best physical exfoliation products for preventing razor bumps
All of the aestheticians we spoke to said that exfoliating a few days after waxing or shaving is an important step in preventing bumps as hair starts to grow in. There are many ways to exfoliate — manually with a scrubbing mitt or cleansing scrub, or with a chemical exfoliant — and choosing one comes down to personal preference. Kaiser suggests using a "scrubby mitt" or dry brush. "That leaves less of a chance for the hairs to curl in on themselves, and exfoliates the area so there is nothing to clog pores, making them vulnerable to bacteria and inflammation," she says. "The scrubby mitt or dry brush can be from anywhere, they're all about the same."
If you prefer the (smoother) consistency of a paste, Allison Tray, founder of Tres Belle Spa, has an inexpensive solution: baking soda. "At home, you can combine baking soda and water, and use it to gently exfoliate the bikini area," she says. "Not only will you get a good exfoliation, it may also brighten the area." The brightening, Tray says, comes from baking soda's ability to naturally unclog pores. As for the ratio, she suggests mixing one teaspoon baking soda with a splash of warm water. "Gently move the mixture over your bikini line with light pressure, then rinse it off with cool water," she says. "You can help keep ingrown hairs at bay by repeating this process once a week."
For those who want to exfoliate with a cleanser (or want to combine one with their scrubbing mitt), Mihoko Ninomiya, skin-care manager at Great Jones Spa, suggests using a gentle facial scrub. She likes Dr. Hauschka's Cleansing Cream, which has a "grittiness close to that of a rice flour or an almond meal or powder," the ideal texture for a scrub for more delicate areas, according to Ninomiya.
And for those who prefer bar soap, Stalina Glot, senior aesthetician at Haven, recommends Crystal Peel Microdermabrasion Exfoliating Soap Body Bar. She says you can use it in the days leading up to shaving, but to "avoid doing that the same day as shaving."
Unlike the other physical exfoliants on this list, Cure Aqua Gel is made with 91 percent hydrogen water, which Winnie Zhong at oo35mm says works on the surface to remove dead skin. She says it can be used on the face and more sensitive parts of the body. "You would use this after cleansing steps or on dry skin; rub the gel into the skin and it reacts to dead skin," Zhong told us.
Best chemical exfoliation products for preventing razor bumps
Zhong also recommends Alpha Skin Care's Renewal Body Lotion, which she calls "a cult favorite." The lotion contains 12 percent glycolic acid, which makes it ideal for improving skin texture. "Many of our customers use it on keratosis pilaris and stubborn bumps," Zhong says. "It can also be good for acne scars." (We imagine it would be good for fading any scars left from past ingrowns as well.)
Speaking of cult exfoliants, you've probably heard of Biologique Recherche's Lotion P50, a favorite facial toner of celebrities, beauty editors, and your skin-care-obsessed friends. The exfoliating toner can be used for more than your face, though, according to Garlow. "P50 has a smart blend of proven clarifying ingredients like lactic acid, gluconolactone, salicylic acid, and sulfur, which moisturize, regulate oil, and prevent ingrown hairs," she says. Depending on sensitivity, you can dilute P50 with water. "It's best used out of the shower by pressing, not rubbing," Garlow told us. "It's recommended to use once a day and 24 hours after hair removal, and you can follow it with Fur Oil."
Best hair-removal-specific skin cleansers
Ninomiya recommends Rosebud Woman's Refresh Cleansing Spray as a pre- and post-waxing-and-shaving cleanser rather than harsh, alcohol-based wipes. "As the name suggests, there are refreshing ingredients such as aloe and lavender, and helpful antiseptic and anti-inflammatory naturals such as tea tree oil and witch hazel," she says. To use the spray, you just have to spritz some on, pat it in, and let it dry — no need to rinse off after using.
Another alternative to harsh wipes are Skyn Iceland's Nordic Skin Peel pads, which Siemieniaka says were designed for acneic skin but "work wonders on your bikini bumps." She told us that she learned about the pads — the perfect application format for when you're feeling a bit lazy or busy — from Katie Jane Hughes, a British makeup artist. "I got hooked, and after a while, I realized that it works really well on the bikini area, especially those sensitive types," says Siemieniaka, who also notes that they won't dry out your skin.
Best gels for preventing razor bumps
Siemieniaka also told us about PFB Vanish, which can be used with not-so-sensitive skin. "Its powerful combo of glycolic, salicylic, and lactic acids will reduce inflammation, kill bacteria, and exfoliate the skin (yes, ingrown-hair prevention right there)," she says. "Our clients love it." It comes in a roll-on bottle, which makes it easy to apply.
Ninomiya says that this gel is designed to help prevent razor burn on the face, but that it's also effective for ingrowns anywhere else on the body. It's full of natural antioxidants like green tea and anti-inflammatory ingredients rosemary and turmeric, making it a useful product for keeping skin healthy overall.