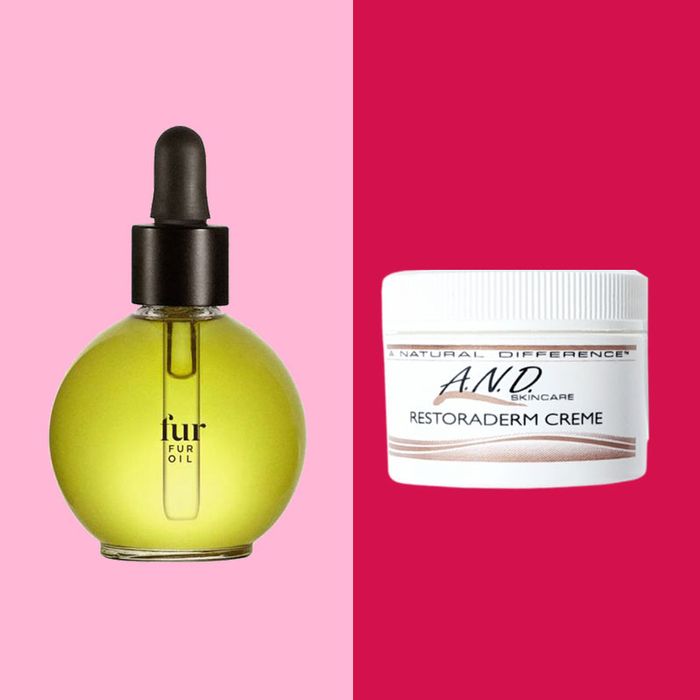 Photo-Illustration: retailers
As if keeping up with hair removal weren't hassle enough, waxing and shaving often lead to painful ingrowns and razor bumps. These spots aren't to be confused with razor burn, which Lara Kaiser, an aesthetician at Brooklyn's Shen Beauty, says is a different thing. "Razor burn is caused by friction against the skin when the skin is not prepped well enough or the person shaved too aggressively," she says. Razor bumps are basically ingrown hairs, which can pop up anywhere you remove hair, and often occur on more delicate areas where the hair is coarse, like the bikini line.
And they can happen to anyone, no matter how you remove the hair: "Razor bumps are very common," assures Ania Siemieniaka, the manager and owner of Freckle, a spa in Greenpoint. Uncle Nat from Uncle Nat's Sugaring, an all-gender and body-positive spa in Flatbush, adds that people of all hair types can experience these issues. "I have a diverse clientele, and we have just the entire scope and range of skin and hair moments," they explain. "I would say that just as many of our clients with straight hair get ingrowns as those with curled hair." While many ingrowns are a result of hair breakage and general waxing and shaving mishaps, some people will simply be dealing with them no matter what. "Maybe you're genetically predisposed to it, or you're generating too much sebum."
If you're dealing with ingrowns at home, it can be tempting to visit a waxing or sugaring service immediately for a fix. But this can actually do more harm than good. "If you're switching to hair-removal services after shaving due to razor bumps, success in this area really is a game of patience," explains Tina Lowitt, aesthetician and owner of The Wild Kind Beauty. If you wax or sugar an area that has recently been shaved, you're going to further entrench yourself in a cycle of breakage, irritation, and bumps. "Make sure you're waiting enough time between sessions — waiting three to four weeks after a shave for the waxing or sugaring, and then closer to six weeks between hair removal sessions."
While you wait between sessions, practice at-home care by developing an exfoliating and moisturizing routine. Luckily, there are lots of products out there that you can use before and after waxing and shaving to help prevent or eliminate irritation — including some products that you might have assumed were only for the face but are more versatile than we thought. We talked to 12 aestheticians, waxing experts, and dermatologists to hear which creams, gels, and serums to reach for in the days after waxing or shaving, and other steps you can take to stave off razor bumps in the first place.
Best overall product for preventing razor bumps
Five of the waxing specialists named this culty product as key to combating razor bumps. The oil, which is specifically formulated to be safe for the pubic area, blends several soothing antiseptic and antimicrobial ingredients, like grape-seed, jojoba, and tea tree oil, which will help keep the area clean and smooth. "A great way to prevent razor burn is by keeping the skin around the bikini line really healthy, like with Fur Oil," says Kaiser. "This is an oil you apply for a few days before or after hair removal that is antiseptic and helps soften hair and hair regrowth. As far as I know, it's about the only product on the market specifically for pubic hair." Uncle Nat recommends avoiding messiness by applying oil in the shower. "Just one pump," they say. "If you're slipping, it's too much." The heat of the water will loosen up the oil, making it easier to apply, thus avoiding product wastage. Samantha Garlow, waxing specialist at Daphne, agrees. She says that while Fur Oil does carry a specific spot treatment for ingrowns, the original Fur Oil "can be used daily on clean, exfoliated skin, and is safe for your most sensitive areas." Audra Senkus, co-owner of Haven Spa, recommended the oil as well, telling us, "We love Fur Oil." She also pointed to the brand's stubble cream as a useful product to keep in the medicine cabinet. The stubble cream "smooths the skin after waxing, and it also softens any prickly stubble," she says, noting that it also "prevents ingrowns and bumps."
Best physical exfoliation products for preventing razor bumps
All of the aestheticians we spoke to said that exfoliating a few days after waxing or shaving is an important step in preventing bumps as hair starts to grow in. There are many ways to exfoliate — manually with a scrubbing mitt or cleansing scrub, or with a chemical exfoliant — and choosing one comes down to personal preference. Kaiser suggests using a "scrubby mitt" made from Korean spa "Italy" fabric, or dry brush. "That leaves less of a chance for the hairs to curl in on themselves, and exfoliates the area so there is nothing to clog pores, making them vulnerable to bacteria and inflammation," she says. "The scrubby mitt or dry brush can be from anywhere, they're all about the same." Registered nurses Carla and Wendy Nelson, co-owners of Fleur de Lis Beauty, like Earth Therapeutics' charcoal exfoliating gloves — especially because "you can get them at any local drugstore."
For those who want to exfoliate with a cleanser (or want to combine one with their scrubbing mitt), Mihoko Ninomiya, skin-care manager at Great Jones Spa, suggests using a gentle facial scrub. She likes Dr. Hauschka's Cleansing Cream, which has a "grittiness close to that of a rice flour or an almond meal or powder," the ideal texture for a scrub for more delicate areas, according to Ninomiya.
And for those who prefer bar soap, Stalina Glot, senior aesthetician at Haven, recommends Crystal Peel Microdermabrasion Exfoliating Soap Body Bar. She says you can use it in the days leading up to shaving, but to "avoid doing that the same day as shaving."
Unlike the other physical exfoliants on this list, Cure Aqua Gel is made with 91 percent hydrogen water, which Winnie Zhong at oo35mm says works on the surface to remove dead skin. She says it can be used on the face and more sensitive parts of the body. "You would use this after cleansing steps or on dry skin; rub the gel into the skin and it reacts to dead skin," Zhong told us.
Best chemical exfoliation products for preventing razor bumps
"While Italy cloth is cute for surface scrubbing, ingrowns happen inside the follicle," says Uncle Nat. "So we must exfoliate there, and that brings us to chemical exfoliants like acids." Nat recommends A Natural Difference's unique Glycolic Polymer Solution, which they say is "buffered for sensitive skin" and "uses the power of polymer chaining to deliver the acid into the pores and follicles." Think of it like draining a bathtub: the polymer chaining allows the solution to swirl down deep into the pores and follicles, sweeping out irritants and dissolving sticky sebum that grips onto hair. Nat says that when their clients dutifully apply this solution pre- and post-sugaring, they'll end up with looser hair that requires less effort (and fewer appointments) to get rid of over time. It's safe for "face, pits, and bits."
Zhong also recommends Alpha Skin Care's Renewal Body Lotion, which she calls "a cult favorite." The lotion contains 12 percent glycolic acid, which makes it ideal for improving skin texture. "Many of our customers use it on keratosis pilaris and stubborn bumps," Zhong says. "It can also be good for acne scars." (We imagine it would be good for fading any scars left from past ingrowns as well.)
You've probably heard of Biologique Recherche's Lotion P50, a favorite facial toner of celebrities, beauty editors, and your skin-care-obsessed friends. The exfoliating toner can be used for more than your face, though, according to Garlow. "P50 has a smart blend of proven clarifying ingredients like lactic acid, gluconolactone, salicylic acid, and sulfur, which moisturize, regulate oil, and prevent ingrown hairs," she says. Depending on sensitivity, you can dilute P50 with water. "It's best used out of the shower by pressing, not rubbing," Garlow told us. "It's recommended to use once a day and 24 hours after hair removal, and you can follow it with Fur Oil."
Carla and Wendy Nelson are fans of the Reddit-beloved Paula's Choice skin-care line. The brand's toners "are really good for getting rid of dead skin cells which happens with ingrown hairs," Carla says, noting that — as with all of these chemical exfoliants — you're going to want to complete the razor-bump-fighting exfoliation routine by using a good moisturizer afterwards.
Best moisturizers for preventing razor bumps
Keeping your skin moisturized is key to warding off ingrowns and irritation in general. For "intense breathable moisture and viscosity to fight skin friction," Uncle Nat recommends mixing an oil with this shea-based moisturizer from A Natural Difference. "It's a wound salve, great for chronic skin-pickers, and we really recommend it in the wintertime for chapping because it's such a breathable salve." Wendy Nelson adds that a buttery moisturizer like this one is a great way to prep your skin pre-shave. 
If you're unable to get your hands on a specialized product, Lowitt says that when following up your exfoliant with a moisturizer, "any plain unscented lotion that isn't too thick or creamy" will do. "You want a barrier, but not to trap heat or further any inflammation," she says, suggesting this cheap and reliable paraben-free drugstore staple from Amlactin.
Best underwear to prevent razor bumps
All apologies to your lingerie drawer, but fancy undies are the enemy of already-irritated skin. "I discourage my clients who are dealing with ingrowns from wearing lace underwear," says Uncle Nat. Doing so just creates more skin friction, which exacerbates razor bumps and leads to ongoing discomfort. As well as using a moisturizer like those recommended above, wearing simple cotton underwear can help keep things friction-free down there. This pair actually comes recommended by Fur Oil co-founder Laura Schubert.
Best hair-removal-specific skin cleansers
Ninomiya recommends Rosebud Woman's Refresh Cleansing Spray as a pre- and post-waxing-and-shaving cleanser rather than harsh, alcohol-based wipes. "As the name suggests, there are refreshing ingredients such as aloe and lavender, and helpful antiseptic and anti-inflammatory naturals such as tea tree oil and witch hazel," she says. To use the spray, you just have to spritz some on, pat it in, and let it dry — no need to rinse off after using.
Another alternative to harsh wipes are Skyn Iceland's Nordic Skin Peel pads, which Siemieniaka says were designed for acneic skin but "work wonders on your bikini bumps." She told us that she learned about the pads — the perfect application format for when you're feeling a bit lazy or busy — from Katie Jane Hughes, a British makeup artist. "I got hooked, and after a while, I realized that it works really well on the bikini area, especially those sensitive types," says Siemieniaka, who also notes that they won't dry out your skin.
Best gels for preventing razor bumps
Siemieniaka also told us about PFB Vanish, which can be used with not-so-sensitive skin. "Its powerful combo of glycolic, salicylic, and lactic acids will reduce inflammation, kill bacteria, and exfoliate the skin (yes, ingrown-hair prevention right there)," she says. "Our clients love it." It comes in a roll-on bottle, which makes it easy to apply.
Ninomiya says that this gel is designed to help prevent razor burn on the face, but that it's also effective for ingrowns anywhere else on the body. It's full of natural antioxidants like green tea and anti-inflammatory ingredients rosemary and turmeric, making it a useful product for keeping skin healthy overall.
If you'd rather use a formula specifically designed for women, Senkus suggests UltraLuxe's Women's Ingrown Hair treatment, which she says can be used on the face and body to stave off ingrown hairs. "The technology actually cools and calms your skin post-shaving, preventing the chance of irritation before it begins." The cooling factor comes from the ingredient allantoin, which is known for its anti-redness, anti-irritation properties.
This one is a favorite of both Glot and Senkus. Glot suggests using it twice a day and notes that "serums are designed with low molecules that penetrate to the hair follicle and remove dead skin cells, pushing the hair up." Senkus told us that Princereigns also "removes dark spots and softens and straightens curly hair while removing ingrown hairs and razor bumps."
Best natural treatment for preventing razor bumps
"For natural-remedy lovers, I recommend a tea-tree-oil compress," says Siemieniaka. "Tea tree oil is extremely rich in antibacterial and anti-inflammatory properties that will help you get rid of redness and itchiness caused by razor bumps." She cautions against using tea tree oil in its pure form and suggests mixing a couple of drops of oil with a few tablespoons of warm water instead. "Then make a compress with a cotton ball and apply it to affected areas for about ten minutes. For best results, I would do this twice a day," she says.
Best spot treatment for razor bumps
Lowitt says these pads, with their "unique combo of citric acids, glycolics, and salicylic acids" will aid in treating stubborn razor bumps and ingrown conditions "ranging from blackheads to pustules." The brand's range is designed with darker skin tones in mind, and she says that carrying these pads is a great choice for people who are leading active lifestyles or working out a lot and need a treatment to throw in their bag.
Best CBD products for preventing razor bumps
Two of the experts we talked to named CBD as a useful ingredient in helping prevent razor bumps, largely thanks to its anti-inflammatory properties. This CBD-infused cleanser comes recommended by dermatologist Dendy Engelman, who told us that it's packed with "phytonutrient-rich CBD, essential fatty acids, and plant extracts," that make it particularly calming and moisturizing. Engelman uses the cleanser as a shaving cream, and says that it leaves him with little to no post-shaving irritation.
Christine Marie Mason, founder of the feminine care line Rosebud, told us that she uses Foria's CBD lube both to prevent ingrown hairs and to moisturize her skin. According to Mason, the consistency of the Foria lube is similar to that of Fur Oil — but has the added benefit of CBD, which helps soothe any existing irritation and redness. (And, of course, it can also be used as lube.)
The Strategist is designed to surface the most useful, expert recommendations for things to buy across the vast e-commerce landscape. Some of our latest conquests include the best women's jeans, rolling luggage, pillows for side sleepers, ultra-flattering pants, and bath towels. We update links when possible, but note that deals can expire and all prices are subject to change.
Every editorial product is independently selected. If you buy something through our links, New York may earn an affiliate commission.