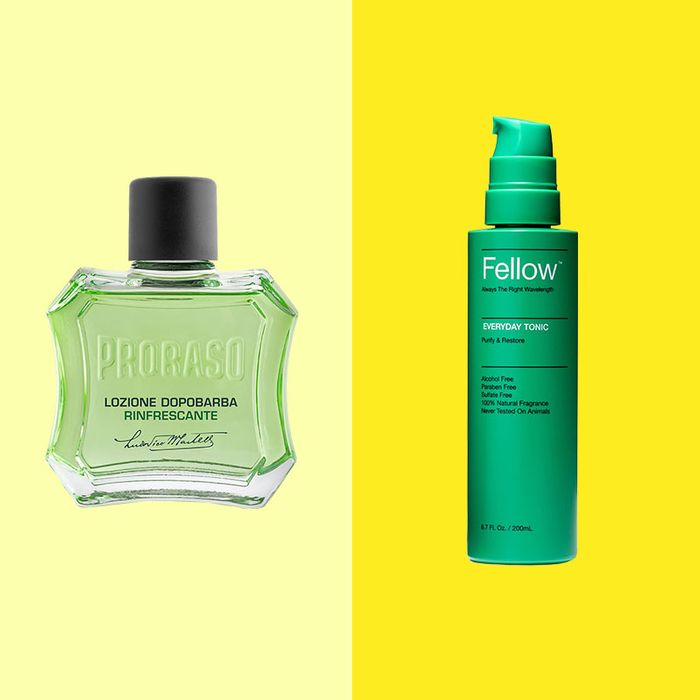 Photo-Illustration: 20th Century Fox
Aftershave was originally created as an alcohol-based antiseptic for disinfecting the little nicks and cuts you can get from shaving. But while alcohol does a good job of preventing infection, it tends to be very drying, and splashing it on freshly shaved skin can really burn. Luckily, aftershaves have evolved a lot over the years. Depending on your skin and facial-hair type, you now have your pick of cooling gels, soothing balms, and refreshing liquids that disinfect as well as hydrate, exfoliate, and tone skin — many of which are alcohol-free and actually feel good going on. Because everyone has a different set of post-shave skin needs, we asked 14 dermatologists and grooming experts to weigh in on the best aftershaves for a range of skin types.
If you already know what you're looking for, use our clickable table of contents to skip ahead. But if you need a bit more guidance, read on for all of our experts' recommendations.
Best overall | Best vegan and paraben-free | Best for oily or acne-prone skin | Best for preventing and treating razor burn | Best anti-inflammatory-with-shea-butter | Best (less expensive) with shea butter | Best for preventing and treating ingrown hairs | Best exfoliating | Best for aging skin
Skin-type compatibility: According to Dr. Anna Guanche, dermatologist and founder of Bella Skin Institute, the best aftershave for you depends on your particular skin type. "Everyone's skin is different and will react and respond to different types of aftershaves," she says. Whether you're prone to dryness, razor burn, acne and ingrown hairs, or just want to maintain a healthy glow, there is an aftershave out there for you. Folks with dry and sensitive skin should look for soothing ingredients like aloe, vitamin E, and shea butter, and stay away from harsh ingredients like alcohol and menthol. But if you have a more oily complexion or tend to get a lot of ingrown hairs, a formula with astringent qualities could be very beneficial. Ingredients like witch hazel and eucalyptus oil are known to kill bacteria, tighten pores, and give you a more matte complexion. If you're not sure what skin type you have, a quick trip to the barber or to see a dermatologist will help you gain a better understanding of what your skin needs to look and feel its best.
Moisturizing ingredients: Dr. Nikhil Dhingra of Spring Street Dermatology in New York says that moisturizing after shaving is "quite possibly the most critical step in post-shave care." When you shave, he says, you're stripping the skin of its natural oils. So if you don't add any moisture back in, your skin is far more likely to feel uncomfortable after shaving, potentially leading to ingrown hairs, dryness, and razor burn. Regardless of your skin type, the aftershave you use should contain moisturizing ingredients. As with facial moisturizers, the dryer your skin is, the richer or thicker you'll want your post-shave moisturizer to be. Ingredients like shea butter and avocado oil are good examples of rich, moisturizing ingredients. If you have trouble with frequent breakouts, you'd be better off using something more lightweight, like glycerin, that won't clog pores.
Balm versus liquid versus gel: Mark Miguez of Friend of a Barber says that he can tell just by feeling the texture of an aftershave with his fingers whether he will like using it or not. He is strongly in favor of balms over liquids or gels because he finds they are the most moisturizing of the bunch. But others might find a balm-style aftershave too thick and prefer a cooling gel or liquid. Because you can't feel each of the below products through your screen, we've noted whether each one is a balm, a liquid, or a gel.
Best overall aftershave
Good for sensitive skin | Vitamin E, chamomile, and witch hazel extract | Creamy liquid
This alcohol-free soothing aftershave was recommended by six of the 14 experts we talked to and more often than any other product. Dermatologist Tsippora Shainhouse says that people with sensitive skin should not only avoid alcohol-based formulas that can dry out their skin, but also stay away from fragrances and irritants like menthol and lemon oil, which can cause breakouts and redness. Dr. Erum Ilyas of Montgomery Dermatology gives Nivea's Post Shave Balm top marks for its hydrating and soothing vitamin E.
Dermatologists Bruce Robinson, Dr. Michele Green, and Dr. Shari Sperling, as well as barber Mansour Smaini of Epic Barber Shop in NYC, also like Nivea's post-shave balm for its moisturizing formula that's alcohol-free. Robinson says the bigger brand name means you're getting a product that has had plenty of research baked into its development process. "I think they nailed it on this one," he says.
Best vegan and paraben-free aftershave
Good for dry and sensitive skin | Avocado oil, squalane, and niacinamide | Balm
Aside from texture, Miguez's top criteria for aftershave is that it's made with clean ingredients. His favorite aftershave is this creamy balm from Le Labo. In addition to ultra-hydrating avocado oil, squalane, and niacinamide, it has the slightly floral scent of bergamot. "The smell reminds me of the south of Italy. It's really soothing, doesn't dry you out, and there's no waxy residue to it," he says.
Best aftershave for oily or acne-prone skin
Good for oily skin | Witch hazel, eucalyptus oil, and menthol | Liquid
Though alcohol-based formulas can be overly drying for many skin types, they are helpful for reducing shine and grease if you have oiler skin. The goal is to avoid any potentially pore-clogging ingredients like coconut oil or cocoa butter, says dermatologist David Lortscher.
Elle Medico, men's grooming expert at Paul Labrecque Salon & Spa, and dermatologist Samer Jaber both mentioned this tried-and-true liquid aftershave from Italian brand Proraso. Jaber says it's gentle enough to use every day, and Medico says it's easy to find in any drugstore and great for closing the pores and making the skin look tight and fresh. If the astringent effect of this aftershave is a little too intense for you, Medico recommends putting some of it on a washcloth and diluting it with a touch of water before applying to the skin.
Best aftershave for preventing and treating razor burn
Good for irritated skin | Aloe, glycerin, chamomile, and lavender | Gel
If post-shave irritation is your gripe, you might want to seek out an aftershave with skin soothers that will help prevent and treat razor burn. Sperling, Lortscher, and grooming expert Laurent DeLouya of La Boîte a Coupe suggest Jack Black's Post Shave Cooling Gel for its blend of botanicals, like bacteria-fighting lavender, plus calming aloe and chamomile. Sperling also points out that it's alcohol-free, so it won't dry out or irritate your skin.
Best anti-inflammatory aftershave with shea butter
Good for dry skin | Shea butter, glycerin, and birchwood sap | Balm
The added shea butter in this L'Occitane shave balm is why Jaber recommends it as a moisturizing option for people with drier skin. Shea butter is a superhero when it comes to moisturizing dry skin (and we think it feels luxurious, too). It also has a blend of anti-inflammatory and antiseptic essential oils, like birchwood sap and rosemary, that will kill bacteria and soothe your skin.
Best (slightly less expensive) aftershave with shea butter
Good for dry skin | Shea butter, glycerin, and grapeseed extract | Thin balm
At $11.50 per ounce, this Art of Shaving Balm is slightly less expensive than the L'Occitane one above. It's also a favorite of both Sperling and cosmetic dermatologic surgeon Howard Sobel, since it's alcohol-free and contains skin-plumping shea butter and essential oils.
Best aftershave for preventing and treating ingrown hairs
Good for skin prone to ingrown hairs | Alcohol, aspirin, and glycerin | Liquid
According to Ilyas, washing with an antibacterial soap and changing your razors routinely to avoid bacteria from building up around hair follicles, nicks, or cuts can help prevent ingrown hairs. But if you already have one (or a few), Tend Skin Solution comes recommended by two of our experts. Jaber describes it as soothing and calming for skin; it also has acetylsalicylic acid (aspirin) to help exfoliate and decrease skin irritation. Green says it's a tried-and-true treatment for ingrown hairs that's been around for a long time. "It's the original," she says, noting that both men and women have had success using it for years. While Tend Skin is very popular and effective at preventing ingrown hairs, it can also be drying because of the alcohol in it. So our experts advise using it sparingly at first.
Best exfoliating aftershave
Good for dry skin prone to ingrown hairs | Jojoba oil, mineral oil, glycerin, and salicylic acid | Balm
Ingrown hairs are caused by dead skin clogging up a hair follicle and trapping hair beneath the skin, so it's important to exfoliate regularly. Lortscher says this Aqua Velva balm is both moisturizing (with added jojoba oil, mineral oil, and glycerin) and exfoliating. Unlike the Tend Skin above, it is alcohol-free. "It contains salicylic acid, which provides gentle exfoliation to help prevent ingrown hairs," he says. Incidentally, the salicylic acid would also help someone with acne-prone skin.
Best aftershave for aging skin
Good for dry, aging skin | Eucalyptus, arnica, and vitamin C | Liquid
When it comes to aging skin, Dhingra says you may need to amp things up with more than one product — think layering. "Your skin dries out as you get older, and that dryness may set you up for inflammation after shaving," says Dhingra, who recommends starting your post-shave routine with this soothing anti-inflammatory tonic from Fellow Barber. It contains cooling eucalyptus as well as arnica, which decreases inflammation, and skin-brightening vitamin C.
The Strategist is designed to surface the most useful, expert recommendations for things to buy across the vast e-commerce landscape. Some of our latest conquests include the best women's jeans, rolling luggage, pillows for side sleepers, ultra-flattering pants, and bath towels. We update links when possible, but note that deals can expire and all prices are subject to change.
Every editorial product is independently selected. If you buy something through our links, New York may earn an affiliate commission.