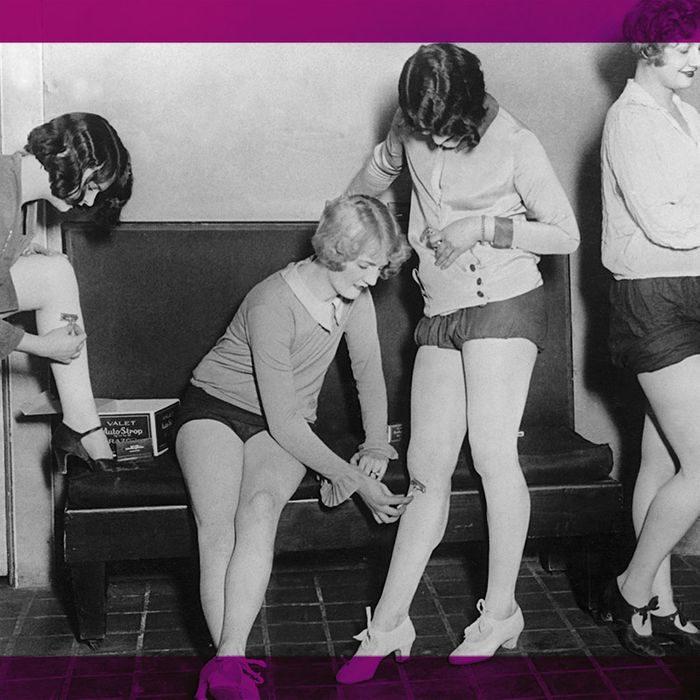 I have the most sensitive skin. My limbs can get red just from touching because they prefer to be kept well alone. Add to that my propensity for getting ingrown hairs and my overall hairy bod, and shaving becomes the biggest literal pain. Thanks to the wisdom of my mother, I would use the fancy five-blade razors every other day like clockwork. Of course, when I was done, I'd be covered in a mixture of razor burn, ingrown hairs, and generally itchy skin. I went through years of trying different lady razors and different shaving creams, foams, and gels. I tried waxing (at home, don't recommend), but nothing made de-hairing a pleasant part of my routine.
Friends in the past have recommend men's razors because of the pink tax, they really think the Schick Quattro is better, or because they liked the ease of men's-razor delivery services. But it wasn't until I fell down a Reddit rabbit hole that ended with reading the r/ladyshavers page dedicated to women using vintage-style men's single-blade razors that I knew I had to give it a try. My legs depended on it. After hours of research, I landed on the less-than-$20 Weishi Safety Razor.
You have no idea how life-changing it was using it for the first time. All the irritation that I got with other hair-removal systems was gone. I learned that because there is only one blade crossing your skin, it's less irritating than five blades (one after the other after the other) going over the same spot. The major differences between this razor and every ladies razor of my shaving past is its weight, which keeps the razor in contact with your skin without needing to push down so hard that you nick yourself. This thing is seriously, surprisingly weighty if you're used to featherlight plastic — but it works so much better. Because it doesn't have a tilting head, you do need to learn how to hold it at the correct angle (30 degrees, thanks Lady Shavers), which takes getting used to, but quickly becomes second nature. Being able to shave without having my skin erupt in anger afterward is enough to have me buying replacement razor blades till the end of time.
Writer Fiona Byrne fell in love with the Braun epilator: "It's an epilator, which means there's a rotating head with inset tweezer-type things that spin around akin to a paint roller. You move it over your skin as you would a razor, except instead of shaving your hair, it's plucking each one out. Even the short, fine ones."
According to the Cut's beauty editor, Kathleen Hou, these tiny Japanese facial razors are "small enough to fit under your chin, with enough of an edge to remove peach fuzz, yet not so sharp that they'll nick you." Read more here.
The Strategist is designed to surface the most useful, expert recommendations for things to buy across the vast e-commerce landscape. Some of our latest conquests include the best hair care essentials, whitening toothpaste, very black mascara, tinted lip balm, acne mask, magnifying mirror, and all-natural deodorant. We update links when possible, but note that deals can expire and all prices are subject to change.
Every editorial product is independently selected. If you buy something through our links, New York may earn an affiliate commission.