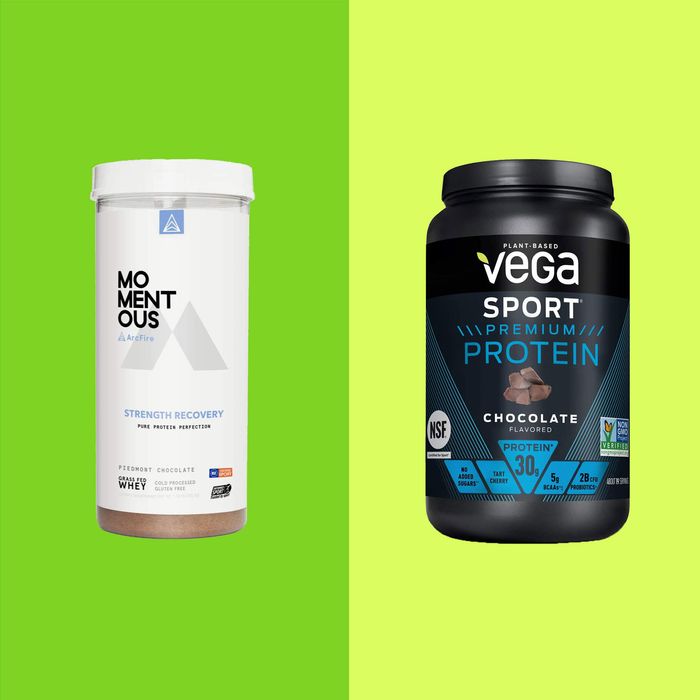 Photo-Illustration: Paramount Pictures
Increasingly popular for their ability to help all kinds of people gain and retain muscle (or just keep to a more balanced diet), protein powders can be found in thousands of formulations on tens of thousands of shelves across the country. But with so many to choose from — and each with its own list of somewhat unfamiliar ingredients — those new to protein powders might find it hard to know which is the right one for you. "There are a lot out there," admits nutrition and fitness coach Gabbi Berkow. "My clients often come to me confused about which to buy."
In talking to Berkow and four other nutritionists about how they help clients choose the right powder, all told us the first and main decision is whether you want an animal- or plant-based protein powder, which they say comes down to dietary preference. (A person's age or body type are not really factors to consider, according to the experts.) If you're going animal-based, the nutritionists say powders with whey protein (which comes from cow's milk) are generally what they recommend for the most-digestible, fast-acting powder to help with muscle building and weight loss. If you're going plant-based, they recommend powders made with pea protein, for the same reasons. While they warn that some people may experience issues like stomachaches with plant-based powders, all of the ones in this story are easy to digest, according to the folks who recommend them.
From there, the experts say it comes down to choosing a flavor you like — and a powder that has as few chemical additives and artificial sweeteners as possible. Nutritionist Ariane Hundt cautions to avoid powders that have Splenda and instead look for ones with natural sweeteners like stevia or monk fruit. With this advice in mind, we asked the nutritionists — and 12 fitness experts who use protein powders regularly — about their favorites. Their recommendations below are broken down into two categories — animal- and plant-based protein powders — each of which includes a variety of flavors and some more specific options for competitive athletes or folks looking for something that can double as a meal replacement.
Best animal-based protein powders
Best unflavored whey protein powder
All of our nutritionists agree that most people using an animal-based protein powder will find those made with whey to be the easiest to digest and the fastest in terms of muscle growth. There are two types of whey protein — whey protein isolate and whey protein concentrate — and the experts say the best kind is whey protein isolate, because it is strained in a way that gives it a lower lactose content than whey protein concentrate. Personal trainer Kern Alexander told us that after 15 years of trying different options, his powder of choice is this unflavored one from Now Sport, a brand Berkow cited as one to look for. It contains whey protein isolate and "isn't loaded with artificial sweeteners," according to Alexander, who says its lack of flavor means "I can add berries and banana and just taste those."
Best chocolate-flavored whey protein powder
Trainer Taj Felix told us he's been using this chocolatey whey protein powder from Optimum Nutrition, which contains a blend of whey isolate and concentrate, for "about eight years now" and that many others in his industry use it, too. (Berkow named Optimum Nutrition as another reputable brand.) According to Felix, part of this powder's appeal is that it "doesn't have a ton of ingredients, which can make people nervous." A self-described chocolate fan, he adds that this powder mixes smoothly, actually tastes "very good," and is never chalky.
Best vanilla-flavored whey protein powder
If you prefer vanilla to chocolate, celebrity trainer Steve Uria says this whey protein powder — also a blend of whey isolate and concentrate — has a minimal ingredient list and is his favorite of the ten he's tried. Uria told us he has used it for four years and that he never experiences "any bloating or gas." While his favorite flavor is vanilla, he says the brand makes other options "like Peanut Butter Marshmallow, which let me switch it up occasionally."
Best whey protein powder for competitive athletes
According to the nutritionists, a cow's diet can make a difference in the quality of whey protein. If they're grass-fed, the milk they produce (and any whey protein derived from it) will be hormone-free. This chocolate powder's whey protein isolate is derived from grass-fed cows; it's a favorite of fitness expert Jeff Halevy, a former health correspondent for the Today Show, who says it is "not overly sweet" and the best of some 15 other protein powders he's tried. Another reason Halevy likes this protein powder is because it's NSF-certified, which trainer Don Saladino explains is a "nationally recognized verification that proves there are no banned substances in the product," making it a great option for athletes who compete professionally.
Best (less expensive) whey protein powder for competitive athletes
Saladino, who trains actors like Hugh Jackman and Ryan Reynolds for their superhero turns, told us he prefers this less-expensive, NSF-certified powder that contains whey isolate protein derived from grass-fed cows' milk. He prefers the taste of this chocolate flavor, but notes you can get it in others.
Best whey protein powder that doubles as a meal replacement
All of our nutritionists stressed that protein powders should really be taken as a supplement to three balanced, protein-rich meals over the course of a day ("no powder is giving you something you won't get from nuts, eggs, or fish," according to nutritionist Heidi Skolnik). That said, we heard about some companies, like Isagenix, that pack their protein powders with additional vitamins and minerals to make them more appropriate as a meal replacement. Trainer Ariel Brill says Isagenix's "unique blend of macronutrients" in this powder are "representative of a complete meal," which is why it is his go-to. "This shake packs in 24 grams of grass-fed whey protein with superior branched amino acids, making it a great protein powder for muscle building," he explains. "It also contains active enzymes to allow for easy digestion and fuels the body with high doses of 23 essential vitamins and minerals." The fact that it comes in individual packets makes it even easier to sub for a meal now and then, according to him.
Best plant-based protein powders
Best unflavored plant-based protein powder
For vegans, vegetarians, lactose-intolerant folks, and anyone else who doesn't eat animal products, plant-based protein powders are (obviously) the way to go. As the nutritionists told us, powder made with pea protein is generally seen as the most effective plant-based alternative to whey. And they say a pea protein isolate, like a whey protein isolate, is even better, because it has the highest amount of protein per scoop. Like Alexander, fitness coach Ebonny Fowler prefers an unflavored protein powder so she can better mix it with other ingredients. But unlike Alexander, she follows a mostly plant-based diet, which is why she looks for powders with pea protein isolate and "no added sugar, preservatives, or fillers, so the only ingredient is pea protein isolate." While her favorite powder is currently out of stock, this one from Now Sports — a brand mentioned by nutritionists and trainers — has a similar formulation, in that its only ingredient is pea protein isolate.
Best chocolate-flavored plant-based protein powder
Two of the nutritionists we spoke to named Orgain as a reputable brand, and trainer Ray Grayson told us he has used this chocolate-flavored powder from the company for two years (after trying more than 20 other kinds). Made with a blend of pea, chia seed, and brown-rice protein, Grayson says it won out because it tastes good and has "clean ingredients without a bunch of fillers."
Best vanilla-flavored plant-based protein powder
Alo Moves instructor and nutrition coach Roxie Jones says this vanilla-flavored powder made with a blend of rice and pea protein is "the first plant-based powder I've tried that doesn't taste chalky or funky." She adds that it also "blends really well, almost to a thicker consistency, when added to oatmeal or smoothies." Jones told us she's "recommended it to all of my clients, especially the ones with digestive troubles, and so far they've all enjoyed it too."
Best plant-based protein powder for sweet tooths
Will Jackson, the founder of New York City fitness studio WRKNYC, says his favorite protein powder is TRU's plant-based Peanut Butter Banana Cupcake powder because it's "a little on the sweeter side," which is a plus for him. He started (and has stuck to) using the powder made from a blend of pea and rice protein after trying a number of other plant-based options that "didn't check out."
Best plant-based protein powder for competitive athletes
As a competitive racer, running coach David Roche says his main requirement in a protein powder is that there are no ingredients that could be bad for his health or drug-testing. Made from a blend of pea, pumpkin, and sunflower-seed protein, this powder from Vega Sport (a brand Berkow approves of) is NSF-certified, which is a big reason why he says it's his favorite of the dozens he's used over the years. Another? The powder's "light chocolate taste" is "smooth and not overpowering," according to him.
Best plant-based protein powder that doubles as a meal replacement
Two people we talked to — celebrity trainer Justin Gelband and Brill — recommend this chocolate protein powder from Isagenix if you're looking for a plant-based one to sub for a meal now and again. Like the brand's whey-based powder, a serving of this has lots of vitamins and minerals (21, to be exact) in addition to its namesake ingredient, which is a blend of pea, fava bean, and mung bean protein. Gelband, who has been using it for five years, describes the powder as "vegan, with very little carbs, sugars, and not a lot of salt or bad ingredients." He adds that, every year, the brand finds a way to make the formula "a little healthier and cleaner."