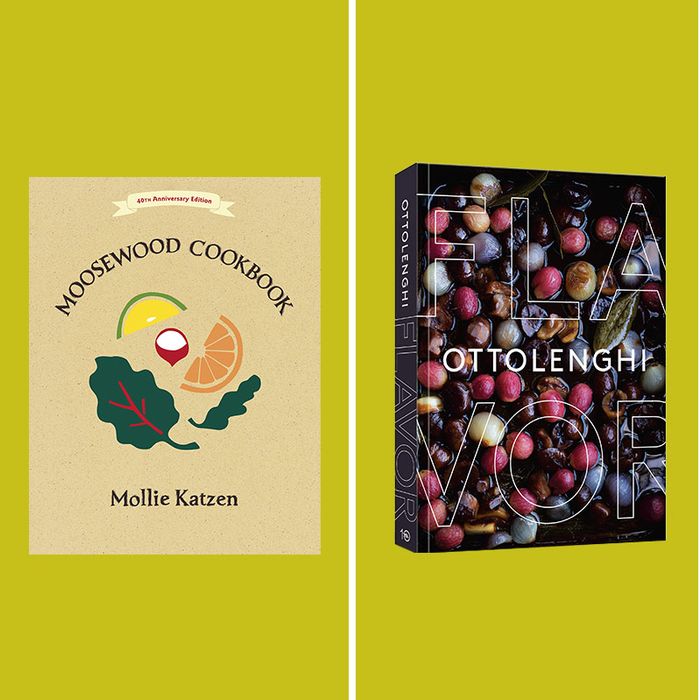 Photo-Illustration: reatilers
Maybe you're finally feeling ready to eat a more plant-based diet, but aren't sure how to prepare vegetables without being totally boring. Perhaps you've decided to purge all animal products from your diet, but aren't sure where to start. Or maybe you're a longtime vegetarian or vegan who's just trying to shake up your routine and get a few new recipes under your belt. Whatever your reason for wanting to prepare more plant-based meals, there's a cookbook that can help, no matter your skill level. To find the best vegetarian and vegan cookbooks, we spoke with plant-focused chefs and cookbook authors about their favorites. We've separated their recommendations below into two categories — vegetarian and vegan cookbooks — and each begins with the titles that came up the most before going onto more niche recommendations.
Best vegetarian cookbooks
Best overall vegetarian cookbook
The recipes by Israeli-born British chef Yotam Ottolenghi were mentioned by a couple of our chefs, including David Lee of Planta, in Miami Beach, and Stacy Seebode, a Michelin-trained private chef, who particularly loves this cookbook. It's co-authored by Ixta Belfrage, one of Ottolenghi's former test-kitchen staff, and Seebode explains that "it is truly globally forward and flavored: You will see Korean and Syrian ingredients living harmoniously together, all with texture and 'of the season' highlights in one recipe." She adds: "We have so many similar ingredients (i.e. the French use Espelette, Spanish use Pimenton, Koreans use Gochugaru), and this book reflects exactly that — plant-based dishes with creative, delicious marriages."
More recommended vegetarian cookbooks
Photo: Retailer
Bryant Terry, the chef-in-residence at San Francisco's Museum of the African Diaspora and author of Vegetable Kingdom: The Abundant World of Vegan Recipes, told us this cookbook by Deborah Madison was his "go-to reference for meat-free cooking," when he moved to Brooklyn in 1997 (the same year the cookbook came out). He says it's just as influential now as it was then: "Madison's modern approach to working with vegetables continues to inspire my cookbook writing." Terry started using it as a culinary student and notes the cookbook is great for new and experienced chefs alike. With more than 1,600 recipes, it "provides enough unfussy tips and tools to give culinary novices the confidence to dive into vegetarian cooking, and it is a valuable resource for experienced chefs as well," according to him. Terry adds that he's given it as a gift to "to dozens of friends — omnivores, vegetarians, and vegans — and they all have only good things to say about it."
Photo: reatilers
Seebode's other favorite vegetarian cookbook is this 2020 one by Shin Kim. "Many people assume Korean cooking is fish- and meat-based and don't realize that most Korean cooking has roots in solely vegetarian, temple food," she explains, adding that Kim's "lack of pretension and minimalist ingredient-list approach" are two things that make the book stand out. "She really has a way of making Korean staple vegetables like perilla, young radish, and eggplant sing," Seebode says of Kim's recipes.
Clara Polito Robinson, the author of vegan-dessert cookbook Clara Cakes: Delicious and Simple Vegan Desserts for Everyone!, swears by this Alice Waters tome, calling it "the most resourceful vegetable-cooking dictionary." Organized alphabetically by vegetable, she says the cookbook makes "creating meals that would be traditionally meat-centric with vegetables less challenging and more exciting."