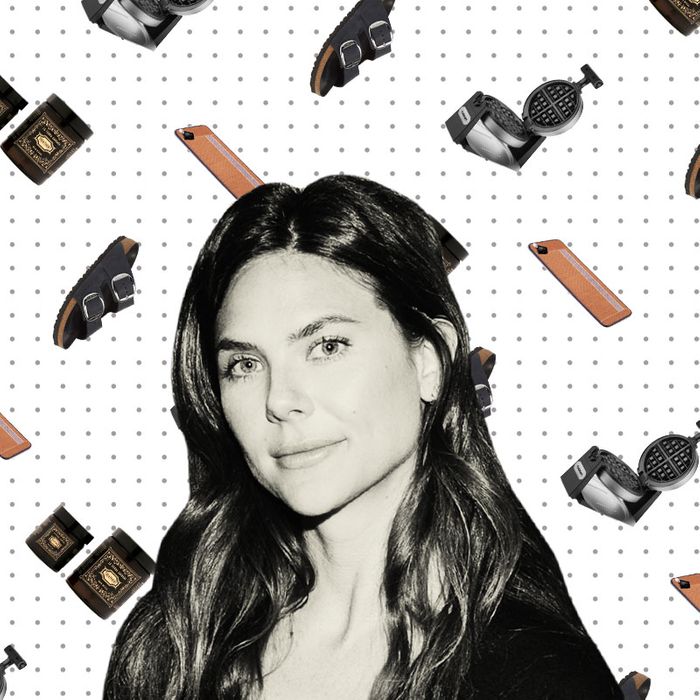 Photo: Courtesy of Amanda Chantal Bacon.
If you're like us, you've probably wondered what famous people add to their carts. Not the JAR brooch or the Louis XV chair, but the hand sanitizer and the electric toothbrush. We asked Moon Juice founder Amanda Chantal Bacon about the sandals, hair treatment, and waffle maker she can't live without.
I've been wearing Birkenstocks since I was a kid, but now everyone is obviously wearing Birkenstocks. They have these special-edition ones in the matte leather, and I just think they're really nice. Those are like my fancy Birks. I wear them every day. They also make me feel a little less crazy when I walk into a meeting or go out to dinner — having this gold buckle makes me feel a little more buttoned up. [Editor's note: Bacon's exact gold-buckle Birkenstocks are sold out, but these are similar.]
When anyone is pregnant or when someone's wife becomes pregnant, I get the text: "What prenatal should we be taking?" It's something I get asked more anything. I took them with my first child. We're in the baby-making process so I have been taking and will continue to take them when I'm pregnant and then when I'm postpartum. I think they're a really good supplement for anyone — pre-, during, or post. There are three supplement companies that I really trust — I know the supplement industry really, really well — and Thorne is the most widely available company putting out high-quality, clean, bioavailable supplements.
I love Agent Provocateur's bras. I think they're known for their more sexy-occasion suits and playthings, which is all fine and great and I have some of those too, but truly their bras are the ones I wear every day. They're great fitting, they're not all decorated with bows. They're really high-quality; I throw them in the washing machine and dryer and they hold up. Sadly they change their styles every quarter, so buy three of them, which I have done. But they always have a sheer, underwire demi-cup that fits me so well.
I use it every time I brush my teeth. I've done it for years — I can't imagine not doing it. It's as important for feeling clean and for hygiene as brushing my teeth, and I know that by scraping the tongue, you're helping the entire body get rid of stuff it is trying to push out. Not only does it make your mouth feel clean and lovely, it's a helping hand to your whole system.
I had linen sheets for years and years, then went on to only having organic linen sheets for years and years. It's such a thing when you really get into them, and they can be really expensive. And I have found that a lot of the more expensive ones, within a year, the duvet and the bottom sheet, they just disintegrate, and it happens year after year. The Coyuchi ones, the fact that they're linen and organic is great, and they also haven't broken down. They're still standing, and it's been over a year. I get them in white. I've tried color, I've tried to mix it up, but I'm really into white — white walls, white towels, white sheets.
I probably make pancakes or waffles three times a week, sometimes five. They're really a staple in my home. I love them, my kids loves them, my husband loves them. Since I make them with grain-free batter — I have a bunch of the dry mix all ready to go — it doesn't feel like a huge carb-sugar bomb to throw on everyone. I put raw butter or ghee on them too, which I think is good for everyone to eat. The waffle maker just brings a little vibe — they're fun. When the machine first arrived, I was like, "What does everyone want — pancakes or waffles?" Everyone was like, "Waffles, obviously."
I've had one of these for the entire time I've lived in Los Angeles, and it's all I need. You can cook anything in that thing — spaghetti, lentils. And it's a great way to add a little iron to your diet; every time you cook in that pan, it puts a little iron in your food. So if you're cooking something a few times a week, just do it in that pan.
I love cacao. I love the flavor. But I also use it as a supplement — it's so energizing and mood-boosting. To be able to have a bite here and there, it really does get me going. I'm not a fan of having a lot of excess sugar. I weaned myself down to 100 percent cacao. So I really am just tasting the cacao, which after years of doing it, has become really beautiful. I appreciate cacao's tastes the way someone might taste the nuances in coffee beans or wine grapes. And Dandelion does a wonderful job of sourcing their beans. I have a drawer filled with 100 percent cacao bars. I won't eat a whole bar at once. But there are 15 open bars in this one little drawer, and I'll just cruise by and take a little bite.
I've had my BioMat for probably 13 years, and it's like my blankie at this point. If I feel distressed in any way, feel sad in anyway, feel a little cold coming on, or my muscles feel tight, anything, I just hop on the BioMat. I keep it on my bed, but I can't do that in the summer because it's too hot. Now we're going into BioMat season, which is very exciting. I'll lay on it for an hour before bed, then roll it up, or fall asleep on it and kick it off in the middle of the night. I actually split my Bio Mat last week, and all the crystals came popping out.
They claim it can cure cancer and help with autoimmune disease, and that's why I got it, for autoimmune stuff. Nothing that drastic has happened to me. But I do feel really good on it. If I'm stressed, aggravated, or worried about anything, I can get on the BioMat, and truly, within 20 to 30 minutes I actually feel as if I've unflipped all my switches. I can rationally and calmly, with some space and distance, think about some things, and that's pretty incredible. It also just makes me sleepy, so it's part of a nighttime ritual. It calms my nervous system in a very palpable way. Also, I noticed that it's helped with my immune system. If I feel like I'm getting sick, and I'm doing all the things — taking all the vitamins, taking care of myself, and diligently getting on the BioMat twice a day — I really do think it seems to help with that.
My friend Stephanie makes this, and it's a better version of coconut oil for your hair, which I have also done for years. Stephanie's version is a mix of some other oils. It's just as greasy as the coconut oil — there's nothing cleaner or more convenient about it. But it smells nice, and whatever other oils she does add in, I do feel it gives a little extra quench to the hair.
This organization works at reversing climate change through regenerative agriculture. The way we grow food now, we deplete the soil — it's one of the largest contributors to CO2 emissions. There are many things that contribute to it, but typically with a monocrop, like wheat or soy or corn, once they do a huge harvest and rip everything up, it's left barren for many years. You'll see thermal-analysis pictures of the earth from space, and it's always heating up in those places where they've harvested and just left the soil bare. This group educates people like us, but they also work directly with farmers and large food corporations.
This stuff works on all the little things that I pay special attention to in my skin. I've never had acne, and I don't really get breakouts, but I will get clogged pores and little blackheads. And obviously some fine lines are starting to come in. I live in California, and it's the desert, so my skin gets parched. All that contributes to blackheads, clogged pores, uneven texture, fine lines. So I put the acid potion on every night, and it really goes in and cleans out the pores. It works really well to hydrate. There are a lot of B vitamins that help to plump the skin up. There's reishi, which helps with the environmental stuff, whether it's sun or smog. I do it at night, because I drive, so sitting in a car with the California sun for two hours, I get a little nervous. But I really noticed how all the little pores just shrink. I stopped using it as an experiment — I think I got to 11 days — and I was like, "Okay, I'm done, all my little pores came back."
The Strategist is designed to surface the most useful, expert recommendations for things to buy across the vast e-commerce landscape. Some of our latest conquests include the best acne treatments, rolling luggage, pillows for side sleepers, natural anxiety remedies, and bath towels. We update links when possible, but note that deals can expire and all prices are subject to change.
Every editorial product is independently selected. If you buy something through our links, New York may earn an affiliate commission.