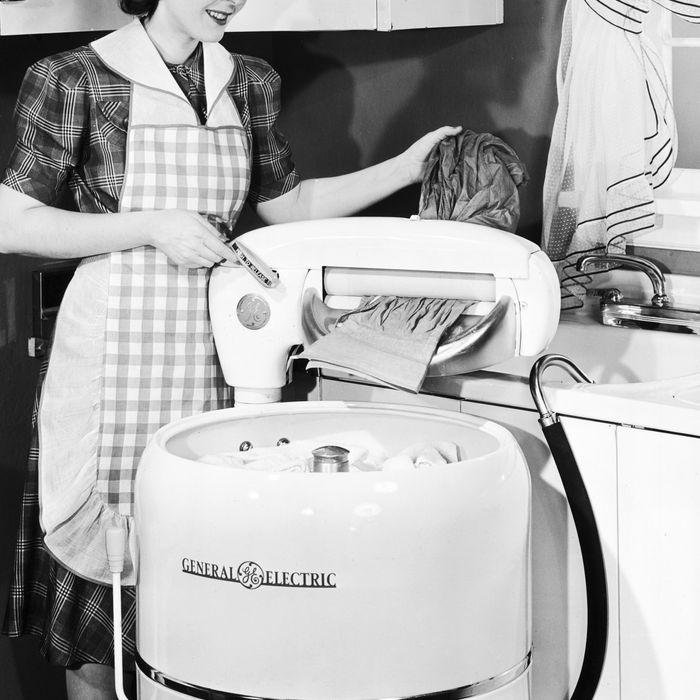 None of these will require wringing with a crank.
Photo: Hulton Archive/Getty Images
The last time I brought clothes to the laundromat to be washed, dried, and folded, it cost $52. That is a perfectly acceptable price for many items — like a new pair of shoes, or a watch — but for a twice-a-month wash-and-fold, it's not sustainable. Neither is trudging up and down the four flights of stairs to my apartment, lugging a 30-pound bag to the nearest do-it-yourself laundromat. Especially in winter. And summer. My solution is a portable washing machine — one of those little guys that plugs into a regular outlet and faucet and that you assume can't possibly work very well. Indeed, it does not work very well. But it does work, has saved me hundreds of dollars, and I've come to love the thing.
Most washer-dryers require a dedicated closet, specialized water hookups, and high-voltage outlets. Portable washing machines require none of those things. They take up a few square feet and use regular plumbing and power. These machines don't dry clothes; instead they have a spin cycle, which is basically a motorized salad spinner that reduces the waterlogging of clothes from "soaking wet" to "less wet than before." For all these reasons, portable washing machines aren't for everyone, but they can be a godsend to some. You must find lugging laundry to a laundromat either too much of a pain or too expensive. Perhaps you're a parent of young children and need a small, efficient machine to wash kids' clothes, which are frequently disgusting and stained. And it helps if you have a good amount of direct sunlight for drying. A sunny, big window is fine; a balcony or fire escape is better.
When I decided to buy a portable washing machine, I did the best research I could, which mostly consisted of reading Amazon reviews and watching poorly filmed YouTube videos. I ended up with the Haier HLP21E because all of the Haier models seem basically the same, and this one was being sold on Craigslist, for $50, one neighborhood over. It's an all-in-one machine, meaning the same tank washes and spins clothes, and it's made of solid metal, instead of plastic. Because portable washing machines are small and not that powerful, you have to be sort of careful in the way you load them. Too small a load, and the spin cycle will be thrown off-balance; too large, and it will have trouble washing the entire load, but the drawbacks are surprisingly small compared with the advantages. The model I have is discontinued (although as of now there are a few used ones being sold from Amazon's Warehouse), but these are the ones I would consider buying if I had to do it over again. If you grumble about your laundry every time you lug your bag of dirty clothes to the laundromat, check one of these out.
The portable washing machines I recommend
The best machines overall are the top-loading, single-stream machines. A few different companies make these — like the Haier I went for — but the best-reviewed one on Amazon is from Black & Decker. It doesn't hold as much as it could, at only about six pounds, but it'll fit in more places and run through the entire wash-rinse-drain-spin-dry cycle without you having to do anything. It also has wheels, and it's made of metal (rather than the plastic of the cheaper models), which is more durable and allows the machine to boast a more violent and effective spin-dry cycle. This is the one I would buy if I had to do it over again.
The Kuppet Mini is a side-by-side machine, meaning the washer and salad spinner are in two separate compartments. The spinner is slightly smaller than the washer, which means you can only wash half as much laundry as you could in a similarly sized all-in-one machine — it holds just 4.7 pounds of laundry. At this size, it's best for mobile use, perhaps in an RV, or for people with small homes who need a quick way to wash cloth diapers or something like that.
Kuppet makes a few sizes of these; this one is about twice as big, holding 10.1 pounds of laundry in the wash side. That's the standard size for portable washing machines that can substitute for normal washing machines, but it's certainly still smaller than a normal washing machine. A nice thing about the Kuppet machines is that they can be filled by just dumping in a bucket of water, which means you don't have to worry about finding the right adapters and hookups. This machine, it's worth noting, is among the biggest portables you can find, so you can wash more laundry per batch, but at more than two feet wide, you'll need more space for it.
The water-diverting adapter
The valve (where you screw in the hose that connects to a water source) is a totally standard washing-machine attachment. You can replace these as needed with very cheap hoses from a hardware store. From there, you can buy adapters that will let you screw the hose into whatever water source you want, but I recommend the shower. This brings up the issue of having to unscrew the washer and screw in a showerhead when you want to take a shower, and vice versa when you want to wash clothes. Not ideal, but there's also an adapter for that — problem solved.
Drying accessories
Drying is an issue. These washing machines have a spin cycle that's pretty good at getting excess water out, but your clothes will emerge slightly damp and certainly not wearable. There are a few solutions, first of which is a drying rack. They're best when placed in direct sunlight, preferably outdoors— I use my tiny balcony — or in a sunny window. Opt for a metal one like this AmazonBasics model because the wooden ones, while cheaper, often break from the stress of having heavy, wet clothes draped on them for hours. The upside of drying racks is that they're super cheap, literally free to operate, use no electricity, and fold up into an easily-stored flat pack.
This MeyKey dryer is a drying rack enclosed in a bag, with a small heater attached. These are fairly low-energy and will do a fine job of drying clothes more efficiently than an air-dry rack. Reviewers on Amazon love it.
There aren't many true electric dryers that plug into a standard 110-volt outlet, but reviewers seem to like this Panda model, which is described as drying a load of laundry in around two hours with minimal dollars added to the electric bill. But these are expensive; if you opt for the best washer and this dryer, you're looking at about $500, which might be more than you want to spend.
The Strategist is designed to surface the most useful, expert recommendations for things to buy across the vast e-commerce landscape. Some of our latest conquests include the best acne treatments, rolling luggage, pillows for side sleepers, natural anxiety remedies, and bath towels. We update links when possible, but note that deals can expire and all prices are subject to change.
Every editorial product is independently selected. If you buy something through our links, New York may earn an affiliate commission.