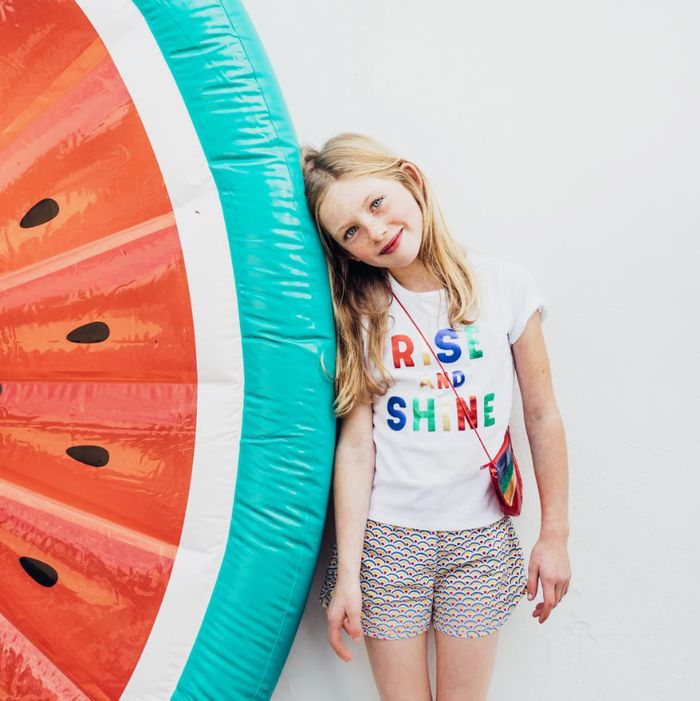 Finding nice children's clothing can be tricky, especially when it comes to well-worn staples like kids' T-shirts. You want a kids' tee that's functional, meaning it'll keep its shape and color after countless spills and stains and cycles in the washing machine. But you also want it to be cute, something that expresses your child's personality and doesn't take itself too seriously. So to find the best T-shirts for kids that strike that balance between fashion with function, we surveyed nine stylish parents about their picks, ranging from toddlers to 10-year-olds. Below, 15 of their kid-tested and parent-approved picks.
"I fantasized about dressing my daughter in chic French labels, but, alas, it's only cotton graphic tees from Target and H&M," admits Candice Pool Neistat, founder of Finn Jewelry and Billy. "And any ruffles are out. Le sigh. It's all she'll wear, and I'm okay with that (now). I don't feel bad if she gets paint on them, or if I wash and dry them a hundred times."
For another price-conscious option, Shirin von Wulffen, co-founder of Bastide, loves Zara. "They have just enough color and fun for kids to love and just enough style to appeal to moms too. Also the cuts, cotton, and lengths are great."
Zara's design-free kids' tees are also sub-$20, with a similarly louche feel and surprisingly handsome detailing, like the buttons on this Henley.
Stylist Djuna Bel has a few kids' tees on repeat all summer. "Bonton is just hands down always a good choice for kids' basics," or basics with a twist, like this striped T-shirt.
A less-pricey, yet still-handsome, alternative for the striped Bonton shirts are these from Gap Kids.
For something with a bit more of a bohemian feel, "Raquel Allegra's kids' tees have a generous neckline, so they're super fuss-free. Plus, they're supersoft, breathable cotton," Bel explains.
"I have a 5-year-old (and a 4-year-old), and I love Ice Cream Castles because they are kid-friendly themes in cool graphic designs," says Ashley Merrill, founder and CEO of Lunya.