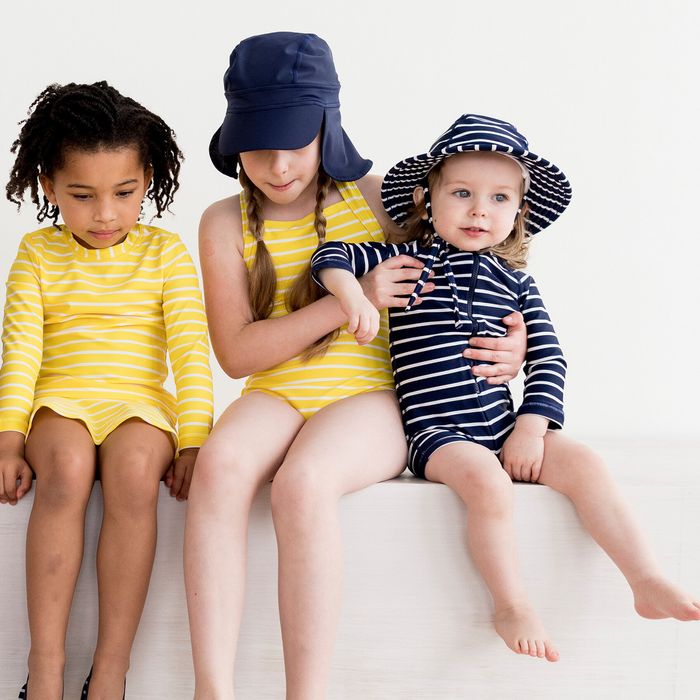 Photo: Courtesy of the retailer
Once your little swimmer is familiar with the water, he or she will soon be ready for the big kids' pool. That means graduating from a swim diaper (if your young one is potty-trained) and stepping into a real swimsuit. To find the cutest boys', girls', and gender-neutral swimsuits for kids and toddlers, we spoke to 11 cool parents about their favorites. Below, 19 adorable picks for your little tadpole, whether for splish-splashing at the pool, or braving the waves at the beach.
Best swimsuits for boys
The brand that our panel of cool parents recommended the most was H&M, especially for boys. "I buy the bulk of my son's swim suits from H&M," says Heidi Reiss, co-owner of swim school Aquabeba. "They last long and are affordable enough to recycle when he wears through them. Also the standard bathing suits are not too bulky." Kate Schmitz at Flying Squirrel agrees: "They're small, Euro-style shorts that dry quickly, look cute and don't have tons of extra material like all the other boys swim trunks." Both Reiss and Schmitz specifically recommend the swim trunks, which are made of a stretchy material and are closer fitting than regular swimming shorts.
If you're looking for a more standard fit, Reiss also likes H&M's shorts, which she says are "not too bulky," and include a soft mesh lining.
Hanna Andersson is another brand that came highly recommended for its swimsuits. Lauren McCullough, the senior director of marketing at recruitment website the Muse, particularly likes its sunblock suits, which are made of UPF material. "They're high-quality, and it's so easy to get my son in and out of them. They cover so much of his baby skin." And though she uses them for her son, these suits are unisex. McCullough also likes Hanna Andersson's swim hats, which are also made of UPF fabric.
For her 7-month-old son, Of A Kind's Claire Mazur turns to Copenhagen-based design company Liewood for its swim pants, which are made of UPF fabric and can be paired with the brand's swim shirts. She calls her boy's Liewood separates his "fashion-y set," for "when he's just splashing around and being cute but also wants ample sun protection." Mazur didn't recommend a specific style, but we think this dino-print shorts-and-rash-guard set is pretty rad.
For something more sporty, Mazur likes these quick-drying Patagonia board short, which she'll put her son in "when he's planning on being really active, and wants to let his friends know that he's authentically outdoors-y."
Maisonette co-founder Sylvana Ward Durrett recommends the boy's swimming shorts from Le Club. "The prints are so cute and unexpected." They even have matching shorts for adults.
For her son, Nidhi Kapur, founder of custom-furniture company Maiden Home, likes suits from heritage brand Vilebrequin — because it also makes ones that match his dad's. "For Father's Day this year I bought my husband and 2-year-old son matching trunks from Vilbrequin," she says. "My husband has loved the brand for its cut and fun prints for years and I could not wait until Shaan was big enough to have a pair of his own. They make for the perfect gift and cutest family vacation photos." This particularly print is available in women's and girls' sizes, too.
Best two-piece swimsuits for girls
Reiss also loves Hanna Anderson suits because they're "great quality, and last and last." Plus, she says "you can buy different tops and bottom sizes which is great, as my daughter is often different on top and bottom." Try this striped tankini set that has built-in sun protection (a feature of all of the brand's suits).
Reiss also recommends H&M's suits for girls, like this ruffled two piece that comes with adjustable straps. "Their female suits are fun as well. I get them for my daughter." Like H&M's trunks for boys, its girls' suits are also affordable.
McCullough recommends Mini Boden's UPF surf sets for those looking for maximum sun protection. "They offer the convenience of a two piece, but tons of coverage with a long sleeve shirt and capri-length pants. Plus, my daughter Amelia loves anything with rainbows," she says.
"Kortni Jeane swimsuits are my current favorite for my daughter — and for myself," Baby Rabies' Jill Krause says of another brand that makes matching sets for women and girls. "Their high-waist styles are comfortable and flattering on me, and they are adorable and stay put on my active tween. Plus, is there anything sweeter than matching mommy and daughter swimmers? They have suits for many sizes and shapes of bodies, from babies through adults, including boys and men." Carly Anderson of body-positivity website Lipgloss and Crayons also loves that the brand offers matching suits. "I love that they allow women to feel confident and teach our daughters that every body is beautiful," she says.
Best one-piece swimsuits for girls
"Mini Boden is my favorite children's clothing brand," admits McCullough. "I love their British preppy vibe, mixed with a splash of whimsy." She says she "always looks for maximum-coverage bathing suits with UPF fabric for my kids," like this long-sleeved swimsuit that has UPF 50 protection. "The less sunscreen they need to apply, the happier our pool days are."
"Mott50 has become our favorite bathing suits," Maisonette co-founder Luisana Mendoza de Roccia says of the brand's sun-protective clothing. "The girls love the prints, and I love the protection — and the fact that it means less time putting on sunscreen. Some of our Mott50 swimsuits are on their third summer and third child, and the color, print and fabric still look great."
For another cute brand of suits that has matching styles for mom, try Olivia and Ocean, which comes recommended by Anderson. Like Kortni Jeane, Olivia and Ocean is also owned by a mom, and "both brands focus on creating amazing suits for all tastes and body types (adult and child)."
Best gender-neutral swimsuits
"We love Primary's swimsuit collection because it's colorful and gender neutral," says Alexandra Cavoulacos, founder and president of the Muse. "For busy parents, it also reduces decision fatigue since there are a handful of classic styles and a rainbow of colors to choose from. You can mix and match any pieces, too. We went with the rainbow pattern for our toddler this summer."