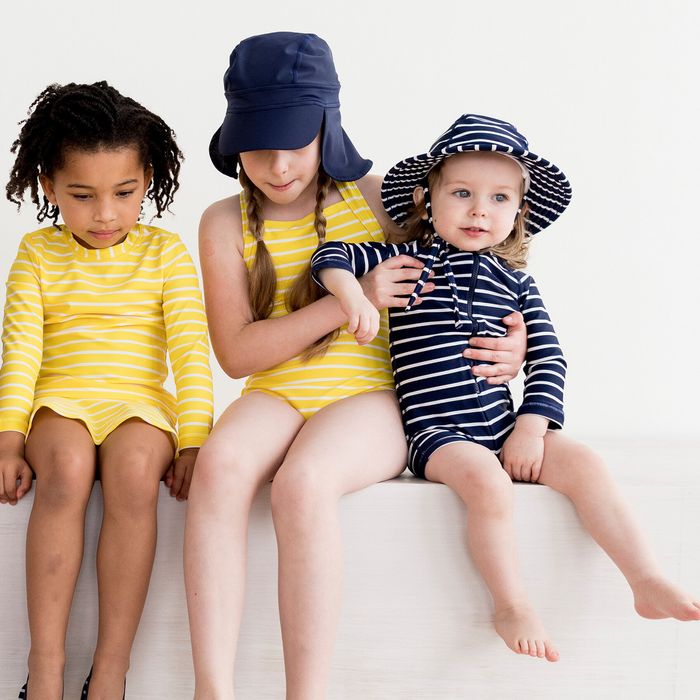 Photo: Courtesy of the retailer
Once your little swimmer is familiar with the water, he or she will soon be ready for the big kids' pool. That means graduating from a swim diaper (if your young one is potty-trained) and stepping into a real swimsuit. To find the cutest boys', girls', and gender-neutral swimsuits for kids and toddlers, we spoke to 11 cool parents about their favorites. Below, 19 adorable picks for your little tadpole, whether for splish-splashing at the pool, or braving the waves at the beach.
Best swimsuits for boys
The brand that our panel of cool parents recommended the most was H&M, especially for boys. "I buy the bulk of my son's swim suits from H&M," says Heidi Reiss, co-owner of swim school Aquabeba. "They last long and are affordable enough to recycle when he wears through them. Also the standard bathing suits are not too bulky." Kate Schmitz at Flying Squirrel agrees: "They're small, Euro-style shorts that dry quickly, look cute and don't have tons of extra material like all the other boys swim trunks." Both Reiss and Schmitz specifically recommend the swim trunks, which are made of a stretchy material and are closer fitting than regular swimming shorts.
If you're looking for a more standard fit, Reiss also likes H&M's shorts, which she says are "not too bulky," and include a soft mesh lining.
Hanna Andersson is another brand that came highly recommended for its swimsuits. Lauren McCullough, the senior director of marketing at recruitment website the Muse, particularly likes its sunblock suits, which are made of UPF material. "They're high-quality, and it's so easy to get my son in and out of them. They cover so much of his baby skin." And though she uses them for her son, these suits are unisex. McCullough also likes Hanna Andersson's swim hats, which are also made of UPF fabric.
For her 7-month-old son, Of A Kind's Claire Mazur turns to Copenhagen-based design company Liewood for its swim pants, which are made of UPF fabric and can be paired with the brand's swim shirts. She calls her boy's Liewood separates his "fashion-y set," for "when he's just splashing around and being cute but also wants ample sun protection." Mazur didn't recommend a specific style, but we think this dino-print shorts-and-rash-guard set is pretty rad.
For something more sporty, Mazur likes these quick-drying Patagonia board short, which she'll put her son in "when he's planning on being really active, and wants to let his friends know that he's authentically outdoors-y."
Maisonette co-founder Sylvana Ward Durrett recommends the boy's swimming shorts from Le Club. "The prints are so cute and unexpected." They even have matching shorts for adults.